These are interesting times in the real estate industry. The real estate market has recovered from the 2008 recession at this point, with sales now up 50%. Housing prices continue to rise at a steady rate, and the median cost of a home is now double what it was in 1999.
Even with all that going on, existing home sales fell by 2.2% in September 2019. It is proving to be challenging to sell an existing home.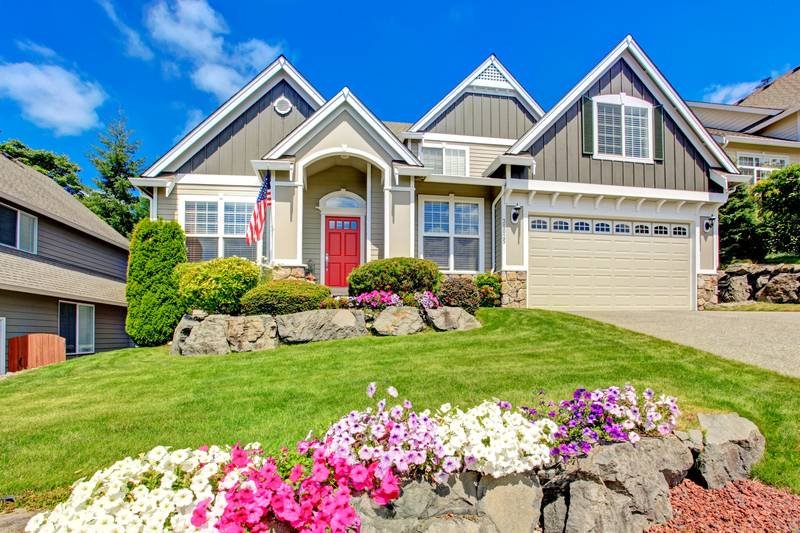 If you're looking to sell your house, you're going to need to make it as appealing as possible. Landscaping is an easy way to broaden a property's curbside appeal.
Let's dig and find out how much is landscaping increasing your property value.
How Much Is Landscaping Increasing Your Property Value?
Landscaping is one of the only home improvements that add immediate value to your home and property. It even increases in value as the years progress.
While interior design trends tend to shift with the seasons, landscape design remains more steadfast. Classic landscaping trends will never go out of fashion.
This is apparent as properties with landscaping regularly earn from 5.5% to 12.7% more than properties with no landscape design.
Let's look at some specific ways that landscape design can add value to your property.
---
Read Also:
---
Sophisticated Landscaping Designs are Most In-Demand
According to a study by the University of Vermont, landscaping can add up to 14% to a home's resale value. It also speeds up the property's sale by up to 6 weeks.
What kind of landscaping will have the best results, though?
To answer that question, researchers conducted a survey of consumer home and garden shows to determine exactly how much landscaping actually adds value to a property.
Researchers showed photos of newly built suburban homes with different types of plants and varying degrees of design sophistication to the survey participants. These ranged from foundation planting only to more elaborate island beds.
They also showed participants yards with trees as well as highly elaborate designs with multiple island beds featuring curved lines.
Types of Plants Matter
Survey respondents were also shown pictures of properties with various kinds of plants to determine which types had the most positive impact on the property value.
Participants were shown photos of properties with only evergreen plants. Then they were shown pictures of properties with a mixture of evergreen and deciduous plant life.
Researchers showed them various arrangements of plants, as well. Respondents were shown properties where 20% or more of the total area had been planted with annual or perennial color. They were also shown a property with colorful annual or perennial plants and a decorative side entrance.
Plant size was found to have the most significant impact on a property's value. Plant diversity was next in line in terms of what survey respondents found valuable.
Landscaping Value Varies By Region
Researchers have found that different geographic regions attribute more value to landscaping than others. Of the seven states surveyed, South Carolina placed the most value on landscaping. Houses with landscaping design were valued at 11.4% more than homes without.
Louisiana saw the least difference in housing prices. Houses with landscaping in Louisiana were only 5.5% higher than those with no landscaping design.
Curb Appeal Matters
With the housing market so vibrant and thriving, there are a lot of houses currently on the market. You've got to do whatever you can to help make your property stand out, both on the street as well as in the listings.
Landscaping is actually one of the better investments you can undertake to make your house more appealing. While other improvements might be more pressing, like sealing a foundation or repairing your roof, those revisions might not be as noticeable to the naked eye.
Remember, you're appealing to people looking to buy a home, not real estate, appraisers. That doesn't mean you should skimp on necessary structural improvements, however. You just might want to set aside some of your home improvement budget for updating your landscaping.
Landscaping Offers a Good ROI
How much you get back from your landscape investment is going to depend on how much you put into it. There's no guarantee on how much the return on investment (ROI) will be. But it's usually a rather substantial amount.
As a general rule of thumb, dedicate 5% of your home's value to the landscaping budget. With that figure, it's not uncommon to see a 150% ROI.
Landscaping can also help you save on utilities. It can save you up to 20% on your heating or cooling bills. That makes landscaping a good ROI even if you're planning on staying in your home for a while.
Keep in mind that there are other kinds of benefits to landscaping, as well. It's known to have significant environmental benefits, for instance. Planting one tree can remove up to 26 pounds of Carbon Dioxide per year.
As you can see, professional landscaping can be one of the most solid investments you can make into your property. If you're thinking of selling your home or real estate, you can look into retail services to help make that even easier.
Do You Want To Learn More About Landscaping?
At Dreamlands Designs, we bring you everything you need to help you transform your living space into the home of your dreams.
Whether you're looking to learn how much is landscaping improving your property value or the latest in home remodeling trends, we've got what you need to transform your space and bring your visions to life.