Are you having trouble thinking of front yard landscape plans? While it may seem harder to landscape the front yard than the back, it really isn't that difficult once you get ideas. Here we discuss tips about landscaping the front yard.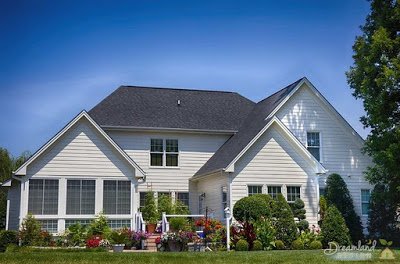 How to Landscape Your Front Yard
Intro to Front Yard Landscaping
The front yard is a representation of you and your family. Not only does it represent your taste and values, but it also adds curb appeal and lends a sense of "home" to your house. It can be whimsical, in the cottage garden style or you can add a certain crispness to it by landscaping with conifers. There are many front yard landscape plans to choose from, you just have to decide what goes best with how your house is constructed, what type of feel you are going for, and how you ultimately want it to look.
One of the most important things to consider when landscaping your front yard is the type of plants you choose. When shopping for plants at the garden center, consider how large they will become at full maturity. This is of the utmost importance, as you will need to know where to place them so they will have room for optimal growth and vigor. Always place the tallest plants in the back, the medium sized plants in front of the tallest, and the smaller plants in front of the medium size plants. This will guarantee an excellent view of all of your plants from street level.
Front Yard Garden Ideas
Grouping plants together is another surefire way of attracting attention to your front yard. The best way to do this is to always use odd numbers of plants. Instead of four plants, use three, and so on. To really add beauty and charm, plant the same color flower in mass. This draws the eye to your house and looks excellent from street level.
Don't forget about the front door either. You can really add some panache by including a container garden full of bright, beautiful flowers and greenery at both sides of the front door.
You do not have to spend hundreds of dollars on a professional landscaping service to come in and do the work for you. In fact, with a little creativity and ingenuity, you can have the best looking front yard on the block.
The Cottage Garden
While you may have to abide by HOA rules and regulations, you can still have your front yard landscaped in the cottage garden style. The key is to always keep it well maintained. To start off your cottage garden, think roses, lots and lots of roses. The best way to add add instant appeal is to add latticework to your outer facing wall and plant an old fashioned climbing rose such as "New Dawn". This lightly fragranced soft pink rose will cover a wall quickly and add a show of color all year around. Simply tie each bunch of roses to the lattice as they begin to grow in order to train them, and soon you will have a wall of color to be envied. Add to this flowering hawthorn shrubs, and you will have greenery to highlight the roses all year around, plus small, charming, white or shell pink flowers in the spring.
To add more cottage garden appeal, under plant the hawthorn shrubs with lavender, dianthus (pinks), yellow snapdragons, and pink petunias. However, the beauty of a cottage garden is that anything goes, and if you come across a beautiful flower you absolutely must have, simply buy several of them, and squeeze them in among the rest.
Edible Landscaping
What is edible landscaping? Edible landscaping incorporates fruit bearing trees, nut / berry bearing shrubs, and vegetables into what would otherwise be a purely ornamental front yard. While this is generally done in the backyard, in all reality, what better place to edible landscape than in in a place that generally receives six to eight hours of sunlight per day. So how do you start, you ask? Instead of a shade tree plant a fruit bearing tree, such as a plum. Plum trees are beautiful when they are in bloom, offering an abundance of fuchsia, pink or white flowers, depending on the cultivar.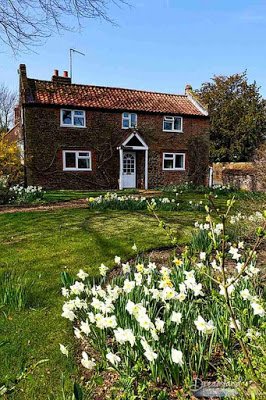 Yard Landscaping
Next, think of the types of shrubs you would normally plant, and what type of edible plant you can use instead. A hazelnut bush would make an excellent choice. Simply plant a row of them together where you would normally plant your shrubs, and you are now on your way to having your own edible front yard. For color plant bell peppers, cabbage in the fall, marjoram, blueberries, dwarf apple, dwarf pear, cherry tomatoes and red raspberries. Edible flowers include chrysanthemums, corn flower, daylillies, dandelions and pot marigolds.
Landscaping With Trees and Shrubs
When landscaping with trees and shrubs one way to use them is to highlight the front of the house. Start by picking two large trees, such as Magnolias, and planting them on either side of the home. Then, plant shrubs that get progressively smaller as they reach the front door. You can add more interest to this plan by substituting 'Little gem' Magnolia trees for the medium size shrubs. Then, plant white geraniums in mass in front of the shrubs for a beautiful effect from street level.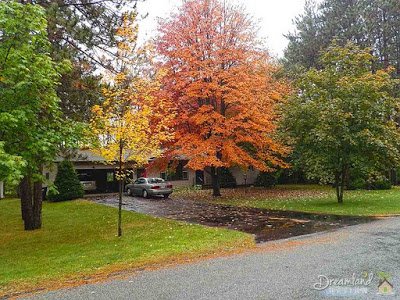 Landscaping with Trees
Magnolia trees can also be planted in groupings for privacy or as a windbreak. When landscaping with trees and shrubs, the sky is the limit as to what you can actually do. You just have to think about how the trees and shrubs will look when set up against your house and go from there.
While these are just a few front yard landscape plans, they will help to get your creative juices flowing, and soon you may very well come up with your own unique ideas for how to landscape your front yard.