So far, while taping and mudding seems to be okay, sanding and finishing are a bit mindful! You'll see unflatten patch repairs, seam joints, angles, nail holes, and scratches.
To cover them up and prepare a flat painting surface, you must apply a mud coat and sand it. So, you're still being one step behind to start painting the wall to achieving a beautiful home interior.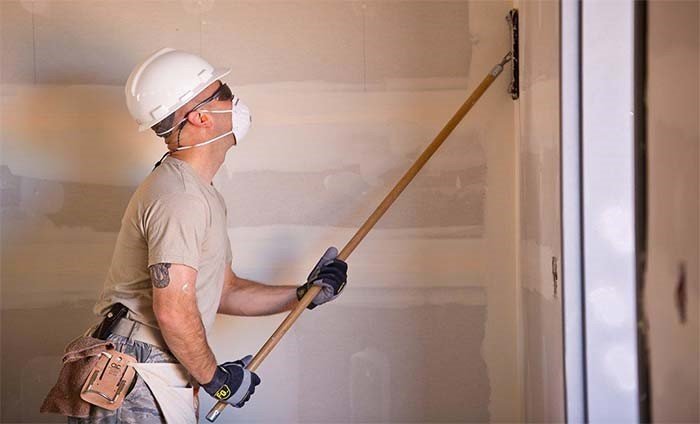 Without sanding drywall, you cannot paint, install tiles or decorate the walls. It doesn't really get leveled itself. Even if you paint through that, you'll see gauges and rough textures through the paint. So, let's see how you sand it!
You might also be interested to read more about the best drywall patch repair kit reviews here.
Why Drywall Sanding is Essential?
Sanding perfects the finishing endeavors because it leaves a smooth surface that's ready for the last decoration. It's highly recommended in areas that will be painted as well as other visible home interior areas.
Also when sunlight passes through windows, tends to reflect on an uneven surface. So, that highlights the bumps and dents on the walls and ceiling.
For this reason, most homeowners prefer finishing the wallboard by sanding smoothly. At a glance, it's important when you want –
To level the corners and joints.
To prepare the wall for painting.
To prepare for the installation of tiles.
Types of Drywall Sanding
Namely, there are 2 types, wet or dry. So, let get into the battle of wet sanding vs. dry sanding drywall;
1. Wet Sanding
It's a great way to reduce the wallboard dust. You can minimize the level of clean-up needed after the job is done. Sanding sponges are widely used in this process.
It involves wetting the sponge, squeezing excess water, and sanding. It is preferable when you intend to cover the surfaces with wallpaper, tiles, or wainscoting. The process is quite simple and ideal for walls with heavy-duty texture.
2. Dry Sanding
This is the typical method that involves the use of sanders. The sanders can smooth out any uneven part created after the application of the joint compound.
This method is widely known for producing a lot of dust. Moreover, it requires patience. This is because it should be done cautiously to avoid scratching the drywall surface. It happens because of the powerful sander machines.
---
Read Also:
---
Choosing the Right Sander or, Sanding Tools
During the process, you'll require a sander, perfectly cut sandpapers or, sanding sponges. You'll also need goggles and a dust mask to protect your eyes and nose respectively.
If it's a large job, pole sanders can be a good option. They'll help you in smoothing the joint compound. The most common ones include; portable cable sanders, dustless turbo drywall sanders, orbital sanders, and manual sanding blocks.
To choose the right sander, you've to consider the type and volume of your project. You should consider the budget you're willing to spend on a certain type of sander.
How to Sand Drywall Fast (5 Effective Tips)
The process of sanding wallboards can be both frustrating and tedious. Applying paint on drywall that is poorly sanded is even worse.
However, if you know the proper technique of doing the task, you'll certainly like the result. Therefore, we suggest that you follow the tips during your next project to be successful and effective.
Step 1: Prepare Against Drywall Dust
Dry sanding would produce huge dust that will quickly overspread in your home. Once the dust attracts your upholstery and surfaces, it may be difficult to eliminate.
Therefore, you should try to minimize the dust. You might switch to wet sanding if that's possible based on your project needs.
Otherwise, you can use systems that have been designed for catching dust in sheetrock working projects. However, these systems might be a bit costly. For this reason, consider covering the critical areas in your household from dust.
Step  2: Avoid Using Heavy Grit Sandpapers
The 120 grit sandpaper is usually ideal for drywall surfaces. Simply buy it; put it in the sander and you're good to get started.
However, avoid using heavier grit sandpapers if it's your very first time sanding with no previous experience. They might over sand the surface, especially in areas where the joint compound is soft and thin.
Also, for the corner tapes, they require very sensitive but detailed sanding. The heavy application can result in the formation of unpleasant marks and unevenness.
But, you can, of course, switch to any grit numbers based on the needs and using your expertise.
Step  3: Don't Sand Out Gouges or Ridges
In case you notice bumps or ridges on wallboard joints, don't sand too much, particularly if they're at the joints' edges.
You might end up ruining the tape if you over sand such areas. Instead, add another compound coat on such areas. Alternatively, consider repairing those areas first.
Step  4: Apply Primer before Sanding
Priming the wall helps in creating a great finish. After the primer application, give it some time to dry completely before proceeding to sand.
Applying a primer eliminates any limps that may be visible after painting. Moreover, if you sand the surface after priming, it allows you to highlight and fix the problem areas with a joint compound.
H3 – Step – 5: Don't Sand Corners with Hand Sanders
Sanding the corner bead or tapes can be a bit tricky as it needs a detailed and sensitive application. So, when working on corners, use a small portion of folded sandpaper or a sponge.
Moreover, ensure you don't ruin the opposite sides with a heavy sander. Another thing worth mentioning is that you might apply light pressure based on the thickness of the coats.
FAQs
1. Can You Wet Sand Drywall Mud?
Yes, wet sanding by sponges leaves extremely gentle waves on the finished surfaces. This is mainly because the sponge is naturally flexible. Simply use it for dabbing, wiggling and patting the mud until it matches the desired texture.
2. How Many Coats of Primer do I Need?
One coat of primer is enough. However, you'll need about 2 or 3 painting coats for good coverage, based on the color.
3. Is Sanding Drywall Dangerous?
Although the sheetrock material is relatively safe to use, the biggest risk results from silica and dust exposure caused by sanding. This dust might cause asthma and other upper respiratory problems. Moreover, if the dust has silica, you may suffer from lung cancer and silicosis.
4. Do You Sand in Between Coats of Drywall Mud?
You should knock off any bump between coats, although it doesn't have to be perfect. The best tool for that task is the screen sander fixed to one end of the pole. Minimizing the bumps as the mud continues to dry eliminates the need to sand it later.
5. Can You Paint Drywall Without Plaster?
Yes, plaster and drywall are 2 different methods of finishing the walls. You can opt to choose one method between these two depending on the budget and look.