How to Use Abandoned Pallets at Home — There is a reason why I never throw away my pallets. They seem to have come with a storm this century. They have hit the art and craft world with a bang, but I still feel like, there is so much that people don't know about pallets.
Most people leave them outside to be rained on, without any ideas on how they can make them useful. Pallets are cheap to buy and don't need too much work on them as long as you have a good idea on how to use them.
How to Use Abandoned Pallets at Home
There is so much you can make using pallets, particularly if you love that crude, rusty, woody look. It is a simpler method of storage and it is way cheaper. It saves up on space and it is very flexible.
Pallet Ottoman
These are shelf-like structures which are built-in by placing one pallet on top of another. They are really good in saving space and it is a good idea for storage. You can store books and magazines and also use it to place your legs on top. You can put wheels on the bottom to make it easy to move.
Bed
Everyone wants to save money to use it on something else. Everyone wants to be unique, I love being unique. You don't have to go and buy a bed or pay someone to make one for you. All you need is a number of pallets, mattress and your best bamboo sheets to make a bed.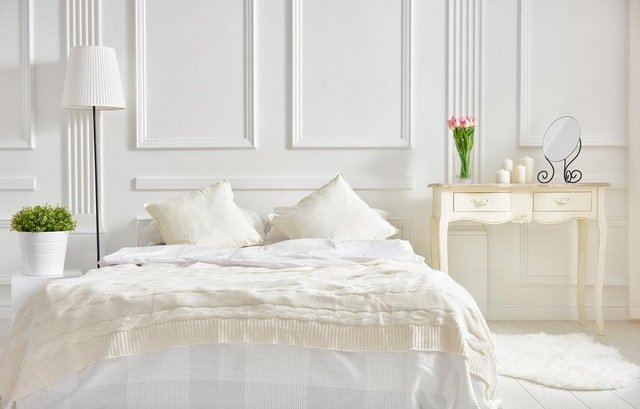 You can do this by placing one pallet on top of another, side by side after measuring the mattress you need to use to know the number of pallets to use. Some love them vanished, but myself, I love them rough.
You can choose to paint them or not, whichever the case, it will still look good.  Once you are done, place the mattress to confirm it fits perfectly and make your bed using your best bamboo sheets. This way you have saved up a lot on cost and you have more storage. You can use the holes on the pallets as storage for your shoes.
Swing Bed
If you have old pallets that are not being used and have any twin mattress, you can make an awesome swing bed. All you need is *pallets, mattress or cushion, your best bamboo sheets and ropes. Measure the size of the mattress to know how many pallets are needed.
Drill holes on the four corners of the pallet and thread the rope through the hole for it to go below and tie securely. Then tie the ropes on a tree and place a mattress on top of the swing and cover it using your best bamboo sheets.
Pallet Sofa
All you need is *handsaw, screw driver, angle irons, jointing plates, hinges, and screws. You also need to have plank wood and pallet.  You can also choose to have paint and paint brushes if you want to paint the sofa. You also need some cushions. I love them covered with bamboo sheets for they are soft and comfy.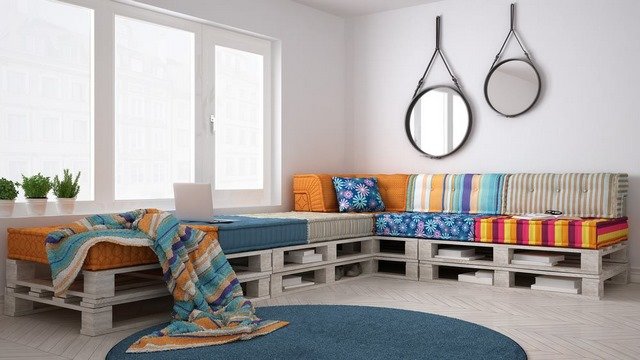 Use a handsaw to divide the pallet into ¾ and ¼. You can use the chunks as legs when you turn the ¾ pallet upside down and fasten them with angle iron. Use joint pallets on the outside to be able to reinforce them.
You can now attach the back using the ¼ pallet by using joining plates. Add angle irons where the two pallets meet to support. If you choose to paint it, you can. After it all dry place your bamboo sheets covered cushions on the seat.
Mirror Holder
 You can never miss some pallets scraps that are not being used, or left out or different pieces from different pallets. All you need to do is to attach them together and attach the mirror on top.
Candle Holder
All you need is four pieces of wood from a pallet.  Cut two to be the length and the other two to be the width.
Secure them together by nailing them.  You can fix it on the wall or have it as a center piece. The hole made in the center you can place candles inside it and a matchbox. This will help the candles to be in a safe place and no need to worry where you put the candles and this will keep them away from children or fall off.
Pallet Wall Planters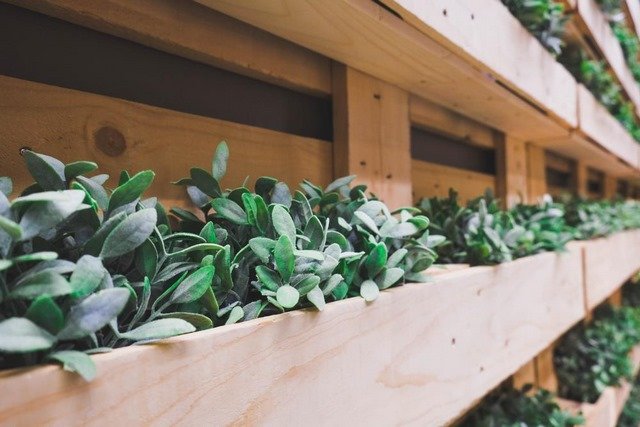 You can take a pallet and place it against a wall. Plant some flowers or plants in small buckets and place them on the pallet shelves or hang them. There is no work needed to be done on the pallet apart from the planting of the flowers. It will really help on the decoration.
Decorated Pallet Walking Path
No need to cement your path. Make it look unique and modern. All you need is pallet scraps from other pallets and place them on the ground against each other and cement other the sides only.
Wood Pallet Signs
You can get some wood scraps from any pallet and nail each on the wall. Take some paint different colors and write any message or signs on them.
Cup and Coat Holder
All you need to make this is *hooks, nails and pallet scraps. Take two wood pieces from a pallet and nail other pieces on them on both sides then nail it on the wall.
Nail some hooks on the pieces. The hooks will be used to hang the cups or even keys. The whole piece can also be hanged behind the door to hang on it coats and kitchen towels.
Pallet Blanket Ladder
Take two long pieces from a pallet and nail some short pieces of pallets on them, on both sides. You can choose to varnish them or paint or leave them to have a natural rusty look. You can hang your towels and blankets on them.
Shoe Rack
For this no adjustments are needed. All that you have to do is place the pallet against the wall. You can varnish or paint it at your preference. Place it near the main door and place shoes in between the pieces of wood.
Gate
You don't have to buy a gate or get someone to make one for you. Take a pallet and dismantle it and leave the part with wooden pieces attached together on the same level. Make holes on the ground, where you want the gate to be built on. Take two large cylinder-like wood pieces and fix them in the holes made, securely.
Use hinges and screws to fix the dismantled pallet on the cylindrical wood.