First-time homeowners often get caught up in the excitement of closing the deal without thinking about what life will be like after they move in.
They've heard that homeownership comes with responsibilities, but may not understand exactly what that means.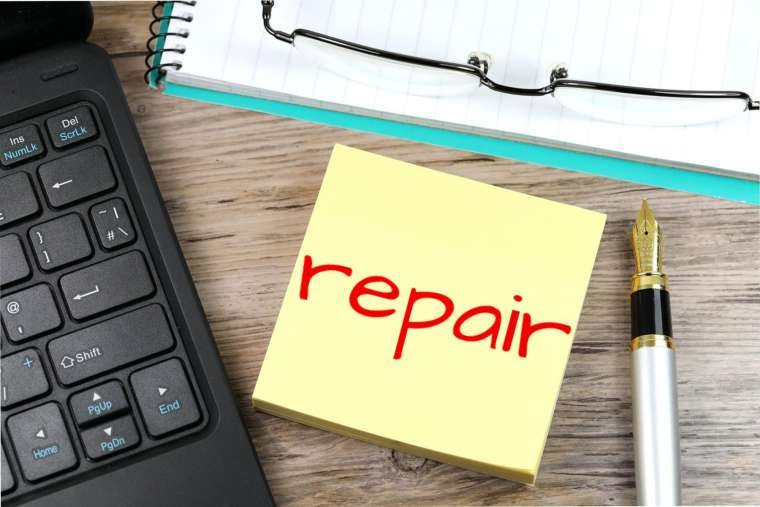 Saving up to buy a house isn't just about covering the down payment and being able to keep up with the mortgage. Homeowners also need to save for repairs and maintenance.
Tasks to Tackle at Home vs. When to Call the Pros
Because safety should always come first, let's start with a basic discussion of when to try DIY maintenance and repairs and when to call in the pros.
New homeowners often make the mistake of assuming they'll save money by performing their own repairs across the board when, in reality, that's not always the case. The prospect of saving a few bucks is not worth the risk of causing expensive damage or incurring serious injuries.
When safety could be a concern, it's always worth working with a pro. Electrical repairs should always be made by professional electrician services, for example, and exterior painting is best left to contractors with adequate gear and training, especially if the house has multiple stories.
The same goes for any repair or maintenance project that could cause property damage if it's handled incorrectly.
Minor tasks like fixing a hole in the drywall or even replacing worn flooring can make good DIY projects. Even if something goes seriously wrong, it's unlikely to cause damage to anything but the homeowner's budget.
---
Read Also:
---
The Importance of Home Maintenance
Some homeowners ignore the home's major systems and structural components until things go seriously wrong before calling a professional for repairs.
Keeping on top of home maintenance is a much more cost-effective way of making sure all of the essential systems stay up and running as intended. The best way to avoid losing money on unnecessary home repairs is to create a schedule.
Making a monthly and seasonal home maintenance checklist can also help homeowners determine how much they'll need to budget for these routine tasks each year.
Even staying on top of very basic maintenance tasks like changing filters and cleaning vents can help to protect a home's HVAC system, so don't assume it's not worth the effort. A good home maintenance routine can:
Make it easier to budget for household needs.
Avoid incurring extra costs from secondary damage.
Maintain warranties and insurance coverage.
Save money on monthly bills with improved efficiency.
Extend the lifespan of household appliances.
Improve a home's safety profile.
Increase property values.
Relieve stress.
Enhance the family's quality of life.
As a general rule, experts recommend saving one to four percent of the home's value to put towards routine maintenance each year.
So, a home that cost $200,000 to buy would require an average of $2,000 of annual maintenance. Of course, this is only an estimate. In areas where home services cost more, homeowners should plan to put aside more money.
How to Budget for Future Repairs
While annual maintenance is essential to keeping a property in a state of good repair, it won't prevent every possible problem.
That's why homeowners should keep emergency funds that are separate from their annual maintenance budgets to cover repairs or replacements of major equipment, structures, and appliances.
Average Lifespans
Start by making a list of everything in the home that needs periodic maintenance or repairs and try to estimate the age of each appliance or piece of equipment.
Those numbers can be compared against industry averages to determine roughly how long each item will last between replacements. Of course, there will be outliers on either side of the cost spectrum, but everyone needs a place to start.
Here are some average lifespans to use for comparison.
Asphalt shingle roofs last 15-30 years.
Furnaces last 20-30 years.
Air conditioners last 12-17 years.
Traditional water heaters last 8-12 years.
Garage door openers last 10-15 years.
Wood windows last 20 years.
Most major appliances have expected lifespans of similar lengths. Homeowners can expect washing machines, dryers, refrigerators, and ranges to last around 13 years without needing to be replaced.
Dishwashers should be replaced more frequently, usually at around nine years. Use these numbers as rough estimates to figure out how to prioritize savings.
Average Costs
Creating an accurate budget also requires having some idea of how much each replacement will cost.
Most appliances cost under $1,000. The equipment used in home support systems typically costs significantly more, though. When it comes to savings goals, homeowners can take these average cost ranges into account.
A new roof costs between $5,443 and $11,206.
A new furnace costs between $2,150 and $5,900.
A central air conditioner costs $3,811 to $7,480.
A gas or electric water heater costs between $812 and $1,575.
A garage door opener can cost over $500.
Replacement windows can cost anywhere from $200 to $1,800 each.
Homeowners will also need to take factors such as the size of their home and how much local service providers charge into account when coming up with a repair and replacement budget.
It's also relevant to note here that most people only choose to replace their major home equipment when it is either past its expected lifespan or so damaged that making repairs would cost more than half the price of a new unit.
Dealing With Emergencies
Having money set aside for home maintenance and repairs can be incredibly helpful when it comes to managing finances and making sure the property gets all the care it needs.
Homeowners who have the extra money should make a point of setting aside an emergency fund for unexpected issues. That way, paying for a $500 furnace repair won't mean having to put off buying a new dishwasher when the old one gives out.
Know When to Spend
Creating a budget for home maintenance and repairs and then diligently setting aside money each month until the savings account is large enough to cover anything that might come up can take years.
In the meantime, don't hesitate to spend some of the money on home maintenance and necessary repairs. Setting back the savings account by a month or two is more sensible than allowing major structural damage to occur because necessary repairs didn't get done in time.