All set to try out new gardening ideas with those colorful flowers? Amidst the wide range of flowers, picking on to a few for your garden can be tricky!
If you're a beginner, it is best advised to go for low maintenance flowers that do not require certain conditions to survive. And to help you further make a choice, here are some of the easy to grow annual flowers, and that you can find them in a good flower shop.
Marigold
Marigolds have always been amongst the top flower choices of gardeners. Blooming in the bright shades of yellow, rusty-red, and orange, they're the easiest ones to grow.
Just plant them in a place receiving full-fledged sunlight and watch them flourish throughout the season.
Also, you can choose accordingly from the two broad categories of the flowers, i.e., African marigolds and French marigolds.
Begonia
Begonia is one of those beautiful annual flowers that bloom in many different colors including red, white, and pink. These pretty flowers must be all you need for your garden! Begonia seeks very little care and maintenance.
Hence, you don't probably have to drive all your attention towards them to grow. Also, they can all well flourish under partial shade/full shade/ full sun.
Celosia
When talking about an all-season flower garden, celosias crown your garden like nothing else! Looming in all the different hues and forms, it is often difficult to settle for a specific variety when it comes to celosia.
With shades of pink, orange, yellow, red to shapes of fans, plumes, and brains, these dazzling beauties are capable of taking away the limelight.
Dianthus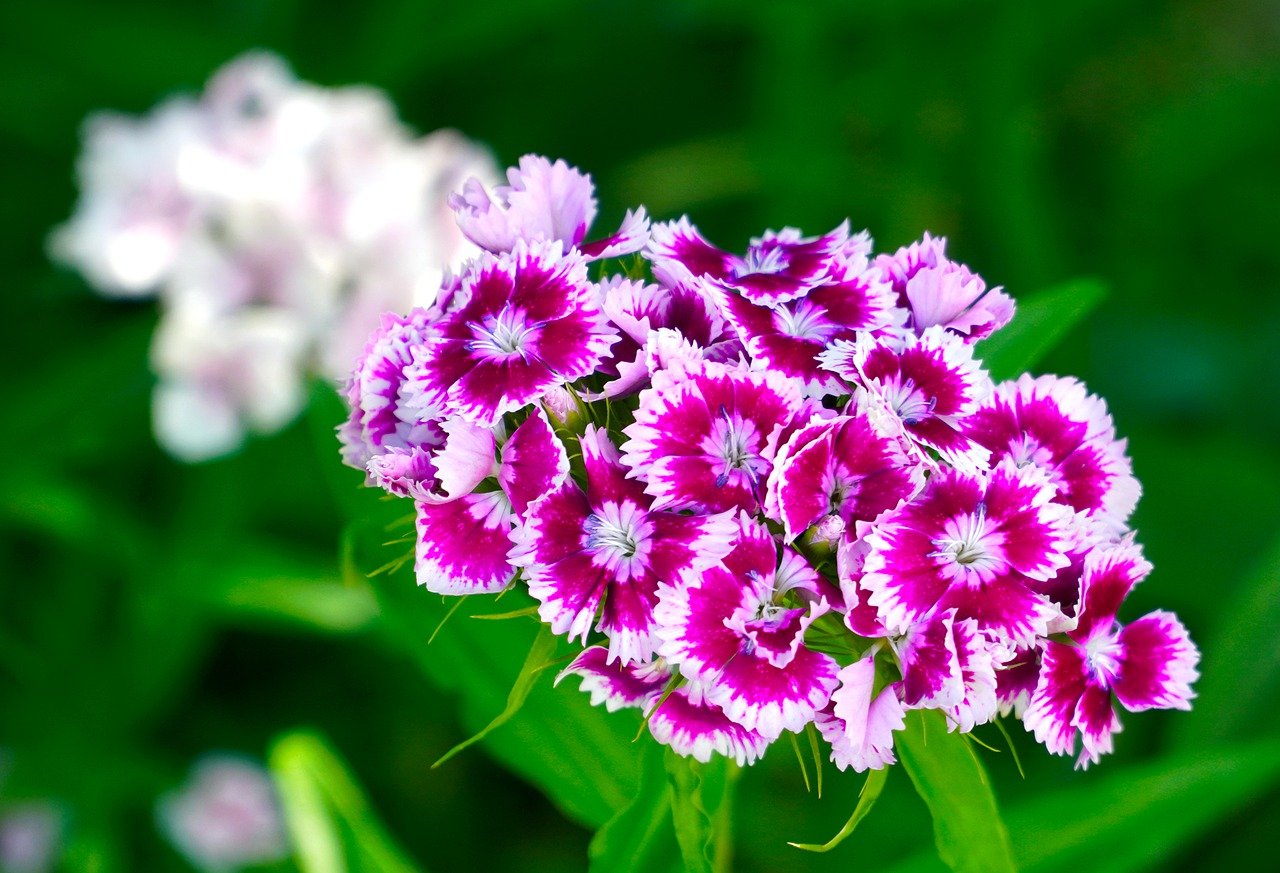 Scented with a distinctive smell of cloves, annual dianthus comes to have a delightful visual appeal. They flower in tints of pink, red, lavender, and white and are usually wrapped off with silvery foliage.
Dianthus are incredibly easy to grow and can thrive in both cold and hot weather conditions.
Pentas
Pentas can be the perfect annual flower for your garden this season.  These lovely sweet-scented flowers prosper in bright hues of pink, red, lavender, and white, attracting butterflies, bees, and birds to your green.
More so, love hot, steamy weather to mature and spread. They're an excellent choice for pots, planters along with garden beds and borders.
Thus, there's no reason to miss out on these allures this one time.
Snapdragon
These annual blooms are a must-have in every garden. Snapdragons acquired its name because of the dragon face-like structure of its individual flower.
You can plant them anywhere in the field under the sunny spot. Nonetheless, they can continue to grow in cold temperatures as well and do not demand much knick-knacks.
Deciding on to the types of peaks, you can either pick from the tall blooms with majestic spikes or small clustered heads of bloom.
Dahlias
Nestled neatly in honeycomb-like structures, dahlias will leave your garden look wow! They are as easy to grow as any other low maintenance plant.
And following with good care, you can even reuse the tubers for the consecutive years. Also, with the endless varieties of these beautiful blossoms, you'll never run out of options to choose from.
Impatiens
Impatiens are the ones that will always adorn the decorum of your lot. The small, soft blooms of pink and white hues are ideal for the shady areas of your yard—that don't receive an ample amount of light rays. Alongside this, they are easy to care for and grow.
Larkspur
These purple-blue petaled blossoms can bring in all the zest in your garden area. You can plant the larkspur seeds in a peat pot or any other space of your lot.
Growing larkspur from seeds can somehow be much of a task. But once you get it right, you'd love to include them in your list year after year.
Conclusion
We grow flowers for a number of reasons. Gardening flowers is in itself a rather peaceful and satisfying activity. Many people also use the flowers grown in their gardens as household decorative items. Maybe a flower vase on the coffee table or the study is sure to lighten up the mood of the surrounding areas. Others use flowers to gift on special occasions.
Depending on your need and requirement, you can always use online flower shops for gifting purposes. They stock even non-seasonal flowers, making for great gifting options. If you wish to order flowers online, please visit website.