Artichokes are a great choice for the home garden. The handsome plants bear many tasty flower buds that are high in nutrition. With a little care these vegetables can flourish in the home garden. Learn how to grow artichokes in your garden.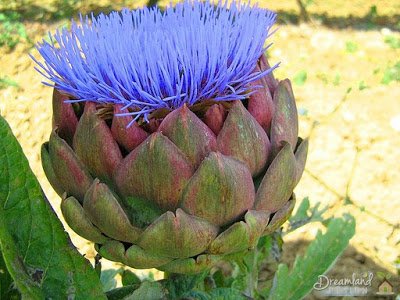 Planting Artichokes in the Garden
If you have the space, artichokes make a handsome and tasty addition to the garden. Of the thistle family, the plant has silvery, spiky leaves and edible flower buds which become giant purple flowers if not picked. Artichoke buds are very healthy, packed with vitamin C and oxidants, and naturally low in fat. These vegetables are a great benefit to the home garden.
Artichoke Basics
Artichokes are perennial in hardiness zones 7 to 10 in the mild coastal climates of the western U.S. In other garden zones the plants may be grown as an annual or roots may be dug and stored in a cold cellar overwinter.
Artichoke plants are large and require a lot of space in the garden. However, the three feet tall and up to a six feet diameter plants are lovely enough to grow in the landscape at the back of the border or planted in row to create a hedge or a division in the garden.
Planting Artichokes
Artichokes need full sun and plenty of water to flourish in the garden. They may be started from seed or purchased as plants from garden centers or seed catalogues in the early spring. They are a cool season vegetable and need the cool temperatures to trigger proper flower stalk formation.
To grow artichokes from seed, plant the seed early, in January or February under grow lights. The plants will need 8 to 10 weeks before they are ready to transplant outside. They may be planted in the outdoors early, after hard freezes are over, usually two to three weeks before the last frost date.
Artichokes need full sun. For artichokes grown as annuals, plant 18 to 24 inches apart in rows spaced 2 to 3 feet apart. Plants grown as perennials will need more space as they tend to get larger. Amend the soil well with compost and fertilizer worked in to a depth of 6 inches. Mulch the plants well to maintain moisture and discourage weeds.
Artichokes have a shallow root system and require ample water to thrive. Water the plants several times a week at a rate of one to two inches of water per week throughout the growing season. A nitrogen-rich fertilizer should be applied monthly to encourage healthy growth.
The plant should be sending up flower buds by mid-summer. They are ready to harvest when the top bud reaches 2 to 4 inch diameter and is still closed and compact. Each plant should produce numerous flower stalks and each flower stalk should produce 3 to 5 buds each. If buds are not picked they become giant purple flowers, up to seven inches across.
There is nothing better than fresh homegrown vegetables. Handsome thistle-like plants and tasty buds make planting artichokes a good choice for the large garden.
Health Benefits of Artichokes

Artichokes may have a tough appearance, but inside the leaves are soft and delicious. The many health benefits of artichokes are due to the fact that they are extremely high in antioxidants, low in fat and an excellent source of vitamin C. Read further to find out more about artichoke benefits.
How to Choose Artichokes
Artichokes are usually available year-round, although peak growing season is from March to May. Choose artichokes that are dark green, feel heavy, and have "tight" leaves. If the leaves are open the artichoke is too old.
How to Cook Artichokes
Wash the artichokes and cut one-inch off the tops. Snip off any sharp leaf tips, peel the top layer off the stem and remove the small leaves along the base. Brush the cut edges with lemon juice. Cook covered in a large amount of boiling water for 20 to 30 minutes or until a leaf pulls out easily.
Health Benefits of Artichokes
The highly concentrated amount of antioxidants in artichokes leaves is one of the most important health benefits of artichokes. It can be attributed to improved heart health and the reduction of high cholesterol levels in some people. Artichokes promote healthy liver function and may boost the regeneration of liver cells. The high amount of fiber helps digestion and lessons symptoms of irritable bowel syndrome.
Diseases Artichokes Can Prevent
Artichokes also possess many of key nutrients for preventing many health problems. The high level of potassium can prevent kidney stones. Artichokes can alleviate the symptoms from ulcers and acid reflux disease. Due to its health benefits to the liver, artichokes can help prevent hepatitis. The high level of Vitamin C is a powerful ant-inflammatory. The antioxidants in artichokes can prevent heart disease, the hardening of arteries and cancer.
How to Eat an Artichoke
Eating an artichoke can seem somewhat intimidating at first, but follow these simple steps and you'll be getting all the health benefits of artichokes in no time.
Start by pulling off the outer petals. Dip in melted butter or your sauce of choice.
Scrape the soft part out of the bottom of the petal with your teeth.
When you are finished with the petals scoop out the fuzzy center, which is the choke and is inedible.
The remaining center is the artichoke heart. Simply cut into bite sized pieces and enjoy.
Disclaimer
Please read this disclaimer regarding the information contained within this article.