Having a large kitchen with space and storage is everyone's ideal situation, however, this is not always the reality.
Many homeowners or renters have to work around the lack of space and come up with creative and innovative ways of optimizing what they have in front of them.
A small kitchen can certainly still be mighty, it simply needs practical and stylish solutions when thinking about the design.
For those not blessed with a large and sociable kitchen diner, we hope to bestow upon you some inspiration for designing a kitchen that is on the smaller side.
You may not be able to install a range cooker, dishwasher, and have a kitchen island but you can still make the most of your kitchen and enjoy it to its fullest.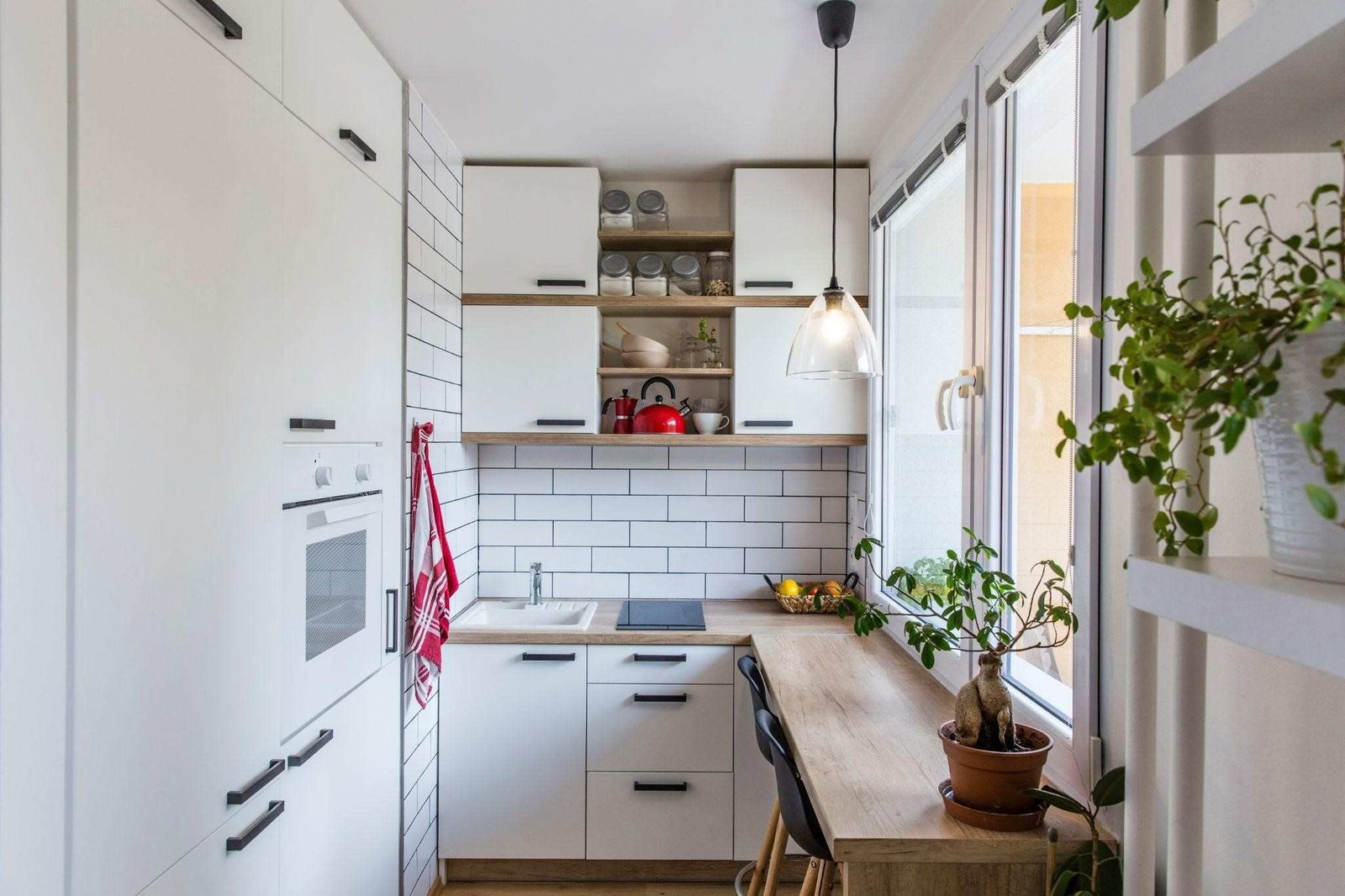 As you've probably guessed, storage is one of the most important aspects to consider in a small kitchen.
Working with your kitchen designer to optimize every inch and ensure maximum organization and storage solutions is the essential first step.
More and more kitchen designs look to benefit from minimal clutter and maximum efficiency and the kitchen design experts will be able to guide you every step of the way.
Get a good idea of the essential aspects that you would like to incorporate into your kitchen, consider which appliances will be on show (think toaster, coffee machine, etc) and which utensils and appliances will need to be stored away (food processor, pots, and pans, perhaps a bin and area for recycling).
The Wonder of Collapsible Furniture
Opting for collapsible furniture when designing your kitchen gives you the option to have extra people sat around your table when needs are.
The most common folding furniture is a dining table or chairs. There are some incredibly innovative and modern designs available on the market currently including tables that fold down from the wall and chairs which slot within this.
Due to the nature of collapsible furniture space isn't at all compromised by the need for a table, it's a highly efficient and effective way to make space work to its full potential.
Use Every Corner
A small kitchen is more than capable of serving its purpose of cooking and entertaining. It just needs to utilize the space in the best way possible.
Ensure the units are as tall as physically possible to elongate the space. Make the most of magic corners and other clever mechanisms will also help use every millimeter of space.
There are so many cupboard options that look small on the exterior and contain a huge amount of space for all your utensils, spices, and snacks – think the Tardis.
---
Read Also:
---
Use Hanging Space
Hanging glasses, mugs, and utensils below the cupboards not only uses up space that is otherwise redundant, more importantly, frees up storage space inside the cabinets for other items.
The key is to think creatively when it comes to storage. Forget investing in ordinary shelves, think outside the box, and discuss with your kitchen designers all the innovative ways to make your kitchen a smart storage haven.
Create a Focal Point with Lighting
A smaller kitchen can sometimes mean the room feels darker and gets less natural light.
If this is the case then planning how much lighting you want and where the lighting will go.
Choosing a standout lighting fixture such as pendant lighting with exposed bulbs or bold shades can distract away from the room's size all while adding a stylish and modern feel to space.
If you don't have the room to hang a large pendant light or if it's not the most practical option, you could instead opt for wall lights to create some interest instead.
Another lighting option that will brighten up the kitchen and add depth is spotlighting.
Carefully and methodically placing spotlights in the kitchen ceiling can ensure that each corner is illuminated making space feel bigger.
When choosing your lights, go for a color that contrasts with your walls so they stand out.
If your kitchen is going to be painted white then why not go for a black or a grey color.
You could even opt for some color and choose a blue, orange, pink, or even yellow. It all depends on the sort of style you would like to create in the kitchen.
Colour Selection and Design
Using some clever techniques, you can give the illusion of a larger space. By matching the cabinet and wall colors you can effectively create the illusion of more room.
This works particularly well with a white or grey color scheme, creating a light and airy space where the units blend into the kitchen walls.
Become a Minimalist
It is time to say goodbye to clutter and hello to the minimalist way of life. If there are too many items cluttering up the worktops, consider clever solutions like wall-mounted magnetic knife strips and rails for a whole manner of utensils.
It's a good idea to consider what items you will need to hand on a day-to-day basis and what can be stored away. Think chopping boards, wooden spoons, washing-up liquid, sponges, etc.
Designing a Small Kitchen
There's a triangle of use within every kitchen, the journey made from fridge to sink to the oven is the key element that needs to be considered when working with kitchen designers.
Always plan your layout around the best way to use the floor space and look to use vertical solutions to make the most of every storage space available.
Choosing a Kitchen Company
Choosing a kitchen company that is going to work with you to ensure each corner of your kitchen is considered in the design is essential.
Before making a decision, make sure you do your research and check the reviews from other customers.
Many kitchen companies will be able to provide a free quote and give you some kind of idea of how they envisage the kitchen design working best.
If you are looking for kitchens in Stoke-OnTrent then the professional and well-established company Mode Kitchens can provide you with exactly what you're looking for.