Laminate paperboard flooring
is a type of flooring material used for protecting hardwood, tile and cement floors from scratches, stains, waste and from the impact of damage from home building or construction work. Laminate paperboard consists of thick layers of laminated paper that absorbs water and other solvents.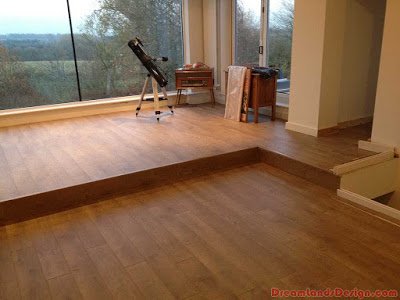 Laminate flooring with large step in lounge area
These paperboards consist of plastic laminate backing that helps to prevent liquids penetrating into the floor. This type of laminated is used as covering in doorways, walls, kitchens and fireplaces.
There are basically two methods of cutting a laminate paperboard. One procedure applies to the cut used to be in the floors of rooms, kitchens and doorways while the other cutting is tailor made for in and around fireplaces.
The first step towards installation of laminate paperboard is to cut a long section of the laminated paperboard plank. Place the paperboard next to the area where you want to fix the paperboard. Using a knife, trim out the extra areas and fix them on the floor.
Lay the laminated paperboard on the flooring planks that needs to be covered up. Apply a thin coat of adhesive at the back of the laminated paperboard and press it against the floor so that the paper rests smoothly against the floor.
Use a moistened rag with paint thinner to wipe off any construction adhesive that oozes out of the pressing of the laminate paperboard.
By following this installation method, you can easily fix laminated paperboard on the floor. Incase you feel intimidated or is running out of time; you can hire a professional in laminate paperboard flooring.
Laminate paperboard
There are various benefits of having laminate paperboard in your home, let's check them out.
Laminate paperboard flooring gives a sophisticated look to the house and often helps in garnering compliments from the guests.
Laminate paperboard is cost-effective way to protect the flooring of the house from stains and other physical damages.
The paperboard used for flooring is made of 100% recyclable paper.
Lastly the plastic undercoating of the paper prevents sweeping of water in the floor.