A well-maintained and upgraded pool area isn't just a personal paradise where you unwind after a long week at work.
When you design your dream pool it can double as an investment that can significantly boost the value of your property.
Maybe you've already got a pool that you want to transform into a little backyard oasis.
Or, you could have a blank slate and want to make sure that your pool design incorporates other essential elements.
Either way, you can create the perfect space for relaxation and entertainment.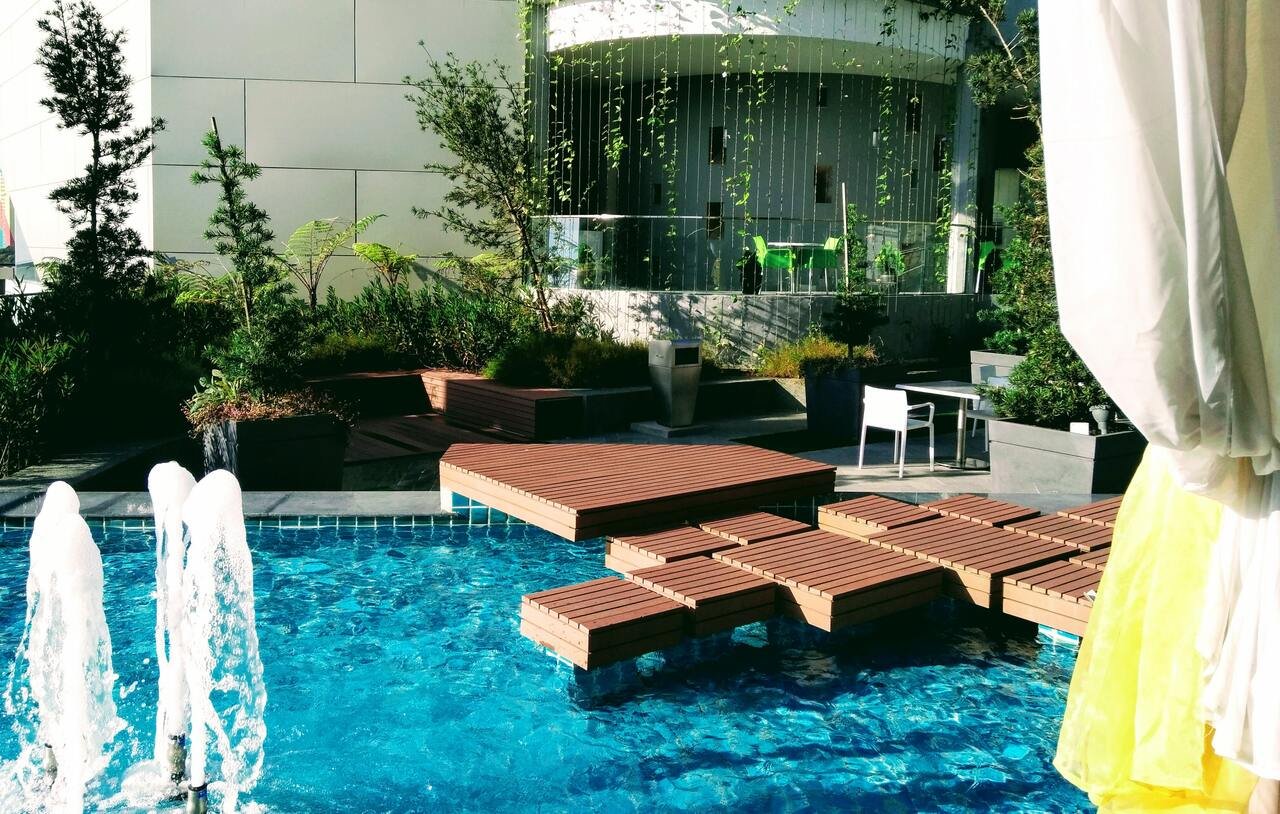 It takes some imagination and a bit of forethought to design the space to get the most out of it.
In this article, we will go over how to transform this space in your yard into a tranquil retreat and not just a place to go for a swim.
Landscaping and planting
Transforming the area around your pool can be just as important as upgrading the pool itself.
When you get the design right, it can look and feel like a luxury resort if that is your goal, or a little slice of nature where you can take a dip.
The key is to get the landscaping right no matter what your vision is.
Start by choosing the types of plants that will thrive in your climate and complement your pool. Opt for native plants that are easy to care for and won't drop a lot of leaves into the water.
Think about adding flowers for pops of color, or tall plants like bamboo for privacy.
The choice of ground cover around your pool is also an essential element.
The grass is a classic option, but it requires regular maintenance and can get ruined by your lawn furniture.
Consider alternatives like stone pavers, which are attractive and less slippery. They are the perfect base for adding modern chaise lounge chairs to sit in by the pool.
Shade is a key element in any pool area.
It provides a cool area protected from the sun and can help prevent getting sunburnt.
Consider planting trees in strategic locations around your pool. If trees aren't an option, pergolas or large umbrellas can be excellent alternatives.
Create an entertainment area
Think of your pool area as an extension of your living space. It can be more than just a place to swim.
---
Read Also :
---
You can transform the area to be the entertainment hub of your home when you have friends and family over.
The first thing to take care of is the seating around the pool.
When you have the right seating, it invites people to get comfortable and hang out, but also provides easy access to the pool for when things get hot.
Options range from lounge chairs for sunbathing to a dining set for poolside meals.
Luckily, there is a wide variety of furniture options so you can have them be functional and still match the design aesthetic of your home.
Another important addition is an outdoor kitchen or bar.
This can be as simple as a grill and a cooler, or as elaborate as a full kitchen with a built-in barbecue, fridge, and sink.
An outdoor kitchen allows you to prepare meals and refreshments without having to run back and forth to the house.
t keeps the party centered around the pool, where the fun is happening.
Safety improvements
While upgrading your pool area to be more beautiful and functional is exciting, safety should always be a top priority.
A secure and well-designed pool area protects your family and guests and also provides peace of mind as you enjoy your backyard oasis.
First and foremost, consider the fencing around your pool.
A sturdy and secure fence is essential, especially if you have young children or pets.
In fact, in some districts a fence is a requirement to have in case a neighbor's child wanders into your yard.
The fence should be high enough to prevent children from climbing over it, and the gate should be self-closing and self-latching.
You can choose a fence design that complements your pool area while effectively serving its primary purpose of safety.
Wet feet and hard surfaces can be a risky combination so you should lay down some non-slip materials for your pool deck or patio.
This could be textured concrete, natural stone with a rough finish or special non-slip tiles.
These materials help to reduce the risk of slips and falls, keeping everyone safe as they move around the pool.