When you live in a region with harsh winter seasons, one of your most important tasks as a homeowner is to protect your water pipes at home well before the temperatures start to drop.
The icy cold weather will easily freeze your pipes, and when it does, you can end up with more damage than you expect. And whether your pipes are made of copper or plastic, they'll be prone to bursting and leaking when they get frozen.
Now, if most of your interiors are heated, you won't have much to worry about. However, if you have pipes around unheated areas like the garage, basement, and attic, then you must plan ahead, especially if it's your first time to experience the freezing temperatures of winter.
While you can always call a professional to save you time and effort, they may not always be available. So, it's also good to know how you can protect your pipes during the winter seasons. As a homeowner, it always pays to have at least a bit of knowledge when it comes to maintaining your home and preventing damage.
And to help you with that, here are the best preventive measures you can do on your own to protect your pipes before and during winter:
1. Insulate Exposed Pipes
Before you begin, you should know which pipes to protect. First, learn to distinguish between water supply pipes and drain pipes. It's the former that needs to be protected against freezing. Water supply pipes are pressurized and smaller in size, usually just one inch in diameter, sometimes even smaller. On the contrary, drain pipes are bigger and aren't pressurized as they only carry water but don't hold them.
To insulate water supply pipes, you can use heating tapes or cables. They come in two types: self-regulating and electric (constant wattage). However, using the latter requires more caution, so before you even buy one, consider the instructions and safety requirements first. Lastly, prioritize insulating pipes outdoors and those in unheated areas like the basement, attic, and garage.
---
Read Also:
---
2. Keep All Unheated Rooms and Areas Closed
If you have a garage or an attic, make sure to keep the external doors and windows closed. This will help prevent cold air from getting in and causing even lower temperatures. Likewise, it will help keep these rooms warmer even if they're not heated as much as the main rooms.
3. Drain the Outdoor Faucets
Do you know how to turn off outside water for winter? If you have an outdoor hose tap, don't forget to shut it down. Look for the shut-off valve for each tap and turn it clockwise. Then, go to the outdoor hose tap, open it and empty it completely.
Remove the hose if it's still attached. Go back to the shut-off valve, look for the stop and drain valve and open it to get rid of any remaining water. Such excess water goes into your exterior pipes, which can make them more prone to freezing.
4. Let the Faucets Drip
When temperatures begin to drop below 20°F, leave at least one faucet dripping. But you might ask, which faucet should be left dripping? The answer: the faucet that's farthest from the main water source. This allows the water to flow throughout the longest pipe connection in the plumbing system, which helps to relieve pressure in the pipes too.
5. Leave Cabinet Doors Open
Most pipes are found inside the bathroom and kitchen doors, which are often cold as the warmth from heaters doesn't reach them. To let the warmer indoor temperatures reach them, keep them open or just slightly ajar.
6. Maintain Optimum Thermostat Levels
Throughout the winter season, it will be ideal to keep your house warm. Maintaining indoor temperatures above 50°F will help reduce the chances of your water pipes freezing.
If no one will be home for quite some time, it's even more important to keep the heater on. Leaving your house unheated for long periods during winter will quickly freeze up water inside before you even know it. If you need to keep your heater on while away, make sure to ask someone to check on your home regularly.
7. Seal Up Gaps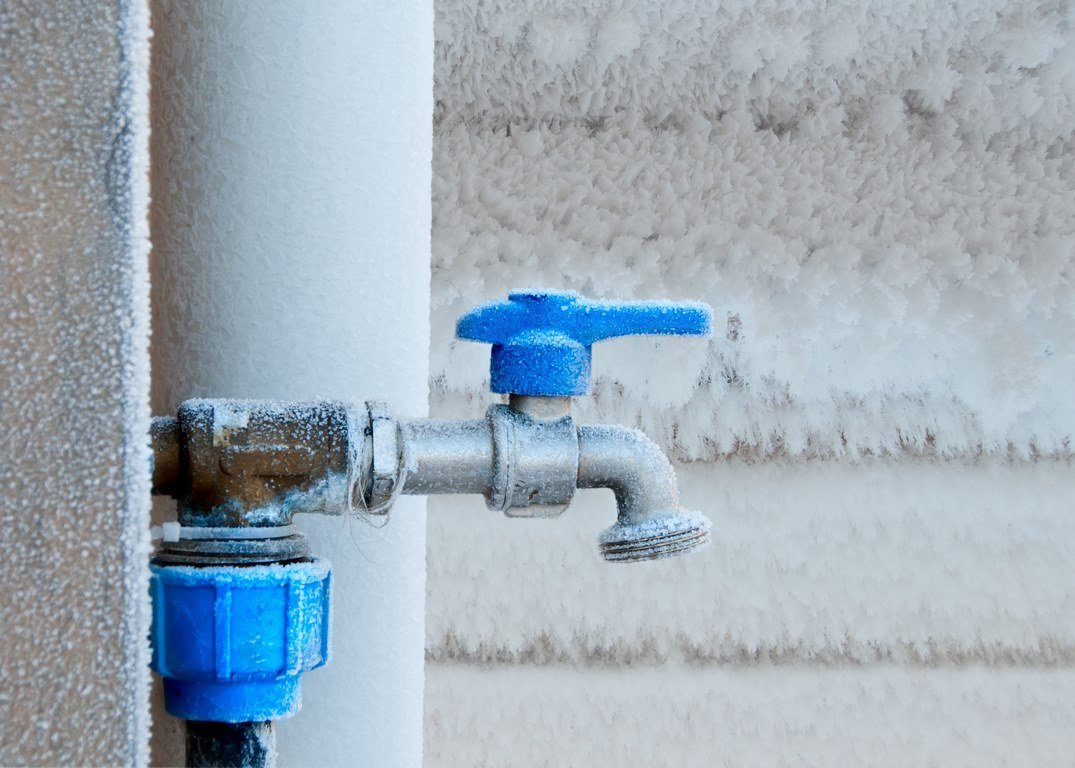 Before winter begins, make it a point to check for cracks and holes in all accessible pipes, including the walls or floors that cover them. If you have walls with cracks outside and a pipe is inside, you can caulk them or use spray foam insulation.
Sealing all gaps will help keep freezing cold air from the outdoors from penetrating through the walls where the pipes are. However, if you see bigger cracks, you'll be better off calling professionals.
8. Close The Crawl Spaces and Vents
Most pipes go through crawl spaces and vents. Aside from being unheated, these small spaces also allow outdoor air in, which will easily reach the pipes. What you can do is seal them temporarily to prevent cold air from getting through. You can use foams or vent covers to block the ones that are open to the outside.
However, if you have an HVAC unit that goes through the vents, check with a professional first before sealing them.
Final Thoughts
Although these are tips you can carry out by yourself, it's still ideal to get a professional plumbing inspection before the cold snaps begin. Starting any maintenance process with professional guidance will help you avoid costly mistakes.
More importantly, you'll also be learning the best practices from the professionals themselves. Remember that when it comes to maintaining homes, prevention and maintenance are always better than repairs and replacements.