As summer knock at the door, people get ready for parties and get-together. Those who have a garden or patio wish to organize the party there. Decorating the patio is an integral part of organizing an outdoor party. But how can you decorate your patio beautifully without the cushions?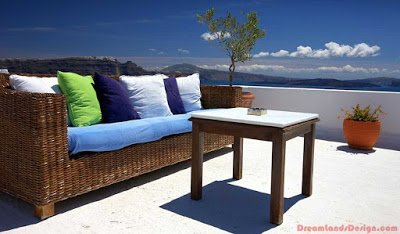 Outdoor Patio
During fall, winter or rainy season, the cushions get dirty. Dust and dirt accumulation is a major problem. Before you invite the guests you will have to make sure that your backyard is completely ready. You will have to clean your patio cushions and place them in their respective places.
A bright sunny day is ideal for cleaning the cushions. Let's have a look at how to clean the outdoor cushions.
Lay the cushions on a hard surface preferably on a rock bed or deck. You should not keep them on the grass. Otherwise the dirt will make the cushion even more dingy.
Spray the cushions using a hose. If you have a nozzle, you can use it. Otherwise you can keep your finger on the edge of the hose so that you can spray water evenly on the cushion. Turn over the cushions and wet the other side.
You can use a cushion cleaning solution or a drop of a gentle liquid shop. Take a drop of it on a sponge and scour the cushions with the sponge. If you find any stuck-on grime, you will have to press the sponge firmly to lift it up.
Spray the cushions again to remove soap and dirt. Make sure to use even strokes while cleaning the cushions with water.
Press the cushions firmly. This will drain out excess water.
Finally you will have to let the outdoor cushions air dry.
Following the tips given above will help you to clean outdoor cushions.