Businesses in various industries are going solar for similar reasons. Their ever-growing concern for energy costs made them switch to commercial solar systems.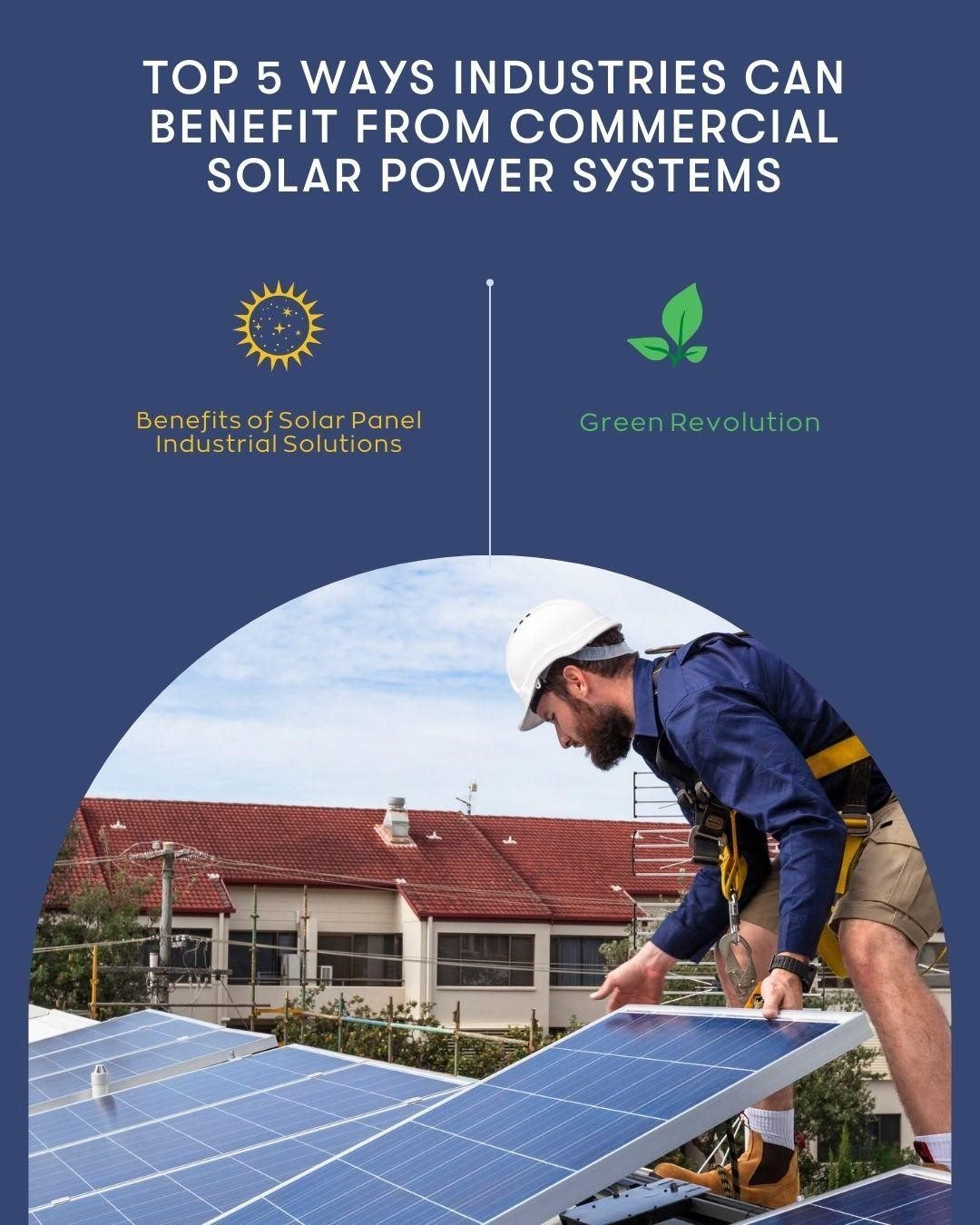 Manufacturing and commercial businesses are excellent candidates for solar energy. These industries have massive electricity consumption, making it a perfect fit to go solar. And as time passed, more industries opted for solar solutions and harnessed the sun's power.
The sun has so much potential that it supplies the globe with one year's worth of electricity in just an hour. If you do the math, we'll have an endless energy supply from the sun for another 5 billion years! Thus, installing commercial solar panel systems is becoming more common than ever. This alternative energy has proven economic, environmental, and energy benefits.
There's more reason to transition to solar energy than you know. This includes business tax credits and incentives from the federal and local governments. Many industries today take advantage of that to install solar systems for commercial use.
On top of that, the return on investment is bright in no more than 4 years with solar panels. If this is not convincing enough, here are five ways industries can benefit from commercial solar power systems.
Benefits of Solar Panel Industrial Solutions
1. Solar Panels Reduce Energy Costs
Commercial solar systems give you the option to cut back on operations and business overhead costs. You can save up to 50% on your electricity bill per month using solar panels and traditional utility systems.
Benefits will ripple across your business simply by saving money! This means you can allot more budget to wages and other supply and operational expenses. More solar panels mean you'll use less electricity from your distribution facility. If you have the option to reduce your electricity costs by half, how far will you take your solar conversion?
Whether you go to total or partial solar, you'll reap substantial benefits and avoid costly bills from commercial grids. However, this can vary depending on the following:
grid electricity usage
size of your business
size of your commercial solar power system
Factories and industrial businesses can use a net metering facility to help export solar-powered energy to the grid. This works especially well for facilities with no uniform electricity usage.
Remember that running a business heavily relies on a consistent energy supply. You're using power not only for lighting but also for electric heating and cooling systems and machinery.
You'll also get financial security and immunity from inflation and unpredictable price hikes. If you're worried about the upfront cost of installing commercial solar energy systems, worry more about your current utility bill!
---
Read Also:
---
2. Commercial Solar Systems are Sustainable
Sustainability from solar energy extends to commercial solar systems. There's no question that renewable energy is better for the environment. But some people are not aware that solar energy is the future.
Dependence on fossil fuels for a couple more decades will cost you later. This is because of the unpredictable nature of costs for coal and gas-fired electricity generation. Consumers will suffer electric rate fluctuations when these stations are regulated for carbon emissions. Hydroelectricity, on the other hand, can have a limited capacity and cause flooding when overproduced.
Nuclear plants are not exactly your business buddy as well due to their "dubious futures." They are time and time again proven volatile to accidents and nuclear waste concerns. You're left with the safest and most efficient electrical bet a renewable energy source.
Installing commercial solar power systems is the "future solution." Solar energy conversion is like investing in the stock market. In this case, commercial solar systems are the "future market." You are also lessening overhead electrical production, thus lowering electricity consumption.
3.  Solar Panels Create Power Generation Assets
How long can your business rely on your utility provider? With commercial solar power systems, you can be independent of your local energy provider. The financial benefits are bright.
But generating a reliable electric supply while reducing the carbon footprint is brighter. It's undeniable that traditional power systems can become problematic. If you invest in self-sufficient commercial solar panel systems, you'll have a consistent power supply no matter what.
You don't have to suffer the consequences if something happens to your commercial grid. Why not generate your own renewable energy while having the same current as your commercial power company? If done right, solar power can transform your energy sources and even provide a hedge against price hikes.
More often than not, energy prices are on the rise as time passes. To mitigate this, invest in a solar system that predicts energy costs for commercial businesses.
4. Enjoy Excellent Tax Incentives with Commercial Solar
Federal and local governments can help offset your solar installation costs through tax benefits. The overall expense of your commercial solar panel systems outweighs the upfront costs. This applies to all industries all over the world!
For instance, the United States Department of Agriculture provides tax advantages and monetary grants to agricultural industries. As a result, farms and similar industries are encouraged to install solar power.
Furthermore, you can qualify for government programs that depreciate your solar energy equipment. One example is the REAP grant for small businesses and non-profit organizations. Adding all these benefits will significantly improve your cash flow and help you recover installation costs in just a year.
Your benefits can vary depending on the type or size of solar panel systems in your commercial building. Nonetheless, you can guarantee a reasonable program tailored to your business goals regardless of the kind of system you install.
Eligibility for grants may vary if you're in rural or urban areas. Your commercial solar system investment will not go down the drain. This is on top of the long-term energy and financial savings from solar panels!
5.  Solar Systems for Commercial Use Provides Financial and Environmental Gains
Like all business ventures, you expect your investments to have substantial returns. With commercial solar systems, you'll have returns on investment both financially and ecologically.
Solar panel installation is not cheap. But why do businesses continue going solar? This is because of the extensive returns and benefits of solar panels.
Your commercial solar system can pay for itself in a couple of years.
You can enjoy lower to zero electrical bills.
Going solar attracts supply chain businesses with sustainability goals.
As a result of the above item, your business will have a growing support system.
Your sustainable patrons will make your business more profitable.
Solar panels reduce carbon footprint and help curb climate change.
Commercial solar power systems move towards green energy sources.
Many industries are starting to realize the significance of solar energy systems as a strategic key to long-term gains. However, keep in mind that there are no one-size-fits-all commercial solar systems.
Choose a commercial energy provider that can customize a solar solution that fits your business! Your journey to going solar starts with a sound decision-making process. Finally, align your business goals with your renewable energy vision for an efficient custom solution.
Benefits of Commercial Solar Power Systems Across Industries
The following list includes some of the many industries that benefit from commercial solar systems:
Car companies
Commercial businesses (e.g. shopping malls, office buildings)
Manufacturing companies
Pharmaceuticals
Poultry and dairy farms
Tech Companies
Imagine using solely fossil fuels to power the operations of these large industries. That would cost the planet more than the energy it produces!
Retail shopping companies like Walmart and Costco are among the leaders in green energy use. These companies aim to go 50% greener by 2025! With the current global climate change situation, many industries are slashing their use of non-renewable energy.
Agricultural farms are making the same efforts, too. They use commercial solar panel systems mainly to power ventilation in barns and chicken coops. Meanwhile, pharmaceutical companies like Novo Nordisk believe that solar energy is a balance of the following:
Environmental
Financial
Social
Even large tech companies like Apple and Google have been powered by 100% renewable energy for consecutive years! Going entirely solar can be quite a process. If large industries like Intel can install 3 million square feet of solar panels, you can too!
Lastly, car companies like Tesla have also long been advocates for the green energy movement. The first car to use solar panels is the Tesla Cybertruck. You've probably also heard about hybrid cars powered by solar batteries. With solar panel technologies, everything is possible.
The "Green Revolution"
What started as a dream is now readily available to various industries. The results and benefits are incomparable to using traditional power systems. Join the "Green Revolution" as early as now and enjoy its fulfilling benefits. All you need is an available roof space, and you're good to go solar! Make your ordinary rooftop a solar energy-producing asset.
You're hitting two birds with one stone by being cost-effective and saving the planet at the same time. You're also saving future generations from the harmful effects of non-renewable energy.
Be a business that makes a difference by being sustainable! Now that commercial solar systems are slowly becoming mainstream, you can hear about their stories and successes as proof. If you're still hesitant, talk to a solar energy expert you can trust!