Water is an essential part of our life and it is crucial that the water we use and drink is clean and free of unwanted impurities. In order to get clean water, a water filtration system is required.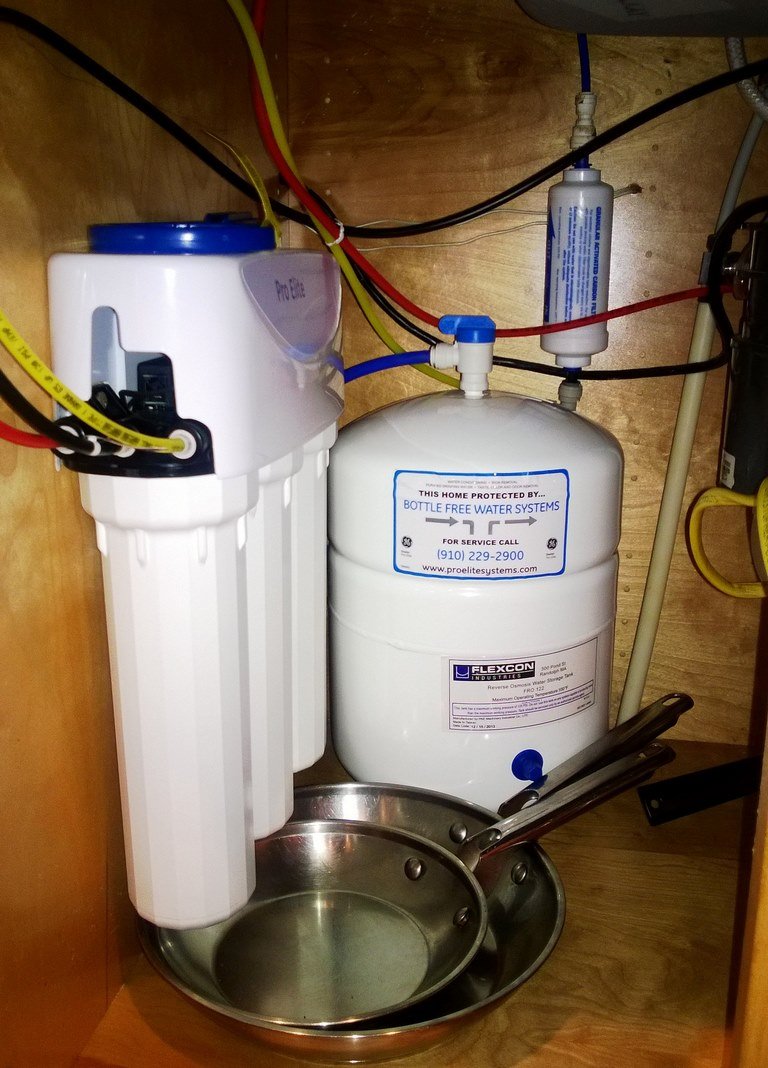 There are many different types of home water filtration systems, so let's go through them so you can have a better idea of which one is required for your home. Here are some of the types of home water filtration systems that are commonly seen in many households.
1. Whole House Water Filters
As the name suggests, whole house water filter systems are meant for the entire house. Naturally, the price of this type of water filtration system is quite expensive and the size is also incredibly large.
Whole house water filtration systems are designed to purify all of the water for your home and it usually comes with a flow rate of 10 to 15 GPM (gallons per minute) or higher.
The filtering system in a whole house water filtration system usually consists of a few stages for a more thorough purification and removal of major contaminants.
The installation of whole house water filtration systems requires it to connect to the main pipe which is a lot more complicated than the other water filter systems so you will need a professional to get the unit installed.
2. Countertop Water Filters
Countertop water filters are also another common type of home water filtration system and they are a good choice if you want clean water conveniently. This type of water filtration system usually sits on the kitchen counter and provides you with clean water to use and drink without constantly refilling a jug.
There are also two different types of countertop water filters, the first type comes with a large tank to store purified water, while the second type of countertop water filter connects to your main pipe at the kitchen sink.
The first type is usually cheaper and more convenient but also bulkier and usually provides room-temperature water only.
On the other hand, the second type is more expensive and usually comes with its own faucet that dispenses filtered water only when you turn it on. They are also smaller in size and don't take up too much counter space.
---
Read Also:
---
3. Under-Sink Water Filters
The next common type of home water filtration system is an under-sink water filter. Just as the name implies, an under-sink water filter is fitted under your sink and it is connected to your main water pipe so you will be able to get as much purified water as you like.
Under-sink water filters usually come with their own faucet that will need to be mounted next to the main faucet on your countertop. There are several variations of under-sink water filters.
Some come with one filter only while some have a few filters for a more thorough filtration and eliminating harmful contaminants. The filters can usually last for a long time and when the filters need to be replaced, it can be done with ease.
4. Water Pitcher Filters
For anyone that is looking for an affordable method to get clean filtered drinking water, water pitcher filters should be your go-to choice. This type of home water filtration system is essentially a big pitcher with an integrated water filter.
Their capacity is limited, normally between 6 to 10 cups but there are larger options that can hold up to 20 cups of filtered water. The thoroughness of water pitcher filters might not be as good as those larger and more advanced water filters, but it does get the job done without breaking your bank.
5. Faucet Filters
A faucet filter is screwed directly onto your sink faucet and they usually have a pass-through to let the water flow freely even when you're not using the filter. When you need filtered water, simply turn the switch on the filter so you can get filtered water.
This type of home water filtration system is easy to install and doesn't cost too much as well. Plus, there is an unlimited capacity since the water comes straight from your main water pipe.
6. Shower Filters
Shower or showerhead filters are similar to faucet filters because you will need to install the filter on your shower head to get clean water. There are some shower filters that come with a showerhead too.
This type of home water filtration system is recommended if the water in your area has high levels of chlorine and fluoride.
These two contaminants are not good for your skin and hair and installing a shower filter that gets rid of chlorine and fluoride will help to rejuvenate your skin and potentially reduce hair loss too.
The installation and maintenance of a shower filter is also extremely simple and the cost of acquiring and maintaining it is fairly low too.
7. Reverse Osmosis Systems
One of the most advanced types of home water filtration systems is the reverse osmosis system. This water filtration system is equipped with a semipermeable membrane and it forces water through it for the removal of unwanted chemicals and contaminants. At the same time, it also removes essential minerals such as magnesium and calcium.
Since the healthy minerals are removed during the filtration process, a reverse osmosis system will usually require a remineralization filter to replenish the healthy minerals.
Reverse osmosis systems also tend to cost more than the other filtration systems because of how advanced and thorough it is. Also, the water waste is quite high which isn't ideal if you are trying to be more environmentally friendly.
Conclusion
The home water filtration systems mentioned above are not all the systems available. There are other home water filters on the market too but the types that were mentioned are the most common ones and have more choices available.
You should also remember that there isn't one perfect type of home water filtration system that suits everyone, so choose a system that is best suited to your needs.
If you're looking for a more detailed explanation of the above water filtration systems, check out this water filter website for more information.
You will save money by converting to a Wellness Water softeners and use fewer cleaning agents to clean your belongings as well.