Making improvements seems like an immense chore and that too costs you very much at times. People look for affordable maintenance that adds value to a home and maximizes the living space.
The issue becomes more pressing when you don't know where you start from. As you have gathered lots of stuff and now it bothers you. It draws you two options now, move or improve. The wise man said, "improve".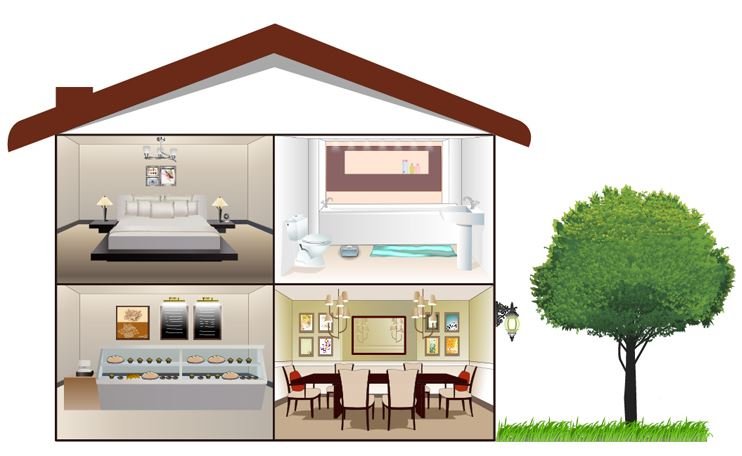 Well, you should know that improvements will cost you very little than buying a new home, when things will get improved it will add value to your property, moving into a new place will require a new beginning.
You are happy here with all the comfort and the last thing to be added into your consideration is you will have a great time planning things to improve with your partner. You are getting an opportunity to exhibit your art in your home.
Here is a complete guide to making improvements in your house in the easiest ways. You can either copy the same plan as suggested or take hints from ours and help yourself create self-ideas that give your home an improved yet superior vision.
Don't worry about the cost, you can shop from stores like Charles Bentley and use home improvement coupons and save money.
However, it is important to give first aid to the things that are requiring maintenance but if you keep collecting them and they leave you annoyed, read this article and get a guide to home improvement in easy ways.
---
Read Also:
---
Prepare A-List
Preparing a list helps you manage things in a better way. It keeps things under knowledge and reminds you what's still left undone when you thought you were done with the job.
So, start with the outer space that's the first thing to be noticed then the kitchen, lounge, and then you can begin with the bedrooms. The list will be divided into portions like okay,
Outer space
Pots have to get paint
The staircase has to get refreshed
Plants need to be rearranged
Water fountain requiring special attention
Kitchen
The cabinet needs to be screwed and painted
Water leakage from the right tap
Handles
The dining chair needs to be polished
Lounge
Add curtains
Wall cracks
Wall clock
Coffee table lacquer
Add a carpet
Bathrooms
1. Throw Away the Unrepairable
Things will be easy to manage when there will be less load. There are a lot of things that we keep in the hope to get them repaired one day, or if we can utilize it somewhere.
The thing is, such objects are staling into our storerooms and becoming a habitat to cockroaches and other bugs that will soon find a way to the kitchen and into our jars. If you have no purpose for the objects now, repair them if they can and sell them.
Few things are in such a very poor condition that they can be placed into garbage only. A very few things are those that if made a little effort can show up better as before.
Like, your old cupboard that needs to be polished, a painting that is dusted, an antique table that if cleaned can be a masterpiece in your living space.
2. Freshen Up Your Tiles
Mopping every day isn't enough to refresh the tiles. Use different detergents to glow them up and if that doesn't help, change the tiles with the new one. Sometimes tiles and wall paint play a big role in the home refreshment.
Change the marble floor with the tiles or the tiles with some different tiles. After all, after years the flooring gets dull and broken at times, due to natural earthquakes or if you mistakenly threw a heavy piece onto it. Freshen up your tiles can refresh your whole house.
3. Clean The Window Glass and Brush the Webs
Before you look for the improvements, find if there is dirt anywhere. Sometimes a good deep cleaning leaves no need for improvement in the house.
Like the webs in the corner of the house, the dull windows can shine again with the glass cleaner and stands can look new with a wet cloth cleansing.
The marks which you thought were the cracks on walls were pencil lines can be washed away with liquid detergent and cloth also, the washroom tiles can again be washed easily with the sweep and brush. Put things in an organized way first, this will help you in your good favor.
4. Pack Up Non-Seasonal Clothes
Time to clean your cupboards. Pack up your non-seasonal clothing and put them in a bag that can be placed safely in a store or corner room.
These things take up a lot of space in the cupboards and mess up your whole wardrobe. They create a stinky smell sometimes and create confusion with what to wear with multiple choices.
5. Wallpaper Can Hide the Cracks and Marks on Wall
How often will you paint the walls to hide the inner cracks and they will appear again? Wallpaper can best cover all the cracks on the walls and also the cure for the damp walls. Also, they are easy to clean every time a kid rubs his dirty hands or scratches a pencil.
Rub the stain with the detergent on a piece of cloth and wipe it with a wet towel. Wallpaper adds value to your room since it adds a protective layer to the wall that adds subtle interest and texture to achieve simplicity as well as a look.
6. Look Into Magazines for More Ideas
When you look into magazines for home improvement tips, you will find that they are filled with tons of great information. Some articles can be used in your home improvement projects, and if you have never tried anything before, you will find that you can get some great ideas from reading these magazines.
If you have decided to remodel your home, then looking into magazines for home improvement ideas can help you decide what things you should spend your money on, and how you can make your life easier.
---
 Author Bio:
James Johnson is a passionate blogger who loves to write on trending topics related to money-saving tricks, lifestyle, fashion, fitness, and tech. Currently, I am working as a part-time writer at Discount Codez, a discount and coupons directory. You can follow James on Facebook, Instagram & Twitter for more of his stuff.
---