From economy to medicine – Covid-19 brought global downfall in all fields. But it wasn't all entirely a curse. The pandemic did bring out a new style of work in the spotlight; work-from-home.
This particular style allowed people to enjoy the comfort of their homes while earning. It also gave them increased control over work hours and rules. So, having experienced the benefits of being your boss for once, it's understandable why people don't want to go back to the old 9-to-5 routine anymore.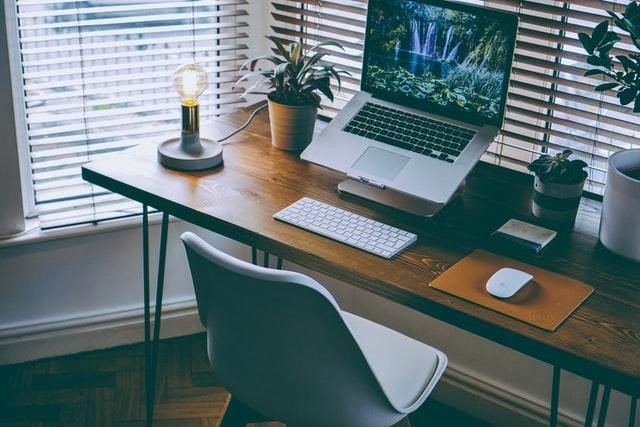 All that said, working from home is no fun if you don't have an ergonomic office. The lack of proper work setup can cause severe backaches, muscle tension, poor posture, eyesight issues, reduced productivity, and whatnot. It is why we've brought you the ultimate ergonomic home design today.  Read more!
Invest in a High-Quality Desk
The desk can make or break your home office design. It is the main part of the setup that will carry your equipment and all the work stuff. So, it should have the right size, looks, and storage space.
There are different types of desks available in the market. One popular choice is a ladder desk. It has a narrow, long structure that resembles a ladder.
You will find it best for a crowded or small room. It's because the narrowness benefits from the vertical space. Plus, there is lots of open storage in the form of shelves and compartments.
Another amazing option is a gaming desk. Although it can be expensive, the large size and build quality are worth it. You can set up multiple screens and gadgets to make usage a breeze.
Choose Reclining Office Chairs
We've typically heard about recliners and office chairs. But what is a reclining office chair? Well, this is a new type of hybrid office chair that makes working from home a painless journey – quite literally.
The reclining office chair has a flexible backrest that moves back to certain degrees. It lets you take small breaks between work and stretch your body. Sometimes, people also make use of the recliner to take power naps.
As a result, the chair helps ease the pain that comes from sitting in the same position for long periods. It also improves posture, blood circulation, and overall well-being.
---
Read Also:
---
Use a Monitor Stand
You can go ahead and select a variety of ergonomic keyboards and mice for your home office. But, one thing that you should always prioritize is the monitor stand. It's a small platform to enhance the height of your display.
According to Mayo Clinic, the ergonomic sitting position is when the monitor is around an arm's length away, and the top of it is just below your eye level. So, having a monitor stand can make a world of difference. It helps eliminate all the strain on your neck that comes from bending up and down.
Plus, you get some additional space between the stand and desk to store stuff. You can also place action figures or plants for aesthetics.
Personalize Your Space
Personalization won't help make the workspace more comfortable or something. In fact, it would hardly contribute to any ergonomics. However, it will help increase productivity.
It doesn't matter whether you hang a few framed diplomas or install lavish backgrounds and high-end collectibles. These little things give you a feeling of ownership over the setup. And so, work efficiency comes to you more naturally and effortlessly!
Let in More Light
Another tip to boost your productivity and comfort levels in the home office is to focus on the lights. The place should not be dark and moody with lots of RGB lights like the present-day trends. Instead, there should be bright white lights.
We say this because low lighting can have a negative impact on your mood and energy levels. You won't feel eager to work or make any progress at all. Plus, insufficient lighting will cause eyestrain and headaches.
So, it's best to keep your home office well-lit and bright. You can do so by installing powerful LEDs on the ceiling. Or a much better way is to select a room with lots of windows for natural daylight.