Choosing authentic Victorian exterior house colors can depend on more than just picking a color from the period that you like. Which part of the Victorian era your house was built in can play a part in choosing the best color. Taking a look at the home's construction is also important.
Authentic Victorian House Colors of the Victorian Period
Although the Victorian period is often seen as being austere and straight-laced, Victorian architecture is actually very detailed. Many of these architectural details, such as gingerbread house trim, were picked out using a wide range of Victorian house colors exterior. Often more than one color was used to cause maximum impact.
Depending on which stage of the Victorian period your house was built, or is modeled upon, the following paint types and colors were popular:
Off-white & Cream – Whilst white is often a tempting color to paint a house in, the brilliant white paint wasn't available in the Victorian era. For a pale color, opt instead for off-white or cream, which is more authentic of the period.
Dark blue, red, green and rich brown were popular options for the exterior of Victorian house colors, during the mid-Victorian era, adding more color to the neutral tones that began the Victorian period.
The later part of the Victorian era gave way to the use of more gloss paints – this became extremely popular in busy towns and cities, as it was though that the oil-based paints made it easier to keep house exteriors clean.
Often it is not about which part of the Victorian era your house was built, or styled upon, but more what its construction is:
If your Victorian house is of a brick construction, then no exterior paint colors are needed, as brickwork would always be left bare.
On a stucco, render, or pebbledash house exterior, the finish can be left as it is, or use a lime wash in stone colors to go over the top – the hues can be anything from the palest cream or Grey to darker sandstone shades, or left as a natural lime wash.
Image Gallery of Victorian House Colors Exterior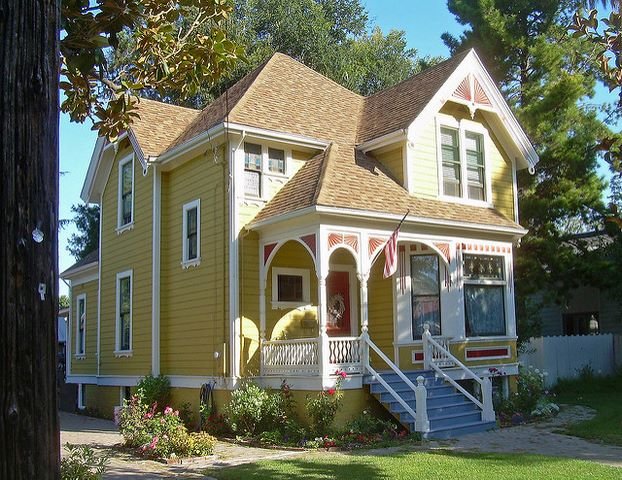 Painting a Victorian House Exterior, Picking Out the Exterior Details
Extending the exterior theme out into the garden, try painting any fences in what was called at the time, an "invisible green." The idea was that the fence railings, gates, and garden benches would "disappear" into the foliage and greenery of the garden. In the later part of the nineteenth century (late Victorian period), it also became fashionable in more well-to-do households to use a bronzing powder paint to highlight outdoor features – fence posts and finials for example.
You should use exterior gloss paint on architectural details such as wooden beams, window frames, and doors – black was popular on traditional Victorian brick houses, but off-white is equally acceptable on Victorian-style houses of today.
The exterior of Victorian house colors are wide and varied, and can easily be used in any combination you wish. As long as you remember to emphasize the architectural details with a different colored paint to your main color choice, you can't go wrong.
---
Classic American House Styles

Authentic colors and characteristics of popular American house designs including Ranch style, Craftsman, Victorian, and Colonial styles are examined in this series of Classics of American house architecture, along with plenty of pictures to help identify them.

Authentic Victorian House Colors, Painting a Victorian House Exterior

---
Resources
Image Credits
Victorian House Green, Victorian House Yellow, Red & Yellow house, House & Garden – David Sawyer: https://www.flickr.com/photos/18702768@N04/2878713102/; https://www.flickr.com/photos/18702768@N04/2817187036/; https://www.flickr.com/photos/18702768@N04/2919988471/; https://www.flickr.com/photos/18702768@N04/3789955189/
Abandoned – Cookieater2009: https://www.flickr.com/photos/cookieater2009/4810540724/