The time of using roller and brush for painting furniture is gone! People are now using paint sprayers for an even and smooth finish.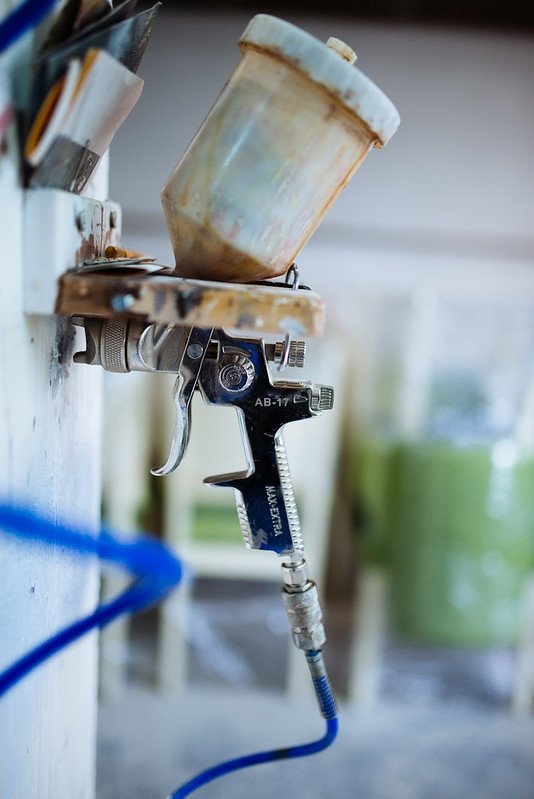 Last week, I decided to paint my old furniture with a paint sprayer. But I didn't understand which paint sprayer would do better and be budget-friendly. I researched and finally got the right paint sprayer for the painting project. If you have the same confusion about what kind of sprayer you use to paint furniture, then let's make it clear.
HVLP paint sprayer is an effective tool for painting furniture. It is an ideal way to get an even and smooth finish with little effort. You can easily cover up large areas of furniture within a short time. It requires low pressure to spray paint.
I think you are searching for detailed information about the type of paint sprayer used on furniture. So, yeah! You can learn more in this full article. Stay tuned!
Using HVLP Paint Sprayer to Paint Furniture is Easy: a Short Overview
HVLP (high volume; low pressure) is an innovative way to spray paint more easily with an excellent finish. The function of HVLP is very simple to understand. As a beginner, don't feel nervous. You can do it like a pro with little practice.
First, try to understand the function of an HVLP spray gun. There's a trigger on spray paint that you need to press. Then the gun atomizes the paint through a nozzle under the required pressure. Hence, the paint properly spreads into an even coat and reduces the amount of time and wasted paint.
Ensure you keep a minimum distance between the furniture and the paint sprayer gun. Try to spray the paint at an up-down stroke with an overlap of 50% of the stroke.
You must maintain a perfect parallel angle to get better results. Hence apply several coats of primer and paint. Don't forget to sand between two coats with 220-grit sandpaper. This is the simple process of painting your furniture with a little effort. Got it?
---
Read Also:
---
HVLP VS Airless Sprayer: Which Will Be Best for Use to Paint Furniture?
Using an HVLP paint sprayer to paint furniture could be an effortless solution because the HVLP gun provides users good control over making even paint spray, reducing overspray.
An airless sprayer is good for walls, fences, and large areas. It works on high pressure, so it is a little tough to control spray paint by users.
Again, this product is more expensive. However, use the HVLP sprayer while you work on the details and fine work like furniture paint.
Best HVLP Sprayer
You can feel tense about which HVLP sprayer will work best for the furniture paint job. In my experience, the Hychika HVLP paint sprayer is the best. I was able to paint my old furniture without any mess. It's very easy to use and clean.
The spray gun is a high-power gun that provides very fast spray painting. The sprayer has 3 spray patterns and 3 nozzles which is a plus point too! Undoubtedly, you can purchase this with an affordable budget.
Conclusion
If you don't want to waste your time, money, or energy, then choose the HVLP paint sprayer for furniture paint. It'll give you a satisfactory result. Before doing the painting project, take safety precautions to reduce the risk of injury or health risks.