For some home cooks, it can be overwhelming what kitchenware items you actually need for your kitchen.
The market is full of different tools and kitchenware appliances, so picking the right ones to help you create great-tasting dishes can prove challenging.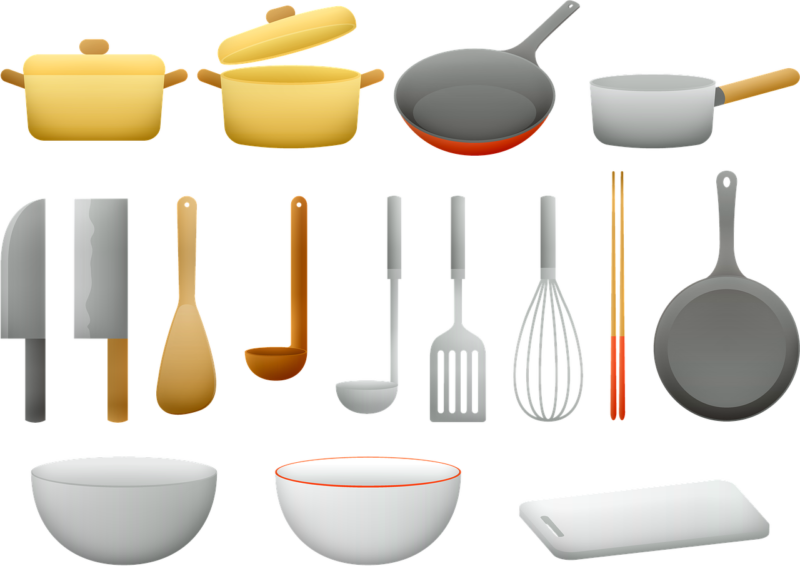 The last thing any home cook wants is to have a kitchen full of clutter, making it difficult to find what it is you want when you want it.
A well-organized kitchen with easy access to the equipment is vital to making your cooking experience enjoyable.
During the pandemic, people have started cooking a lot more at home. With restaurants closing down or having to implement strict Covid-19 regulations, most have decided to cook from home instead.
It has been a great opportunity to learn some new dishes and create great-tasting food from the comfort of your own home.
To know more about kitchen items check this blog kitchenlatest.com
1. An Instant Pot
It seems like everyone has an instant pot at home these days. These appliances allow you to easily cook great-tasting food without having to put too much effort into preparing or cooking food.
All you have to do is put your ingredients into the pot, press the buttons on the front to determine how long you want the meal to be cooked for, and that's it!
These multifunctional kitchen appliances allow you to:
Cook Rice
Make yogurt
Use it as a slow cooker
Browning pan
Steamer
Warming pot: This feature allows you to keep your meal warm whenever you are ready to eat it.
So, rather than purchasing lots of different appliances, an instant pot will help you save money and reduce the amount of clutter in your kitchen.
It is one of the greenest kitchen appliances you will find on the market, as it helps you cook food much faster than traditional cooking appliances.
For example, it might take you approximately 6 hours to cook a stew in a slow cooker. If you use an instant pot, the meal could be ready in around 45 minutes.
Unlike other cooking equipment, you don't have to stand by the ingredients, stir them, and keep an eye on them so it is cooked perfectly, as the instant pot will do all the hard work for you. It makes cooking food easy!
2. Non-Stick Frying Pan
Most of us home cooks would be lost without our beloved non-stick frying pan. Not only do they make cooking food easy, but they are also simple to clean up after we use them.
Here are a few things you can easily cook with a non-stick frying pan:
Bacon: For us, meat-eaters there is nothing better than the smell of bacon sizzling on your non-stick frying pan on a Sunday morning. Also, because they are so easy to clean you enjoy the rest of your day!
Cooking eggs: Whether it's fluffy omelets or easy over-fried eggs, a non-stick frying pan will help you get the best results.
Pancakes: We all love a great-tasting pancake, however, they can be frustrating to make if they get stuck to the frying pan. Using a non-stick frying pan can help you avoid getting your pancake stuck!
It's not just breakfast you can cook with a non-stick frying pan as there is a long list of other dishes you can use this tool for.
---
Read Also:
---
3. Wooden Spoon
You will find metal spoons or other non-wooden spoons that tend to scratch your kitchen equipment. For non-stick surfaces, this can cause many issues, as food tends to get stuck to the bottom of the sides.
These pots and pans don't come cheap, however, you may be forced to throw them in the bin. Wooden spoons, on the other hand, don't have the same effect.
Because the tool is naturally soft, it won't damage or scratch your cast iron, non-stick pan, or your expensive stainless steel pans.
4. Set of Kitchen Knives
A high-quality set of kitchen knives is important for any home cook. When you purchase a set of cooking knives, the most important ones are the large chef's knife and the paring knife.
Large chef knife: These largely shaped kitchen knives are normally between 8-10 inches in length. They are used to slice pretty much anything in the kitchen, especially vegetables, fruit, and meats. Because they are slightly heavy and they are long, it makes them ideal for chopping and slicing meat.
Paring knife: These smaller knives are great for helping you peel and coring vegetables.
A good knife is every home cook's best friend!
5. Rolling Pin
If you are into baking, a rolling pin is an essential item that should be stored in your kitchen. It can be difficult to work with dough at times, using a rolling pin to roll it out makes your life a lot easier.
Whether you want to make cookies, pies, pizzas, or tortillas, a rolling pin is vital. Rolling pins are not too expensive either!