Are you part of the 50% of Americans who spend up to an hour in the kitchen preparing each daily meal? If so, you spend close to 100 hours in your kitchen each month on meal prep alone.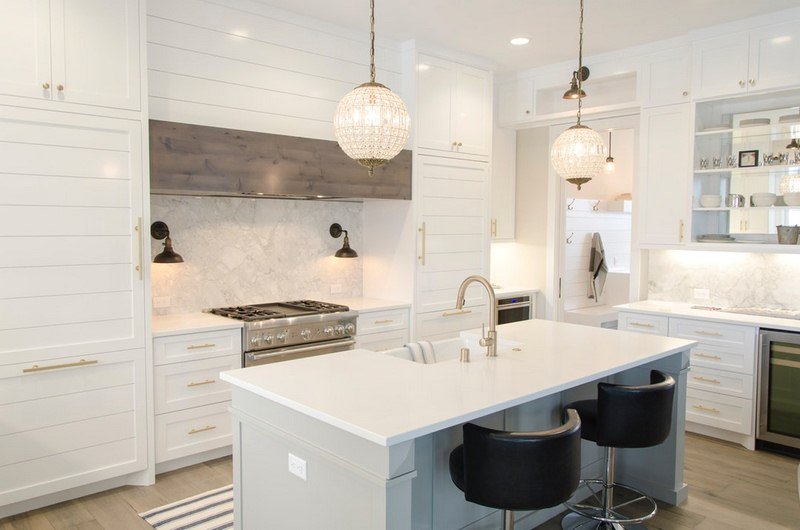 How to Optimize Kitchen Space
For those of us with limited kitchen space, those 100 hours can be a challenge. Don't let a tiny kitchen rob you of convenience or organization!
While you might not have the cooking space of Gordon Ramsay, you can make your kitchen more user-friendly with these great space-saving kitchen design ideas.
---
Read Also:
---
Utilize Inner Cabinet Doors
The back side of cabinet doors is a prime piece of kitchen real estate that often goes ignored. You can use this space to install a hook shelf, spice rack, or even lid holders for your pots.
Another clever idea is to attach strip magnets to the cabinet door. You can then attach meal spice tins, kitchen utensils, or any other magnetic kitchen item you like!
Why stop with cabinets? The inside of your pantry door can be a huge space saver. Take the load off of your pantry shelves by storing odd-sized items on the back of the door.
Install Rolling Shelves
Deep cabinets are a blessing for storage, but those dark and tight spaces can be a magnet for disorganization and clutter. There's no point in having deep cabinets when you have to fit your whole upper body inside to reach around blindly for your favorite saucepan.
Rolling shelves are an excellent upgrade to put on your kitchen remodeling to-do list. These shelves easily pull out of the cabinets thanks to tracks that help them glide along. You'll be surprised how much more can fit in a cabinet, and how much easier they are to use!
Use Dividers and Risers
Oftentimes we end up precariously stacking plates and cups on top of each other to maximize shelf space. No more!
Simple shelf risers can add an extra surface for cabinet storage that allows you to fit dishes more safely. You can double your shelving without adding any permanent changes.
Another great way to organize lids, plates and more is dividers. You can use a simple tension rod, or purchase kitchen-ready dividers made for this purpose. This method also works great to keep deep kitchen drawers organized too!
Speaking of cup stacking, an extra organizing tip is to install mug hooks beneath some of your upper cabinets or by your coffee station. Hanging your mugs frees more space and can display some of your pretty teacups!
Utilize Open Wall Space
Do you have unused space above your cabinets? Use that area as an extra shelf to store bulky or infrequently used kitchen gadgets such as crock pots or blenders.
What about a blank wall in the kitchen? Maximize your storage area by hanging a pegboard, shelving with matching bulk food containers, or even a folding table.
Your ceiling can also do double duty. Why not hang a pot rack over your island or above a standing baker's rack? Talk about floor-to-ceiling storage!
A Kitchen Space Built For You
Remodeling or making upgrades to your kitchen space isn't just about improving the look and feel. Trying out some of these organizational upgrades will improve the functionality of your kitchen and make the time spent there a pleasure. Follow these ideas to add function to the heart of your home, no matter the size.
If you're looking for some more space-saving tips that can improve the style and function of your kitchen, check out 7 more tips for space-saving design on our blog today!