In this article, we delve into why peel-and-stick wallpaper is the perfect choice for nurseries. Nurseries are unique spaces in our homes, where safety, comfort, and aesthetics harmoniously coexist. Removable wallpaper by CostaCover seamlessly aligns with these nursery requirements, offering a host of benefits that make it an ideal option for crafting beautiful and functional baby rooms.
Easy Installation
One of the most significant advantages of peel-and-stick wallpaper is the ease of installation. It's a DIY-friendly project that can typically be completed in just a few hours, depending on the size of the room.
Unlike traditional wallpaper that requires paste or glue, temporary wallpaper already has adhesive on the back. This eliminates the mess and hassle associated with applying adhesives and ensures a clean and fuss-free experience.
Whether you're a seasoned DIY enthusiast or a first-time decorator, you'll appreciate how user-friendly peel-and-stick wallpaper is.
It's forgiving, allowing you to reposition it during installation to get the perfect alignment. And if you make a mistake, it's easy to peel off and try again.
Safety and Child-Friendly Materials
Peel-and-stick wallpaper is an excellent choice because it's made from materials that are safe for children. CostaCover prioritizes the use of non-toxic and child-friendly materials in their products.
---
Read Also :
---
These CostaCover's wallpaper for baby nursery are:
Phthalate-Free: Phthalates are chemicals commonly found in some wallpaper adhesives and can be harmful to children's health.
VOC-Free: Nursery-specific peel-and-stick wallpapers are VOC-free, creating a healthier indoor environment for your baby.
Lead-Free: Some older wallpapers may contain lead-based pigments, which are hazardous if ingested or inhaled.
When you choose CostaCover's peel and stick wallpaper for nursery, you can rest assured that you're creating a safe and healthy environment for your child. These wallpapers adhere securely to the wall, reducing the risk of peeling or detaching, which could be a choking hazard.
Moreover, they are easy to clean, allowing you to maintain a hygienic space for your baby. This commitment to safety provides parents with peace of mind, knowing that their nursery is not only beautiful but also a secure space for their little ones to grow and thrive.
Versatile Design Options
Removable wallpaper offers an extensive array of design options, making it a versatile choice for nurseries. Whether you have a specific theme in mind or you're looking for something timeless and adaptable, you'll find a design that suits your vision.
CostaCover's collection, for example, boasts a diverse selection of peel-and-stick wallpapers, catering to various tastes and preferences.
Nature-Inspired: Nature-themed designs, such as serene forests, whimsical woodland creatures, or tranquil ocean scenes, can create a calming and nurturing atmosphere in a nursery. These wallpapers are perfect for instilling a love for the outdoors in your child.
Gender-Neutral: If you prefer a gender-neutral nursery or are waiting to find out your baby's gender, there are countless self-adhesive wallpaper options that fit this theme. Think soft pastels, playful geometric patterns, or soothing monochromatic designs.
Classic Patterns: Classic patterns like stripes, polka dots, and chevrons can add a touch of timelessness to your nursery decor. These designs work well with a wide range of nursery furniture and accessories.
Characters and Fantasy: Many peel-and-stick wallpapers feature beloved characters from children's books and movies, allowing you to create a magical and imaginative space for your child.
Durability and Maintenance
Peel-and-stick wallpaper is not only stylish but also durable, making it a smart choice for nursery decor. High-quality peel-and-stick wallpaper is designed to withstand daily life in a nursery. It can endure light bumps, occasional spills, and even the curious hands of your little one.
Removable wallpaper is UV-resistant, which means it won't fade or lose its vibrancy over time, even if your nursery receives plenty of natural light.
It's no secret that kids can be quite active, and sometimes that includes pulling and tugging on things. Peel and stick wallpaper is designed to be tear-resistant, ensuring it stays looking great even with a bit of exploration.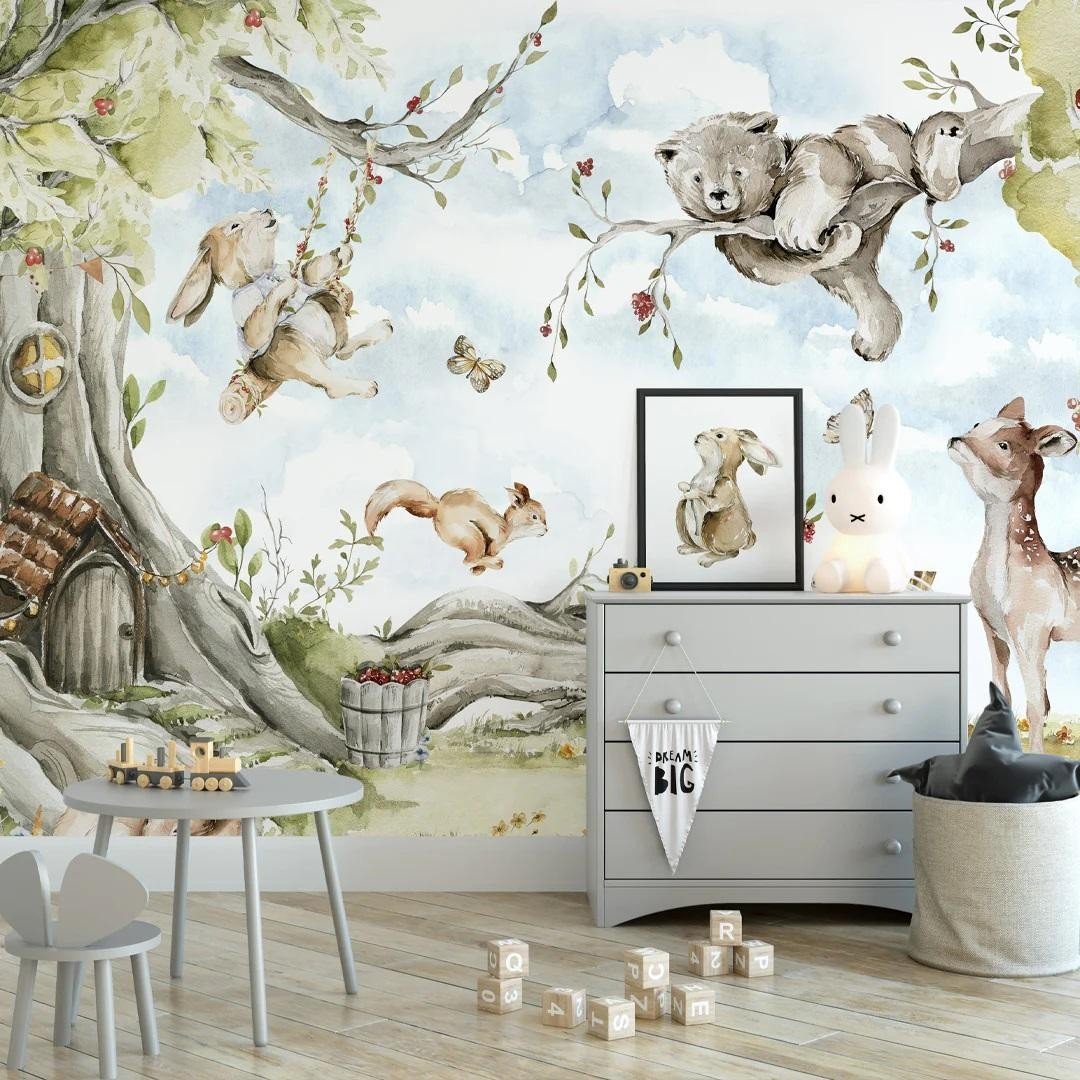 Cost-Effective Solution
Peel and stick wallpaper offers significant savings compared to traditional wallpaper or paint. Traditional wallpaper often involves higher material costs.
Removable wallpaper is designed for easy self-installation, eliminating the need for professional labor costs. Traditional wallpaper installation can be both time-consuming and expensive when done by a professional.
Conclusion
Peel and stick wallpaper has emerged as the ideal choice for nurseries for a multitude of reasons. From easy installation to safety and a vast range of design options, it offers practicality without compromising style. Its cost-effectiveness is the cherry on top, making it a well-rounded solution for parents.
Incorporating peel-and-stick wallpaper into your nursery decor not only elevates the aesthetics but also simplifies the process of transforming your baby's room into a haven of comfort and creativity.