Decorating your ceiling with a texture adds more beauty as the ceiling is probably the main part of any house, office, or public building.
Plus, there are so many ceiling texture types to choose from.
Advantages –
It is a pocket friendly interior element to implement.
Plenty of designs to choose from
You can customize your ceiling texture as per your style and preferences.
Some of these texture ceilings do not need any professional equipment or help. You can easily do them on your own.
Ceiling textures can be matched and blended with your wall textures as well. This creates a cohesive aesthetic story.
Come, let us take you through 11 different types of ceiling texture to help you make your pick –
1  Popcorn Ceiling Texture
This ceiling texture has many names –
acoustic ceiling,
stipple ceiling,
Cottage cheese texture, and the most commonly used-
Popcorn ceiling texture.
To achieve this pattern, white asbestos fibers were sprayed on the wall surface before the 1970s.
But, unfortunately, asbestos was later banned because of its toxic nature.
Luckily, popcorn ceiling texture is now back in fashion, and guess what, it is super easy to implement. Nowadays, you get ready to use texture sprays, conveniently available in stores.
Firstly, clean your roof and coat it with a primer (stain-blocker primer – is advisable). Then, directly spray the ceiling surface with popcorn ceiling texture spray which contains a mixture of mud and Styrofoam.
It has a fluid yet lumpy texture, because of which you get that puffy effect. We suggest you do a dry run first on a slab or unused wall surface.
If you find it tricky, hire a professional for doing the job. They know the fastest and the best methods to do it.
2  Spray Sand Ceiling Texture
Spraying a mixture of sand, clay, and primer with the help of a paint sprayer will help you achieve this type of texture.
Although, let us tell you that this method is a bit intrinsic, time-consuming, and needs some skills to apply. You may find this design mostly used as wall decorations as well.
---
Read Also:
---
3  Knockdown Ceiling Texture
To get this texture is a two-step process. Firstly, you need to follow the spray sand ceiling texture method.
Once, almost dried, the sand splatters are knocked down using a rubber knockdown knife and hence, the name! While implementing this, make sure to time your sprayed surface otherwise, it may cause you some struggle.
4   Skip Trowel Ceiling Texture
We are to a simple one now. This skip trowel ceiling texture is achieved by hands instead of spray guns or paint sprayers.
If you have less time for your interiors, we suggest you opt for this. It takes less time and makes sure to properly seal up all that you want to be covered with ease.
This method is also less messy from the bunch.
5  Sheetrock Ceiling Texture
If you carry an artsy vibe and crave elegance indoors, Sheetrock ceiling texture is the one for you.
It looks fresh, and marvelous when executed. Although, it requires an ample amount of time and skills.
6 Lace Ceiling Texture
This is one of the most famous and celebrated ceiling textures of all time. It takes inspiration from the Spanish lace texture and French lace texture.
The prep for this design is more intricate and requires skillful hands for execution.
A lot of tools like –
Knife sharper
Spatter gun
Drywall knife
Pin nail gun, etc. are needed in the process.
You need to choose the desired texture and then a base has been created with splash gun spraying. Later, to finish it off, use a knife and the pin nail tool.
7  Swirl Ceiling Texture
This ceiling texture is super fun to look at and create. It consists of 6 steps –
Step 1 – Prepare the ceiling's surface properly.
Step 2 – Prepare an adhesive mud that will contain good moisture
Step 3 – Apply this mixture into the drywall very uniformly in a thin layer.
Step 4 – Identify the direction you want your swirl in and the distance of the individual swirl.
Step 5 – Use brushes to texture the mud mixture in the swirly pattern. Note that the width of the brush determines the diameter of the swirl pattern.
Step 6 –  Let this pattern dry out completely. Finally, apply the primer on top of the texture and paint the ceiling surface with your favorite color.
8  Fish Scale Ceiling Texture
It looks exactly like the name it stands for – fish scales, overlapped on top of each other. This pattern is different from the swirly pattern and is one of the most beautiful patterns on this list.
9  Stamped Ceiling Texture
This is similar to the swirl ceiling method. The only difference is that here, patterned rollers are used instead of pattern brushes.
You coat the roller with the mud mixture and then repeatedly stamp it over on the ceiling's surface.
10  Rosebud Ceiling Texture
Rosebud texture is also a type of stamped ceiling texture that is formed by using a bush – preferably patterned. This method is easy to do than other methods and looks amusing visually as well.
11 Crows Foot Ceiling Texture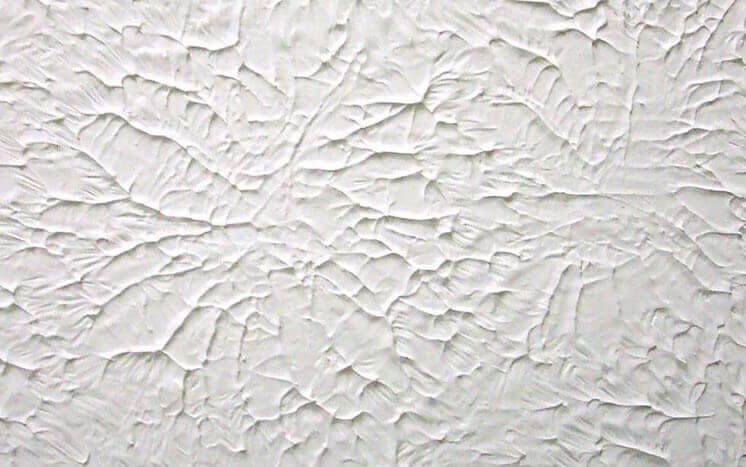 Crows foot ceiling texture is achieved with a stipple brush.
Step 1 – Cover your walls with plastic sheets and remove all your light covers, ceiling fans.
Step 2 – Repair the joints in your ceiling.
Step 3 – Prepare the drywall mud with mud and water.
Step 4 – Apply this mud mixture using a stomping and stipple brush to attain the crow's fool texture.
And, that's it, folks! We have now come to an end. Transform your home, office, or any commercial places with the ideas above. For more inspirations like this, follow and be a reader at The Arch Digest.