World-famous architect ZahaHadid once said that rather than simply building something, interior design and architecture are about well-being. She believes that people want spaces that make them feel good.
And what could be more conducive to creating a healthy and happy home life than a beautiful backyard patio?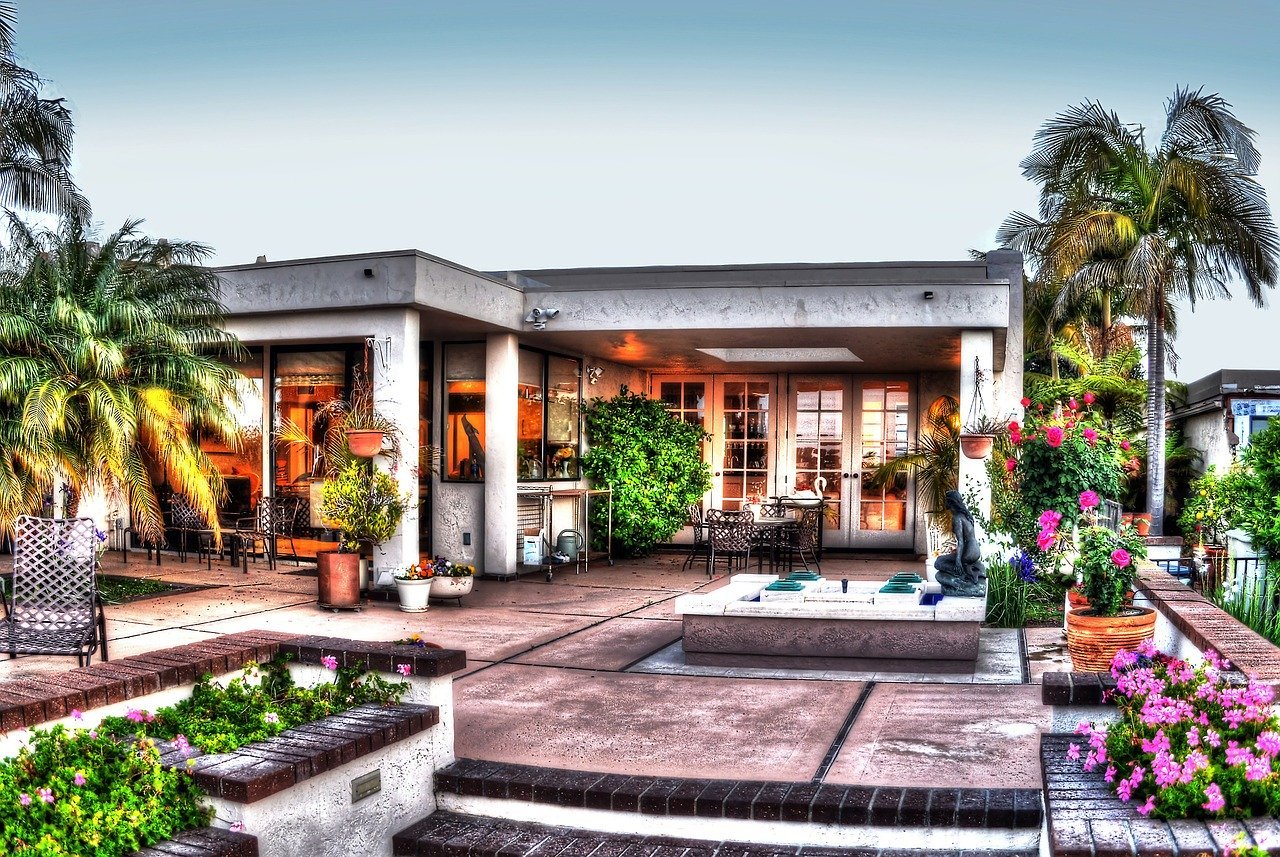 Maybe you have a huge yard that you don't know what to do with. Or perhaps you're concerned with the question: What can I do with a small outdoor patio?
Read on to learn how to design a patio to suit your needs.
---
Read Also:
---
Decide on Your Vibe
First up, it's important to decide on the goals for your patio design. What do you want your outdoor space to achieve?
Perhaps it's a space for you to relax in on a lazy Sunday. Maybe you want an outdoor dining space for entertaining guests. Or possibly you're looking to create an outdoor playroom for the kids.
Whatever the need is for your patio area, it's important to define it before you start buying furniture or installing fixtures.
Use a mood board or an online design tool to define custom zones. Use Pinterest or Houzz to keep your furniture and accessories inspiration research in one place.
Matching Furniture
Buying all your furniture from one brand has some distinct advantages:
Furniture today is often modular, as brands make sure their products fit together
You can coordinate materials and colors
You can usually get a discount if you buy a lot of furniture in one go
If something is faulty, it's easy to get items repaired
Well-known brands often have warranties on their products
It'll be easy to add matching furniture at a later date
It's even better if that brand specializes in outdoor living
Of course, you don't have to get all your furniture from one brand. If you prefer a more eclectic style, combine single pieces that match in color, style, or material. Or furniture from the same era.
If you're on a budget, head to second-hand stores, charity shops, or browse Facebook Marketplace to get great deals on furniture.
Contemporary Patio Design Materials
Marble, terrazzo, polished concrete, stainless steel, wrought iron, and light brick walls.
Sleek and contemporary materials like these aren't just for the bathroom or kitchen. In 2020, people want to bring the indoors out by extending design styles traditionally used in the home into their backyard patio.
So don't be afraid to add these modern materials to your list of patio design ideas!
Relax in a Daybed or Hammock
There's nothing more dreamy than lounging on a hammock or snuggling into a daybed. A book and a hot chocolate sitting within easy reach.
But which is best for your backyard patio? Daybeds are big, so they're perfect for people with large outside spaces. If you have a narrow balcony with sturdy railings, a hammock would be the better choice.
Add color-coordinated throws and tons of pillows. Just be sure to bring them inside with you or stow them in an airtight storage bin if you live in a humid climate.
Invest in Teak Patio Furniture
Popular since the 1800s, teak is a tropical hardwood prized for furniture making. It's aromatic, golden-brown in color, and naturally water-repellent.
Teak furniture comes in a wide range of styles, from chunky Bali-influenced pieces to mid-century modern inspired design. Browse the selection at online websites like this teak patio furniture store to get an idea of what styles are trending in 2020.
Teak furniture can be expensive. Keep your investment looking its best with chair and table covers and regular cleaning and re-oiling.
Backyard Patio Fire Bowls
Gone are the days of a wrought-iron tray with a few logs thrown in. Today's backyard patio fire pits are the equal of an elegant fireplace inside the home.
Choose from bowls made of marble, circles made of stone or brick, outdoor fireplaces, and a huge range of free-standing, gas-burning outdoor heaters.
If you're having trouble finding a style that suits your existing patio design, why not build your own?
Grow Some Shade Trees
Not a fan of plastic awnings or sheet metal roofing? Choose to shade your backyard patio with trees!
Trees that shed their leaves in autumn might look beautiful but all those leaves are a chore to sweep up. Attractive fern pine, Arbutus 'Marina' (a registered California Big Tree), hardy conifers, and fragrant sweet bay are some of the many evergreen trees best suited to patio design.
Don't plant large trees too close to the patio. Their roots can damage the pavement over time.
Use Plants as Decor
Flowering shrubs, ornamental cacti and succulents, and small fruit trees all make for attractive container plants for a backyard patio.
Not only will they add a splash of color and some attractive dimension to your outdoor space, but they'll also create a haven for insects and animals. The United States Botanic Garden encourages residents to choose native over introduced species of plants for their gardens to increase biodiversity.
Not a fan of the work it takes to maintain a garden? Use artificial plants instead. Wipe them with a damp cloth to keep them looking fresh.
Create a Bistro Vibe
Can't travel right now? Bring the European vacation to you by decking out your backyard patio in French bistro style.
Choose chairs and table sets made from wrought-iron or distressed wood. Adorn cobblestone paving with pots of lavender and planters of olive trees. Add string lights fitted with Edison bulbs to create that bistro vibe.
For a unique touch, collect up old broken ceramics and craft a mosaic inspired by Ancient Rome for a feature wall.
Prepare Drinks in an Outdoor Bar
If you have a lot of space and you love to entertain, why not install an outdoor bar?
Outdoor bars are usually made from concrete, brick, stone, or wood. They can be as elaborate as you need, but must-have features include a large sink with hot and cold fixtures, a practically-sized worktop, drawers for storing utensils, and matching bar stools.
Installing an outdoor bar is a big job. Decide on the style and features you want and then get in touch with professional suppliers in your area.
Add a Drinks Fridge
If you have electricity access outside, level-up your new outdoor bar with a drinks fridge.
Look for a fridge that has stainless beverage holders in different sizes, adjustable shelves, charcoal filters, and a UV-protected glass door so you can see what's inside. You can choose from a free-standing fridge or one built-in to your bar.
Just be sure to get an electrician in to check your outlets and make sure the set up is waterproof.
Coordinate Patio Design With Pool Decor
What color is your pool liner? Does it have tiled edging? Perhaps you have a pool house?
Review all your existing pool and yard features, color schemes, plantings, and materials. Then tie your patio design ideas in with the existing decor and facilities.
You might decide that it's your pool decor that needs a revamp. After all, a pool area is as much an extension of your living space as a backyard patio. Take a look at before and afters to help you decide whether you need a simple tidy-up or a total transformation.
Install a Relaxing Water Feature
Listening to and simply being near water makes us feel calm. It's a wellness technique with benefits that are backed up by science.
Water features are a great way to get all the health benefits without the cost and maintenance of a swimming pool.
Adding water doesn't have to be complicated. Yes, you can choose to install a huge stone waterfall or decorative marble fountain. But it could also be something simple like a small pond with some goldfish and water lilies or a beneficial birdbath.
Enjoy an Outdoor Bath or Shower
It might seem like the height of luxury to have an outdoor shower or bathtub in your backyard patio. But this fresh feature is very easy to install and maintain.
Of course, you don't want to offend your neighbors with any accidental nudity, so only add an outdoor bathroom if your backyard patio is private. Put up a louvered fence, grow climbers, or build a shower enclosure to further protect the privacy of your new alfresco washroom.
This idea is particularly beneficial in homes near a river or a beach. People can wash off their sandy feet before heading inside.
Build-in Enough Storage
From coat hooks to garden trunks, you can't have enough places to store backyard patio paraphernalia.
Kids toys, blankets for chilly spring and autumn evenings, sofa pillows, pool equipment, gardening tools, books and magazines, BBQ utensils, even snacks… The list goes on!
Look for discreet dual-purpose storage systems, such as lift-up benches with storage space hidden underneath, a table with an ice bucket fitted into the middle, or a bar that doubles as a potting table.
Hire a Designer If You Need To
If you're still struggling to conceptualize your revised backyard patio, consider hiring an interior designer or a professional organizer.
They can give you patio design ideas you've likely never even thought of that will be suitable for the exact layout of and requirements for your outdoor space.
Did you enjoy this article? Visit our blog for more ideas on how to design a patio and other living spaces in your home.