Creating beautiful and personalized home decor is an exciting endeavor.
However, finding great ideas to inspire your design can sometimes feel overwhelming.
Luckily, with a few simple steps, you can unlock a world of inspiration and discover the perfect home decor style that reflects your personality and taste.
In this article, we'll explore effective strategies to help you find great ideas for your home decor style.
Whether you are starting from scratch or looking to refresh your existing space, these steps will guide you toward creating a stunning and cohesive look that truly feels like home.
Look at Social Media
Social media platforms have become a treasure trove of inspiration when it comes to home decor style.
With 4.8 billion social media users worldwide sharing their unique and creative ideas, it has never been easier to find inspiration for your own living space.
Platforms like Instagram, Pinterest, and Facebook are filled with stunning visuals and curated content that showcase various home decor styles.
Whether you're looking for minimalist Scandinavian designs, cozy farmhouse aesthetics, or vibrant bohemian vibes, social media has it all.
If you happen to use Instagram the most, you might wonder how to find ideas more easily and then store them on your computer or phone.
When it comes to finding inspiration for home decor ideas, using a free IG Story viewer can be a game-changer.
With the rise of Instagram, we now have access to a vast array of visual content that can spark our creativity and help us transform our living spaces.
An IG Story viewer allows you to anonymously explore countless Stories shared by individuals, designers, and brands that are passionate about home decor.
By downloading these Stories, you can make your own special collection of stunning interiors, innovative designs, and unique styling ideas that you might decide to imitate later on.
Create a Pinterest Board
Creating a Pinterest board dedicated to your home decor journey can be a game-changer in helping you define and refine your style.
Pinterest is a treasure trove of beautifully curated images, showcasing a wide variety of interior design styles, color schemes, furniture arrangements, and decorative accents.
By starting a Pinterest board specifically for home decor, you can easily collect and organize ideas that resonate with you.
---
Read Also :
---
The beauty of Pinterest is that it allows you to explore different aesthetics and experiment with various styles without making any commitments.
You can save images that catch your eye and gradually build a collection of visuals that truly reflect your taste.
As you browse through countless pins on Pinterest, pay attention to recurring themes or elements that consistently appeal to you.
Is it the clean lines of modern minimalism? The cozy warmth of a rustic farmhouse? Or perhaps the vibrant colors and patterns of bohemian chic? Pinning these images will help you identify patterns in your preferences and guide you toward discovering your unique home decor style.
Take an Inventory of Your Current Decor
When it comes to finding your home decor style, taking an inventory of your current decor is a crucial starting point.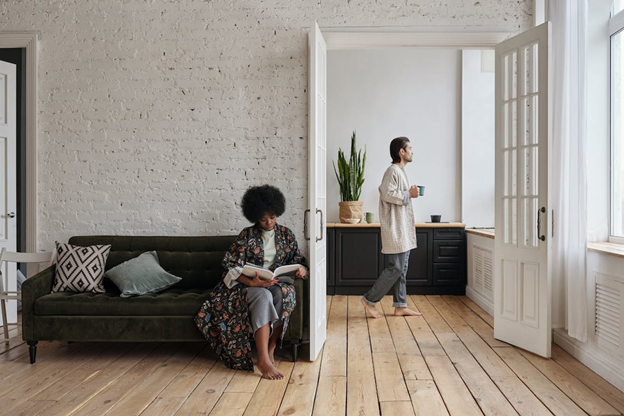 By assessing what you already have, you can gain insights into your preferences, tastes, and personal style.
Start by examining each room in your home and make note of the pieces that catch your eye.
Consider the colors, patterns, textures, and overall aesthetic of these items. Are they modern or traditional? Minimalistic or eclectic? This exercise will help you identify any common themes or design elements that resonate with you.
Next, evaluate how these pieces make you feel.
Do they evoke a sense of calmness? Or do they inspire energy and excitement? Understanding the emotions associated with your existing decor can guide you toward a style that aligns with your desired atmosphere.
Visit a Designer Showhouse
Visiting a designer showhouse can be an inspiring and eye-opening experience for homeowners looking to transform their living spaces.
Showhouses are carefully curated spaces that showcase the latest trends, innovative designs, and unique decor ideas.
By immersing yourself in these beautifully designed spaces, you can tap into a wealth of inspiration and gain valuable insights into what you'd like to see in your own home.
Visiting a designer showhouse provides access to industry experts who are often present during tours or events.
These professionals can offer valuable advice on design principles, layout considerations, and product recommendations based on your personal preferences.
Final Thoughts
Finding great ideas for your home decor style doesn't have to be a daunting task.
Start by exploring different sources of inspiration such as social media platforms or Pinterest that can spark your creativity.
Also, visit the local designer showhouse to see the latest trends and styles.
This hands-on approach allows you to visualize how certain pieces or colors may work in your own space.
By following these few simple steps, you can uncover inspiration and create a space that reflects your taste and style.