Steel flooring is an advanced type of flooring system which provides strength and durability to the floor frame. It is part of the composite flooring system, which requires steel for the formulation of the floor base. The steel deck also provides strength to the concrete and other flooring materials.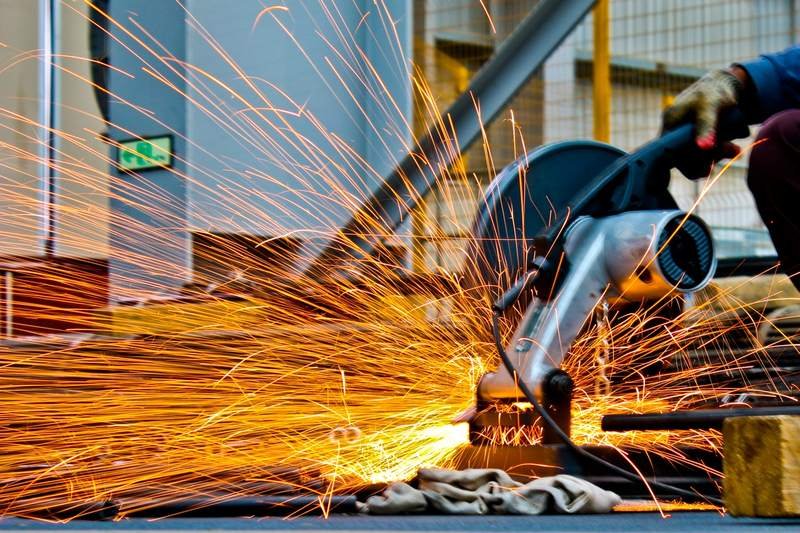 Steel deck is a cold corrugated Steel sheet formed by the help of steel floor joists or beam. The Steel companies already prepare these sheets, and on-site installation takes place. This process is a versatile and sustainable solution for giving source strength and long life to floors.
This procedure consumes minimum time for the installation of steel sheets, but the process may become a little tricky, and only experts can handle it.
---
Read Also:
---
Types of Steel Flooring
There are mainly Three Types of Steel flooring
Rolled steel joist on the frame
Metal deck slab on the frame
Precast flooring on the frame.
The rolled steel joist and metal deck slab are advantageous because they provide a super-lightweight structure to the frame.
Advantages of Steel Flooring
Steel flooring has significantly contributed to the steel industry due to the following advantages
Flooring takes place by the installation of a steel slab method, which takes place manually. When the workers perform the procedure through hands rather than using cranes, the process consumes less time because using a crane is a time taking activity. It also becomes cost-efficient because you don't need to spend a lot of money on heavy machinery.
Other flooring systems can require time from 2 to 4 weeks minimum, but due to the advanced technology, this type of flooring saves a lot of time. Steel flooring requires only three working days.
The Steel decking sheets are available in already cut lengths and pre-packaged bundles. These bundles can be easily transported to the construction site with the help of cranes, and then with hands, sheet application takes place.
The speedy erection is one of the best quality of steel flooring. Another significant advantage is that the pouring process of the concrete does not stop the work in other areas.
However, for welding procedures, concrete pouring process, and the installation of the floor, you will require professional experienced and skilled workers.
Since when you use composite steel flooring for the steel decking system, it provides more strength to the structure of the floor. It gives compact and firm support, reducing the overall weight of other flooring material. This quality makes it the best choice to provide the flooring frame precise size, and weight.
When you are using the steel flooring frame, which means that the ratio of other components will reduce. The high-quality steel overcomes the issues due to less concrete amounts while giving the structure frame the same strength and functionality.
Although steel deck slabs are lightweight, they are the most robust conventional strength material available in the market. They provide all-round slab strength.
The steel support in the concrete equipment stops any slab from slipping or transverse movement of the material between the slap and beaming substance within the frame.
You can use cable trays and piping for the transfer of Steel slabs instead of heavy-duty machinery. This quality of easy transportation makes this process a cost-effective procedure as compared to other complicated and expensive installation process.
Steel decking is available in a wide range of sizes and designs. This results in providing more strength, durability, and efficiency to the floor.
The minimum strength depends on the procedure and specifications. Steel decks are resistant to corrosion. Steel flooring is lighter and stronger than other flooring materials like wood and concrete. Steel fabrication is 30 to 50% lighter than other metals making it more a strong and durable option.
The biggest problem of wooden flooring is that they can burrow insects while steel is the best option for flooring. It has a strong immunity against insects or any other animal resulting in no degradation.
Moisture is a part of our environment. A lot of material can capture this atmospheric moisture, but steel is among the material which is moisture resistant.
Steel flooring is the best option for areas that have high humidity. This property of steel flooring depends on the amount of carbon content in the Steel. If you apply a hot zinc process on the steel, it can give better functionality against moisture. Steel is also resistant to rust, depending on its composition.
Steel flooring is not like wood flooring because it does not capture fire easily. Accidents are unpredictable, so everyone should be well prepared to prevent any unwanted situation. If your floor has fire-resistant material, during any incident, the floor will not catch fire quickly.
Disadvantages
One of the most common problems of steel flooring is that it has no sole use. You will always need some other material to support it. Steel flooring still requires some processes like insulating, sheeting, dry falls for providing supplements to form proper structure.
The most common material used with steel is concrete for floor formation. Although it does require many other types of equipment, due to easy and quick installation companies, don't find it any inconvenient for adding new content.
The steel flooring may be fire-resistant, but it does have a thermal conductivity problem. This property makes it an easy target in the house to absorb heat during any fire incident.
Wherever steel framing takes place, whether it is a floor, walls, or roof, insulating material usage can fix the heat-conducting drawback of steel flooring.
If you use any other material for making the floor, you will have convenience and flexibility about changing the content on the site. If you want to reduce the size, you can easily shorten it, or even you can change the shape of the material.
When we talk about steel flooring, as we discussed earlier that they transport it in bundles in sheet form. So changing their structure becomes difficult.
You will require a proper fabrication process for changing the size and shape of steel sheets. Fabrication cannot be carried out at the construction site where you will need the help of professionals.
If you contact the steel fabrication companies, which can work for you on the construction site, they can also provide you services in short deadlines.
Bottom Line
Everything about it and its procedure has its advantages and disadvantages. The selection depends on your criteria and preferences. Steel flooring is an easy installation process and does not require much effort and time. If your requirements meet with the advantages of this amazing type of flooring, then you should go for it.