Learn About Inexpensive Alternatives to Tile in Bathroom Floor If you are searching for a break from conventional bathroom tile, or thinking to install a new bathroom, you can have various inexpensive alternatives to tile in the bathroom floor. There are several alternatives to traditional tiles, as well as tried and true older methods.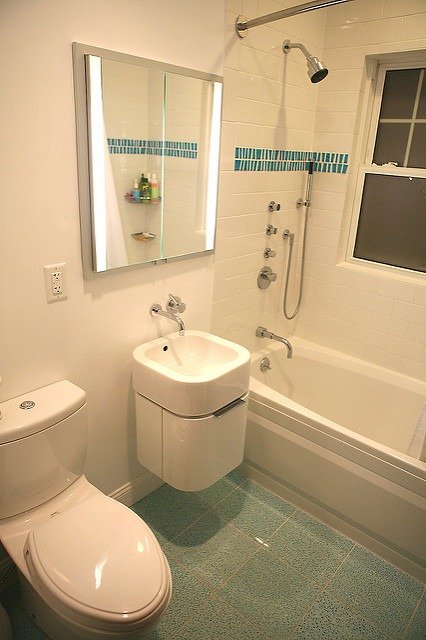 Inexpensive Alternatives to Tile on Bathroom Floor
Feel the urge to revamp your bathroom? Most of us choose ceramic bathroom tiles because they are tried and tested and, well, our grandparents had them. However, there are alternatives that can add a zippy and modern feel to the second-most-used room in the house. Learn about these inexpensive alternatives to tile on the bathroom floor and choose what is right for you.
Tile Board
Prefabricated tile board is an inexpensive alternative to tile on the bathroom floor. It comes in different colors and designs, which will make your bathroom look good without spending more money on expensive ceramic tile and natural stone. Tile board has a similar appearance to ceramic tile and installing it is also very simple. It also has the capacity to repel moisture.
---
Read Also:
---
Hardwood Flooring
One relatively new variant of the flooring game is hardwood flooring. This looks great and adds a sense of durability to the flooring that is perhaps lost with some other materials. Many people misunderstand the material and believe that it is subject to rotting if it gets overly wet. The flooring can suffer if mistreated, like most substances. The trick is to ensure that the flooring is coated with a substance called polyurethane. Choose the oil-based variant and you will have the right solution to make your hardwood floor a keeper.
Carpet
Ever thought of using carpet on your bathroom floor? Most people shy away from this option too. To lay carpet correctly entails putting down carpet tiles, rather than wall-to-wall carpeting (the kind you find in your lounge). This makes it easier to remove the tiles and give them a good wash from time to time.
Plastic
Using plastic tiles in the bathroom is another option. Heat loss can be reduced by plastic tiles since they come with an insulated backing. You can easily cut them to the desired size and cover the wall. This lightweight tile can be easily handled and can cover uneven surfaces too. Existing ceramic tiles can also be covered by plastic tiles. The high gloss finish of these tiles will make your bathroom look good for years.
Concrete
You could always try concrete too. This makes for a very durable flooring solution and one that is sure to spark conversation among your guests. Sturdy and great looking, especially if you own a cottage or country-type home, the concrete floor solution means that you have a floor that will last for decades potentially and they can pretty much take whatever daily life can throw at them. Even if you have young children who are messy and unpredictable, a concrete floor can save your bathroom from lingering odors and spills that stain.
Bead Board
If you prefer to add a classic style to your bathroom in an inexpensive way, then go for a bead board. Purchase a white bead board and paint it with the color you love. To have a vertical stripe effect on the walls, fix the bead board planks leaving some space between them. The bead board can be attached to any flat surface in your bathroom. Installing them on the ceiling can add depth to your bathroom.
Rubber Leather
Rubber leather is another, the newer solution to flooring a bathroom. These units are sold in rolls and offer the look and feel of leather, but with a more practical rubber background. This means that you can wash the flooring easily and still maintain a luxurious leather look. All you have to do with this flooring is roll it out and cut your new floor to fit the space in the bathroom. It is very simple and many people are choosing this solution due to its practicality and ease of use. It looks great too, which is always a bonus.
---
Read Also:
---
Bamboo
Non-toxic items are the choice for people who are part of the Eco-friendly movement. Bamboo is the best inexpensive, non-toxic alternative to tile in the bathroom. It is moisture-resistant and will be suitable for your bathroom. You may doubt whether bamboo can offer a good appearance to your bathroom, but when it is installed its the high glow and appealing look are extraordinary.
While selecting from any of the above-mentioned inexpensive alternatives to tile on the bathroom floor, remember that care and attention are always important. In fact, having the right care plan for your flooring is much better than reacting when things go wrong. Many surfaces can be washed and cleaned to quite a high degree and the one thing you should always do when you put down new flooring is read the care instructions. Secondly, when choosing tile, do not forget to adhere to the conditions of the manufacturer, since most of them will not be providing a warranty once installed.
Your bathroom can look good on a limited budget. A proper selection of tiles, design ideas and color choices can add beauty to your bathroom in an inexpensive way.
References