How to Prepare The Land For a Beautiful Backyard Water Features — Thinking of adding something exciting to your backyard? Daydreaming about relaxing in the evening while listening to soothing sounds? Maybe you would like to supplement your backyard space with a new highlight? When on a hike or in a park, we have all been mesmerized by a stream, waterfall or pond, why not have one in your backyard?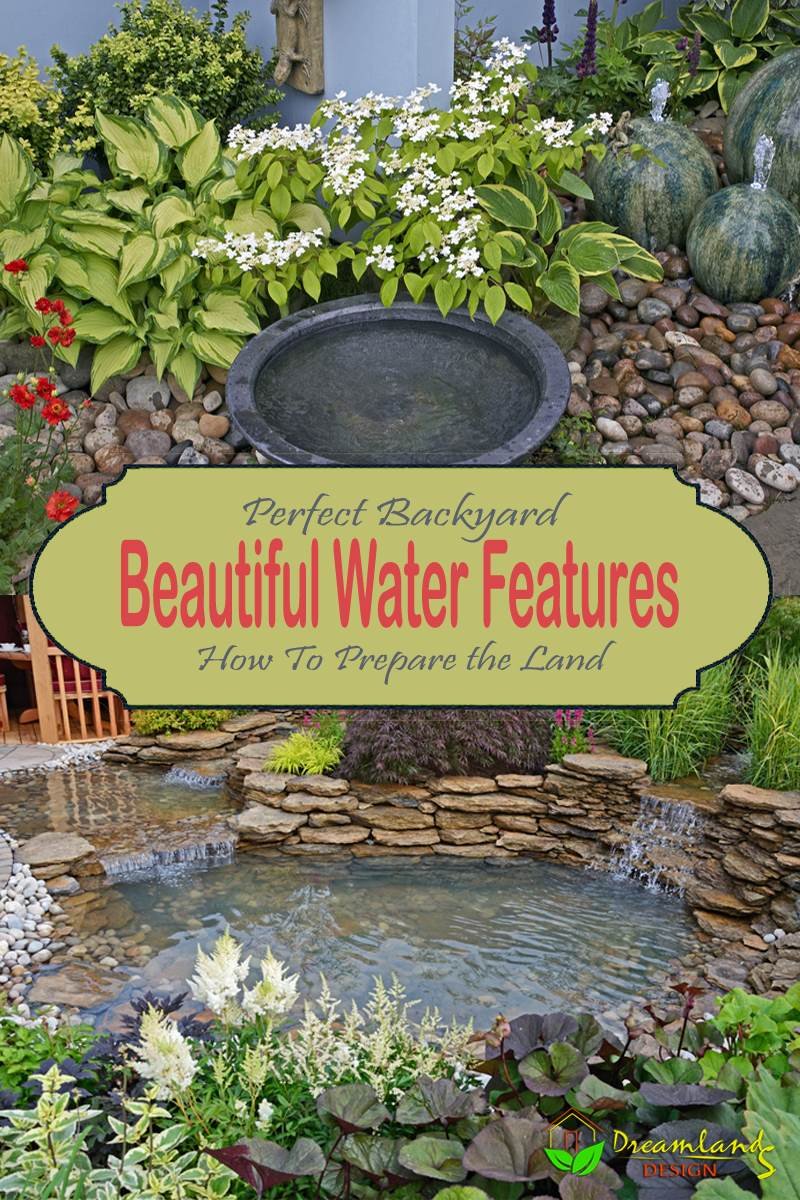 Water features can be great additions to a household garden — providing potential habitat for fish and aquatic animals while also turning a backyard into a truly tranquil place.
How to Prepare The Land For a Beautiful Backyard Water Features
Consider these simple steps to ensure that instead of a swampy mess you end up with something functional and beautiful.
Choose an Area
The first, and perhaps most important step, is to be 100% certain about the area in which you want your new backyard water features to be located — they're not easy to move after all! Choosing an area involves deciding on a place that you would like to be a focal point of your backyard, a location in which it will not be in the way of general traffic.
Perhaps you would like to fall asleep to the sound of running water — in this case, place your backyard water features close to a bedroom window. It is important to consider mowing the lawn or doing other gardening activities, you'll want your backyard water features to be in a spot where it won't interfere.
Also, if your backyard water features will require power, you will want to ensure that your chosen location will not pose any electrical risks and will be easy for an electrician to set everything up.
You will want to think about the foundation, if the soil will easy to be dig or if a mechanical excavation is required. It is important to also consider the desired size of the water feature; roughly five gallons of water per linear foot will be required.
The slope is another important consideration, if you are thinking of incorporating a waterfall, a small slope may be helpful — otherwise it will just complicate the installation process.
Lastly, what sort of sound do you desire from your backyard water features? The greater the slope, the higher the waterfall, the louder the sound. If you would really like to emulate the bubbling of a stream, a few waterfalls can be constructed.
The Planning Process
Decisions will need to be made in terms of the size of the backyard water features, the depth of the hole, the way in which it will be powered, and the stones and decorations that will be used. If you want something that requires lower amounts of required maintenance, you will want to use many layers of gravel and stone.
In terms of the installation process, there are many complete kits that can be purchased online, or individual parts can be sourced from home improvement and hardware stores. Every decision will have a different cost associated, so once you come up with a budget it will be easier to start making other decisions.
Gather Necessary Supplies and Prepare the Area
You will need to do some research to find a water pump that is adequate in terms of your budget and the size of your backyard water features. Other supplies include shovel, gloves, bricks, waterproof liner, stones, boulders, and other decorative materials.
Once you have all of the required tools and materials, you will need to take appropriate measures to ensure your safety during the installation process. It is recommended that you call your utility company before doing any digging to ensure that you don't come in contact with any power lines.
Must Read:
Dig the Hole
The area should not be severely sloped and the natural-looking perimeter should be marked with spray paint. Work on the shallower portion of the backyard water features first, then make your way down to the deeper end. Digging the deeper end will involve steep sides and a flat bottom.
Lining the Hole
Using pond liner and padding will protect the waterproof liner from punctures. Things like roots and rough stones should be removed and old carpeting can also be layered for further padding. The liner should cover the entire hole and should be neatly placed flush against all of the contours.
Position the Pump
Place the pump in its proper location within the hole. Be sure that the height is correct, the bubbler is attached properly, and that there are no obstacles like rocks or bark that could block the pipes. Small to medium sized rocks can be positioned around the base of the pump in order to keep it in place.
During this stage of the installation, all of the other decorative stones, boulders, and other features can be put in place.
Fill the Hole
Water can be added at this point and the hole of the pond should be filled slowly at first to ensure that the liner settles well into its appropriate place. After that, carefully continue filling until the desired water level is reached.
Final Steps
Attach the pump to your water source, finish arranging the rocks and boulders so that they completely cover the liner, and trim off any excess. Now that the hole is full, water plants and other decorative features can be added to complete the pond.
The stones and boulders should be compacted into the soil to prevent shifting. A foam sealant can also be used to attach stones to the liner. Wildlife, like turtles and fish, can be introduced to their new home. Finally, test the water pump — and then revel in the soothing bubbling sounds!
Spending a weekend working on your new backyard water features will be both exciting and rewarding. While a fairly easy project, you will need to ensure that you've done adequate planning and that you take the time to completely and properly dig the hole and install the water pump.
Once your water feature is running it should require little to no maintenance and will impress all of your backyard guests. After some careful consideration and a few days of hard work, you'll be able to soak up the serenity provided by your beautiful backyard water features.
Author Bio
Mark Richmond — With over 20 years in the garden maintenance industry Mark is passionate about maximizing the appeal of your home and garden through education on horticultural best practices reliable gardening services. As a leading professional in lawn care he knows what it takes to develop luscious green lawns, and Jim's Mowing has the right equipment and expertise to create one at your place.