When you host your colleagues for a get-together occasion, it should live to expectations. Things like ice should be readily available, and a portable ice maker can give you peace of mind for such an event. A cold drink in your hand makes the occasion beautiful.
However, ready-made ice may not be sufficient to sustain the whole event since it can melt due to weather conditions. It is, therefore, crucial to have a portable ice maker rather than having a freezer since it has many advantages. The other issue is that some events usually take place away from home, but you still require fresh ice.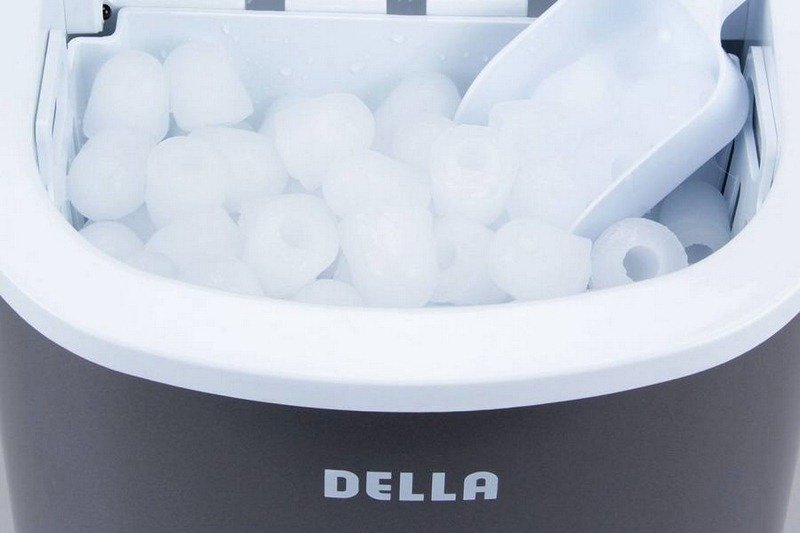 The Benefits of Getting a Portable Ice Maker
---
Must Read:
---
It Makes Ice Faster
A portable ice maker quickly makes ice blocks to meet your immediate demand rather than relying on a freezer which takes a long time. It makes ice in less than 10 minutes, and the same process can take hours if you are using a fridge. You only pour water into the small gadget and turn in on. Within a few minutes, the fresh ice is ready.
The small ice maker is also appropriate for emergency cases. When you are out in the field for various tasks, chances of injuries are frequent. Other cases usually require first aid services where the ice becomes a necessity. In such a situation, a portable ice maker becomes handy since it can make fresh ice within minutes for a particular purpose.
Portability
A portable ice maker is lightweight and easy to carry from one place to the other. It also does not occupy large storage space since you can put in anywhere in the house. The gadget is convenient and suitable for a variety of outdoor events. You can power it from your car even when you are picnicking somewhere away from home.
When you decide to relax at some nice resort or beach, there is no need of carrying cooler boxes with ice and drinks. A portable ice maker and some water are sufficient for the occasion. You do not experience any hassle carrying heavy loads of ice. However, some ice makers are not portable therefore not appropriate for outdoor purposes. When you decide to buy a portable ice maker, carefully go through the specs.
Easy to Operate
Any person can smoothly operate this gadget since there are only two steps to perform. You need to pour some water into the icemaker then press power on and wait for your fresh ice. The device does not require any drainage since it uses all the water. The gadget saves your time while you perform other tasks.
The gadget consists of an LED display with a timer, and it also lets you choose the size of ice cube you want. The device automatically shuts off when the bucket of ice fills up. The digital control system of the invention also indicates the appropriate time for emptying or refilling the water tank.
Variety and Freshness
The portable ice maker can make a variety of ice depending on the type of brand that you buy. The other aspect is that this device treats you to fresh ice always. The gadget uses clean technology to purify the water and keep it sanitary. Different types of ice cubes that are made from freezers with other kinds of food can have an odor, but this is not the case with the portable gadget.
Various gadgets come in different forms and specifications. You need to know that some products have a large storage capacity while others are small. On the other hand, you can also choose from small, medium and large ice cubes.
Cost Effective
The portable icemaker only runs on 120 volts, and it is cheap to maintain in the long run. It saves a lot of energy while at the same time offering you convenient and quality services. The device does not require any expertise to operate, and it is easy to clean. Other methods have automatic cleaning systems.
Durable and Attractive
The ice makers are on offer in different markets are durable and made of scratch resistant material like stainless steel. Stainless steel material is easy to clean even with a piece of dry cloth.
On top of that, the material used on many portable ice makers is attractive. If you are concerned about the appearance of your kitchen, this small gadget is worth adding to your house. You can also operate it from any place within your home.
The Gadget Is Affordable
The portable icemaker performs a lot of handsome tasks, and it is convenient. It makes ice within a short, and it is easy to operate. With all these benefits, the device is surprisingly affordable. Many families can afford this smart device that also helps to save money in the long run.
We often engage in various activities that are of interest such as parties, picnics, sporting activities as well as camping among others. The guests usually need to cool themselves with refreshing drinks and ice becomes a necessity for such occasion.
However, there is no reason to stress since you can make any event as lively as if you are at home. You can produce fresh ice using a portable icemaker within a short period. Such a task may not be possible with large freezers at home that require a lot of time.
Apart from playing pivotal roles in outdoor activities, portable icemakers can also significantly improve the appearance of your kitchen. The device is attractive, and it does not occupy a lot of space. You can operate the equipment from any place, and it gives you sufficient space to clean your house.
When you decide to buy a portable ice maker, you need to know your exact needs so that you can make an informed decision. For instance, you should consider aspects such as portability, price, durability as well as other specifications that affect its operations. You also need to find its storage and production capacity within a given time frame. Click here to get more information on the best ice cube machines.
---
Author Bio

Vicky is a legal professional who enjoys researching, reviewing and writing about the latest developments in home appliances. A fan of saving money, Vicky started IceMakersHub when it became clear that a whole new class of less-expensive portable ice makers was destined to replace what used to be a really expensive built-in kitchen upgrade.
---