Many people when it comes to modern kitchen lighting, choose just to go for the aesthetic, however, functionality is as equally as important.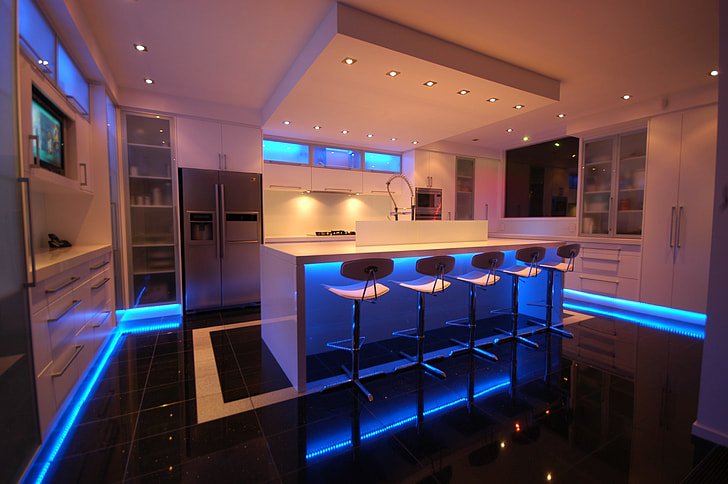 Here at Buster & Punch, we have our very own range of modern lighting which incorporates contemporary pendant lights, wall lights, spotlights, ceiling lights, and chandeliers each with its own styling potential.
However here are our favorite options for selecting the best lighting for a modern kitchen:
Pendant Lights
Pendant lights are great for adding a modern yet stylish touch to your kitchen space while also providing targeted task lighting you need in a kitchen for those areas like dining tables, countertops, or islands.
Today a very popular kitchen design choice is to have pendant lighting over arching your kitchen island, however, it is important to note that the diameter of your pendant lights should be around half the width of the island, otherwise they will be out of proportion.
Pendant lighting comes in a wide range of shapes, sizes, colors, and materials, which makes it easy to find the perfect style for you that fits your kitchen's design.
---
Read Also:
---
Under-Cabinet Lighting
Similar to pendant lighting, under-cabinet lighting is ideal for creating that very-needed task lighting for when you are preparing food and cooking up your meals.
Under cabinet, lights are also perfect for changing the mood of your room and creating an ambiance for those more cozy meals with friends and family.
Another great benefit of under cabinet lighting is that they are kept totally hidden, as you can't see any fixtures or wires that you often see with another lighting.
Therefore if you are wanting to achieve a minimalist and clean look, under cabinet lights are a great option.
Track Lighting
Track lighting is probably the most versatile lighting option as it can be utilized to direct light in an exact spot in the room.
Track lights are often used to highlight items in a room, for example, a piece of artwork or decorative sculpture.
Track lighting is very flexible, and it can be mostly customized to your preferences, for example, track lighting is available in L, T, or even X shapes, depending on what you desire.
This type of lighting is also minimally invasive and space-saving as you do not have to worry about using up the floor space for lamps and another lighting, therefore making them a great option for when space is premium.