When you live in an apartment, you have to decorate in a way where everything serves a purpose. When space is limited, you must be savvy and buy space-efficient furniture.
That's why so many apartment occupants own pull-out sofas. They are comfortable, functional, and ready for guests at a moment's notice. Since most apartments don't have a guest room, a pull-out couch is a good compromise.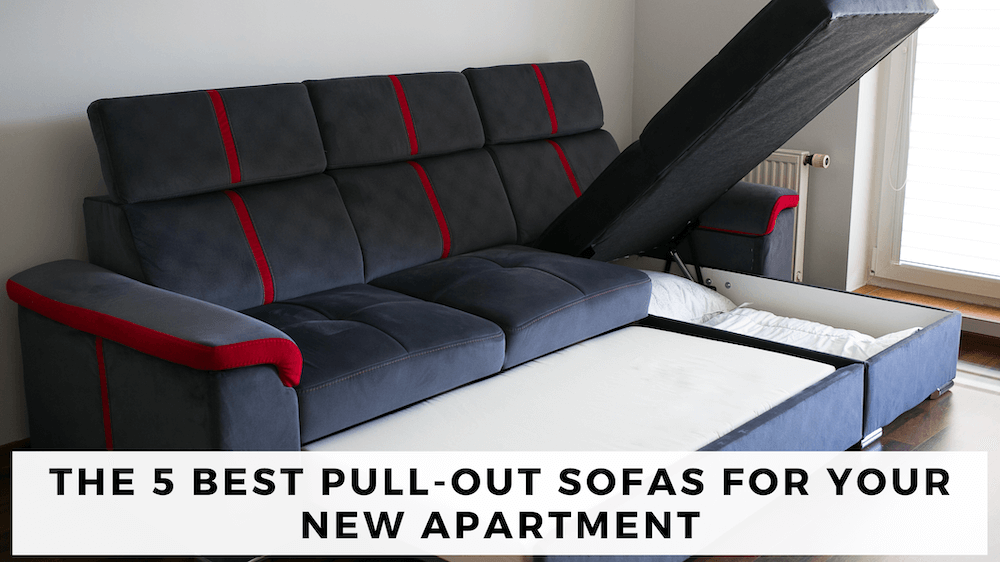 Still, space is at a premium, so you need a couch that fits your lifestyle. It has to be comfortable for guests to sleep on, but it also has to look nice in your place. After all, you're the one who has to live with it.
Keep reading to see our list of the five best pull-out sofas. These couches are cozy, stylish, and affordable, making them perfect for your new apartment.
---
Read Also:
---
Augustus Dream Convertible Full Sofa
If you're looking for a pull-out couch that doesn't take up much space, the Augustus Dream Convertible Sofa fulfills your requirements.
Classy and comfortable, this piece combines style with space-saving efficiency. The fine lines and sharp angles contrast with the soft comfort of the material. The frame is solid wood and features legs for added support.
It has a hidden bonus, too:
This couch doesn't just convert to a bed; it also reclines to become a lounger. Perfect for a relaxing movie marathon or conversation night!
Will it fit in your apartment, though? Check your dimensions first. Once assembled, this sofa comes to 66.5 inches wide, 38 inches tall, and 36 inches deep.
Nia Sleeper
Designed with raised wooden legs to sit above the floor, the Nia Sleeper is a modern take on a 1970s-style sofa.
Don't worry about scuffing up the floor with those wooden legs, though. They have soft padding that prevents scratches and makes it easy for you to rearrange your furniture.
The fabric is a polyester velvet, available in multiple colors like pink, light green, and dark blue, so there's a shade to match any design scheme. As a plus for those who want a perfectly cohesive living room, you can order a matching armchair, too!
Most pull-out couches recline to a flat position, but the Nia Sleeper has an added perk:
The split-back design lets two people recline at different angles. You and your partner can both have a peaceful night's sleep, even if you want to lay flat and they want to sit up straight!
Great for small spaces, the entire piece comes to 81.5 inches long, 34 inches wide, and 34 inches tall when used as a sofa. As a sleeper, it elongates to 73 inches long, 44 inches wide, and 18.5 inches tall.
Amy Queen Sleep Sofa
This sofa is designed by La-Z-Boy, so if your main purchasing point is to find a trustworthy brand, this may be the one for you.
A classic design with a contemporary twist, the Amy Queen Sleep Sofa has a look that will fit effortlessly into any apartment. It comes in a variety of different colors and patterns, too, so you won't have trouble finding one that matches your decor.
While this couch is plush, it still manages to be compact. Maxing out at 81 inches wide, 39 inches deep, and 38 inches tall, it's a sofa that you'll sink into and not want to get up from. The cushions are ComfortCore, so you know they're made to last.
A subtly hidden Supreme Comfort Queen mattress completes the package. Let your guests sleep on it or keep it for yourself. You might enjoy this more than your own bed!
You can even switch out the mattress if you'd prefer another style. From top to bottom, the Amy Queen is made to be personalized to your preferences.
Hughes Sleeper Sofa
With its classic mid-century design, the Hughes Sleeper Sofa looks straight out of the 1950s. But now, you can have it in your apartment!
By far, this sofa's best aesthetic feature is its clean lines. Sharply geometric and streamlined, this is quite the stylish pull-out.
The wooden legs, available in multiple stains, sit your couch a few inches off the ground for easy cleaning and movement. It comes in several colors from Taylor Felt Grey to Key Largo Coral, ensuring there's a sofa for every design scheme. It assimilates just as easily into a casual living room as it does into a high-end one.
With the strategically-designed lines concealing the pull-out feature, your guests will be amazed that it turns into a comfortable bed.
At 90 inches wide, 37 inches deep, and 33.5 inches tall, this couch might be too big for some apartments. But if you can fit it into your apartment, it's worth the extra few inches it takes up.
Willow Modern Slipcovered Twin Sleeper Sofa
Even if you live in a small apartment, you don't have to sacrifice style and comfort. The Willow Modern Sleeper Sofa is small but packs a big punch.
Quaint and perfect for apartment living, this sofa has deep, cozy cushions that rival those on some of the larger models we've discussed.
Since it comes with a wide variety of slipcover options, you can customize your sofa to match your decor. The cover is removable as well, so you can replace it with a new color when you redesign your interior.
The slipcovers are also easy to remove and wash, which is perfect for homes with little kids or pets.
This sofa's dimensions are a compact 53 inches wide, 36 inches deep, and 34 inches tall. The mattress pulls out to 53 inches wide, 91 inches deep, and 29 inches tall.
Conclusion
One of the most exciting parts about moving is shopping for new furniture. You get to decorate your home in any style you want, from classic chic to modern contemporary.
Your sofa should be something that looks good in your living room. But it should be more than just aesthetically pleasing. These sofas will serve the dual purpose of saving you space and accommodating guests while still looking dapper.
---
Author bio:
Ascend Five Points South offers luxury student housing near the University of Alabama at Birmingham. Learn more about their student apartments today!
---