In most of the country, the swimming season is over or drawing to an end. So, if you have a pool, you should start thinking about closing it for the winter.
How to Close Pool for Winter?
It is important to close the pool properly now because it will save you a lot of hassle and money next year when you decide to reopen it.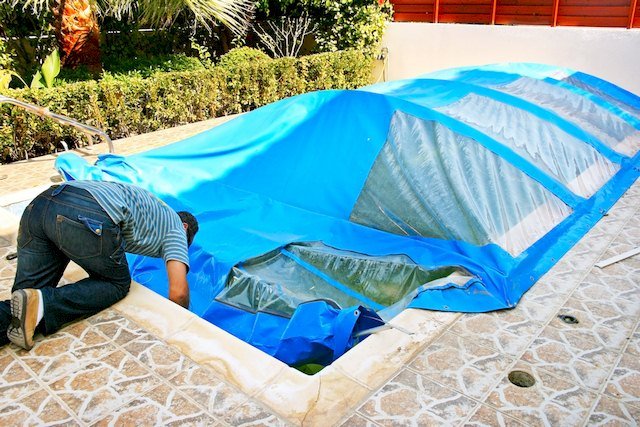 Safety First
Don't forget about safety. You are working with potentially dangerous chemicals, so make sure that you are wearing protective equipment. A respirator on your face should keep you safe from fumes, but you should also wear rubber gloves and goggles to keep safe. Read the instructions on the products you use to ensure that you are as protected as can be.
Balance Your Water
Since there will be some water in your pool during the winter period, you need to make sure that it is the best quality it can be. You will need to adjust the pH levels and alkalinity to ensure that there's no corrosion or scale buildup.
Shocking the water with chlorine will kill the majority of bacteria and algae, giving you clean water for longer. Finally, an algaecide should be added to the pool once the chlorine has settled. Use a stronger algaecide than you typically use, because it should protect your pool from algae for the duration of winter.
---
Read Also:
---
Clean Your Pool
Just as you keep your pool clean and maintain it regularly during the swimming season https://www.socalcustompoolsandspas.com/keep-your-pool-clean-swimming-pool-contractors-san-diego/, you should do it on the day you choose to close the pool for winter. Remove the debris and vacuum the pool on the day of the closing, to minimize the amount of dirt which stays in the pool. Make sure that your filters are thoroughly cleaned as well.
Drain Your Pool
Your pool shouldn't be completely empty, but you will need to lower the water level in it. The simplest way to do this is to use the main drain option of the pool pump. However, you can also use a vacuum hose. The idea is to set the water level lower than the skimmer level because you will need to turn off the equipment. Depending on the type of pool you have, you will have to lower the water level anywhere between 5 and 15 inches below the skimmer level.
Your equipment will need to be drained of water and cleaned. If there is water in your equipment during winter, the ice forming inside could damage it and cost you a lot of money. Each piece of equipment will have to be drained individually. Don't forget the filters. They need to be removed and stored in a dry place during the winter.
The pipes can be cleared of water by using a pool vacuum cleaner to blow the excess water into the skimmer pipe. You should do this for each individual skimmer pipe. Once you've cleaned them, put in plugs to prevent any potential rainwater from seeping back into them.
Cover Your Pool
Just putting a tarp over your pool isn't a great way to protect it from the winter chill, and it's not safe for children and pets, either. What you need is an anchored waterproof cover which is strong enough to support the weight of a child or a pet if they happen to fall onto it. In order to keep it weighted down, you can pour some water on top of the cover.
Pool ownership may seem like a lot of work, but it is all well worth the effort during the swimming season.
---
To contact So Cal Custom Pools and Spas
Business Address: 752 Rocking Horse Rd Vista, CA 92081 United States
Business Phone: +1 760-547-4573