Storage is one of the most common homeowner problems in Australia. With the increasing buying power of the people, homeowners tend to accumulate stuff they don't need at home. This leads to little or no space in areas where there should be chairs, tables, and appliances.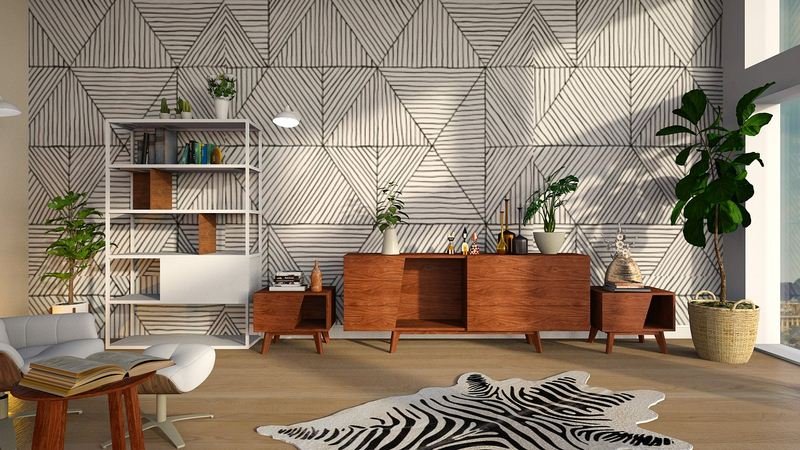 Although you can always buy a storage unit in one of the storage companies in your city, this doesn't guarantee that your home won't be filled with things, too.
And before you think that it's bad to have a lot of things, know that it isn't. The trick here is to know how to store them without filling your home with boxes and containers.
10 Creative Shelving Ideas for Your Living Room
So if you're wondering how that's possible, here are 10 creative ways to have shelves in your living room.
By the end of this article, you might want to call on your long span shelving supplier because you'll definitely feel inspired to have creative storage in your home.
---
Read Also:
---
Fishbone Shelf
Since last year, fishbone shelves have been a popular choice for small spaces. If you find yourself living in an apartment or you just don't have a lot of space in the home, now is the right time to take advantage of your walls.
A fishbone shelf is similar to a V-shaped shelf. It can also be an inverted V for as long as you can use those sides to store books or notebooks that you have. You can make a fishbone shelf by using some old bookends you have at home.
You can also just make an "L" from some scraps of wood you have and join them to look like fishbones. What's more, it's DIY and you don't have to buy a lot of materials.
Floating Shelves
Other than having fishbone shelves, you can also have artistic kinds of shelves that maximize your walls. One idea is by placing a piece of metal perpendicular to the wall.
With this floating shelf, you can put a stack of books or a small plant. You can add more art to this by placing wall decals underneath the shelf. How about a superhero pushing the books?
Another idea for a floating shelf is simple pieces of wood "sticking out" of the wall. This can give a rustic yet abstract feel to your wall. What's great about this is that you can arrange the wooden planks how you want it to create an image. But when you do this, don't forget to consider the distance of each shelf.
Room Divider
If you have a studio type room and you're looking for a creative way to divide it and still have space for storage, then a room divider/shelf is your answer.
Usually, when you think of room dividers you imagine a solid block of wood that you can just pull out to divide your living room and dining room. But since you're looking for storage, the room divider that you should be looking for is one that acts as a shelf.
This kind of room divider is simply an open cabinet where there aren't any doors to close. You can put your vases, frames, and even your books on those shelves. Depending on how you arrange your things, you might actually make this room divider an aesthetic.
Wall Gallery
You don't have to be an artist to love having pictures and artworks. If you find yourself having a bunch of frames that you don't know where to place, then why not consider hanging them all on the wall?
When it comes to frames, people usually think that you're supposed to hang 1-2 photos of your family. But those who are a fan of art disagree. It's time to be creative and make use of your wall to hang artworks and memorabilia.
Open Shelves
Just like the room divider/open shelf, you can make use of your walls by placing an open shelf in front of it. Having an open shelf is beneficial for several reasons.
First is that you get to see your most favorite things organized and for display. If you have a special trophy that you want to show off but don't want to put it on the coffee table, then an open shelf is your answer.
Second is that when your shelf doesn't have any doors, you will easily see if your things are gathering dust or if they're not organized. It's like a trick you can do for yourself to force you into cleaning and arranging your things because there's no place to hide them.
And lastly, an open shelf makes a room look big. Unlike closed shelves, open shelves give an illusion that your space is big.
Wood Crate Shelves
If you want to go for a rustic or an earthy version of shelves, then making use of wood crates can do the job. Simply paint a few wooden crates and varnish them to preserve the wood. Then, hang or stick them on the wall to make sure they're secured.
Wooden crates are great for storage because they have just the right amount of area to put books, vases, frames, and even trophies. But if you want to enhance that earthy feel to it, then it's highly recommended that you place a few small plants on it.
Ladder Shelves
Who says ladders are only for carpenters? If you haven't been to a few chic and dainty stores, then you definitely haven't seen how a small wooden ladder can work its wonders in space.
Although it isn't the best shelf to use if you have a small space, a ladder shelf is great for small things that you want to display.
Usually, those who have succulents at home make use of a ladder shelf. You can also use a ladder shelf to place other small items like candles, frames, and the like.
Cubby Holes
When you were a kid, kindergarten would always tell you to place your things in a cubby hole. But this storage technique is not only used for schools, but it's also for home storage.
The best way to have subtle cubby holes is to incorporate them with a piece of furniture. For example, you have a horizontal couch wherein it's just a few pieces of wood attached to each other.
You can convert the space below into cubby holes where you can place a lot of your personal items. The good thing about this is that the storage space doesn't get in anyone's way.
Stacked Boxes
Sometimes, storage doesn't have to be so hidden and subtle. In fact, you can place storage spaces right at the corner. The only way to make them stylish is to use different kinds of storage that match your room's aesthetic.
For example, your living room has a travel theme to it. You can have a few stacked boxes to be painted as luggage and then have drawers installed in them to serve as storage. In this way, your storage boxes become your new centerpiece.
You can also mix closed and open shelves. Nowadays, stylish rooms and decors don't have to be symmetrical to each other.
The same goes for shelves. You can have your own shelf installed in a wall and have some spaces covered with a door while others don't. This kind of shelf gives a more modern feel to your home and it also makes your living room look bigger.