Do you wonder how to make your bakery items look beautiful? While beauty is important, hygiene and care are equally important too. Often salesmen make the mistake of displaying their yummy-scrummy bakery goods without any cover.
If you are someone sick of the same old practices, resort to custom cut acrylic sheets and solve all your bakery woes like never before! Trust us, this is as promising as it sounds. No regrets, no fuss, no hassle.
The only pure and simple joy of freshly produced bakery items on display! Want to know more about it? Keep reading!
Why Use Curved Plexiglass Sheets in Bakeries?
Remember, as a bakery owner, you must install safety measures to keep your products hygienic, but the purpose of the display should not be undermined in any way.
---
Read Also:
---
Bakery items are like goodies that have your heart fluttering the instant you get to see them. In fact, the main purpose of installing curved plexiglass over bakery items is to improve visibility and display.
In traditional times, bakers would cover the baked goods with a piece of cloth to keep it safe from bacteria, pollution, and other airborne particles. However, that undermines the beauty of the goods.
In today's time, acrylic glass is the best way to keep the products hygienic.
The modern-day bakeries must display their baked goods to attract customers in an unparalleled fashion. After all, the eyes eat before the mouth does. Isn't it?
If you have a bakery that runs like the mills and people love your products, you must ensure every way to speed up the purchasing process. Believe us or not, on witnessing a lot of variety, people get confused about their choices.
They do not quite understand which one to choose and which one to leave.
If you happen to place plexiglass sheets over your baked items, people are going to be able to make quick decisions. So, no more indecisive customers followed with long lines of other customers waiting. Isn't this an apt solution to your business blues?
While acrylic glass sheets are an apt way to attract customers to your baked goodies, it is also a great way to enhance the overall outlook of your bakery. Unlike traditional bakeries with wooden walls and doors, a plexiglass covering makes your bakery visually appealing.
Let us accept the fact that modern-day consumers believe in a sense of aesthetic, which applies even to the bakery they buy their products from. If your bakery is not up to the benchmark, looks shabby, and old, your sales volume might not be what you expect!
Curved Acrylic Sheets vs. Plain Plexiglass Sheets for Bakery Display Cabinets
What is the Difference Between the Two?
The main difference between curved acrylic sheets and a plain plexiglass sheet is in the way they are manufactured. Sometimes acrylic sheets are extruded during manufacturing. This process includes a cheaper method but results in a softer acrylic sheet. The other kind of an acrylic sheet is made through casting. Such acrylic sheets are harder because of this process.
Plexiglass is an acrylic glass manufactured through the casting process. Luckily, it has relatively fewer contaminants than the extruded acrylic glass. However, acrylic sheets are an affordable glass type that is suitable for most bakeries.
It provides amazing protection for UV rays and is easily available in multiple colors. So, choose the one you like depending on the interior and exterior of your bakery!
Refrigerated Bakery Cabinets with Plexiglass Sheet to Display Fresh Cakes & Pastries
Some of the hot-selling products found at a bakery are cakes and pastries. You can be as innovative with their decoration as you please. And especially, if you have a bakery that specializes in cakes and pastries, you must not miss out on refrigerated bakery cabinets.
Do you not want to flaunt your delicious and unique delectable to get the undivided attention of your customers?
Likewise, refrigerated bakery cabinets also ensure the long-term sustainability of your cakes and pastries even in the harsh summer days. Display to the fullest and get the best of both worlds, cakes, and pastries!
How do Refrigerated Bakery Cabinets Work?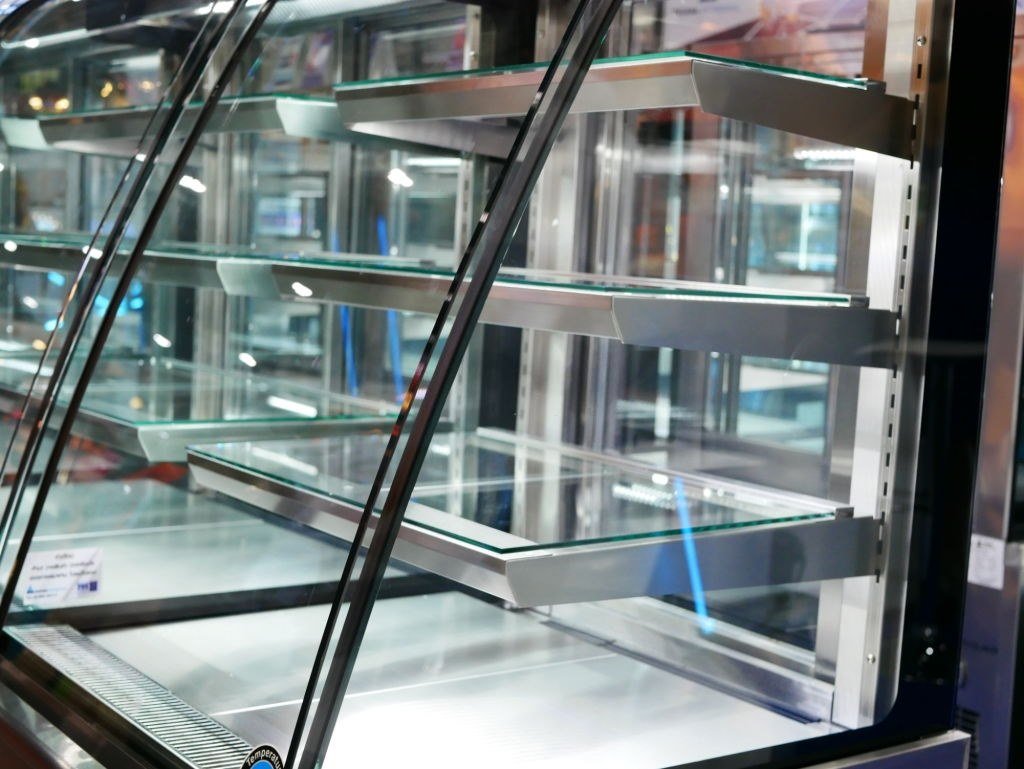 Such a refrigerated concept works through compulsory air and coil systems based on gravity. The compulsory air system ensures that cold air keeps circulating throughout the fridge and reaches every corner and nook of the bakery cabinet. The cold air droplets fall onto the food displayed in the cabinet and stop the food from drying out over time.
So, get a plexiglass sheet or an acrylic sheet for your bakery and make it worth everyone's visit. Ensure maximum natural light to make your bakery look spacious, well-lit, and beautiful, just like our bakery products!