To enhance the décor of a contemporary room, just get an acrylic piano. You will love it. Also called a transparent piano, it has a sophistication that cannot be matched by the regular pianos.
And it is not a very new concept as information has it that this piano made its appearance as far back as 1976. Thus, if you want it to grace your piano room, buy it with confidence. Besides, it is not even as expensive as a grand piano.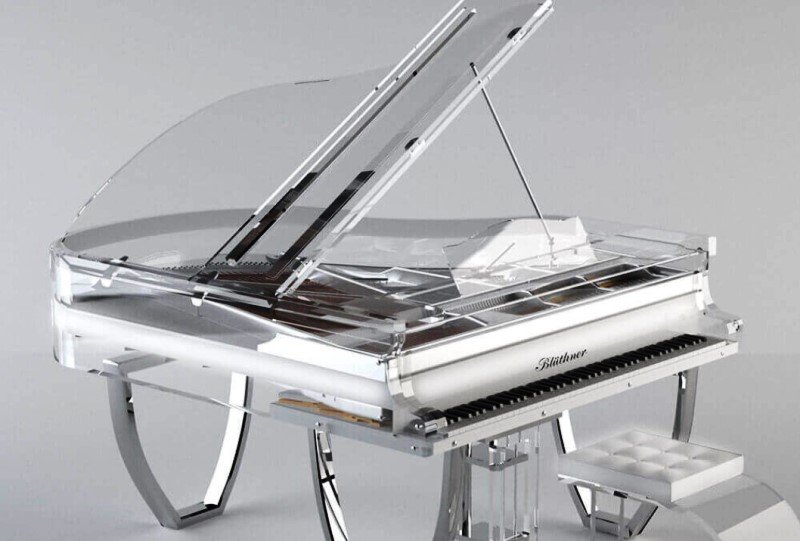 While many people love the mellow music made by the piano notes, they are intrigued by the workings of a piano. Many would like to know how the piano interior looks like, and now, the transparent piano gives them the opportunity to see just that and more.
You have an opportunity to know the intricacies of the working of a piano and to embellish any room in which you set it up.
Why an Acrylic Piano Is a Perfect Choice for a Modern Room
Today, technology has made it possible for us to have transparent cars so that we can see the engine as the car drives along.
In the same spirit, we also have acrylic pianos that can show you how the cords work as you play. This not only creates a unique musical experience, but it also informs you about the working of the piano's interior.
---
Read Also:
---
An Affordable Way to Enhance the Interior Decor
Crystal pianos are not only classy and stylish, but they are also very affordable. They serve two purposes. One of them is that you can play when you like. The second function is that the piano offers your room a boost on the interior décor. It looks so good such that it captures all the attention of the guests who troop into the room.
Because of the crystal look, it does not matter whether you have used dark or brightly colored furniture in your room. This piano matches well with just about everything. However, for the best impact, make sure that you keep your room decorations as minimalist as possible so that the piano can stand out in full glory.
It is best to set the acrylic piano in a place where it will capture the light. There is no way you are going to buy a crystal piano and then hide it. It defeats the whole point of buying it.
Beautiful LED Lighting
Honestly, acrylic pianos have very good LED lighting that really captures all the attention in the room. Thus, if you have some faults in the room and you would like to direct the attention away from them, just buy an acrylic piano.
The good thing is that most of them even have a warranty on the LED lighting. So as you buy, let the warranty be a deciding factor. Some have 12-month warranty, which is fair enough. With fantastic pink, blue and other LED-lit colors, you can turn your room from bland to exhilarating at the touch of a button.
Add a Touch of Luxury in Your Room
It can be hard to give your interior design a touch of luxury without making everything look so superfluous. However, you do not need a Persian carpet or expensive furniture to crown your room's interior décor.
You just need an acrylic grand piano. Just having that glorious crystal piano in the room makes it look so sophisticated and exciting, something that a wood or plastic grand piano cannot achieve.
Makes the Room Look Cleaner than It Is
This is an effect that all glass items have. They make any room seem cleaner than it is. Glass pianos are quite easy to maintain. Just give them a wipe down with a piece of cloth. At the same time, crystal is not affected by direct sunlight, so you may place it close to a window where it can reflect the sunlight and bounce it around the room.
The kawai piano brand is well-known for its "warmer" and "fuller" tones, which are said to provide a pleasant playing experience.