Having a brilliant beautiful garden is not only for the high-end, big-pocketed homeowners, everyone can achieve it even those with a limited budget.
Although wealthy individuals have an unlimited range of options for creating a masterpiece in their landscape, there are many design ideas out there that will allow you to create an amazing landscaping project on a budget.
You just need more effort in research and let your creativity and resourcefulness come out to be successful in this project.
Here are some design ideas to get you started:
1. Go with the Natural Look
The first and one of the best ways to save money on landscaping is to opt for a natural look. Many people use ornamental plants to spice up their garden, but these can get expensive when buying several different ones.
Alternatively, just go with the simpler option and choose native flora that will require little maintenance. Doing this can help save you money now and in the long run.
You can also use rocks and boulders to create a natural-looking landscape without spending a lot of money. Position the boulders in random spots throughout your garden, which will give it an attractive rustic touch.
Another idea you can use to decorate your landscape is to borrow items from nature itself. Get yourself some pieces of wood, rocks, branches, and even logs from nearby forested areas or creek beds and use them as part of your garden's design.
Not only will this be more affordable, but it will also make your garden look more unique.
There are also landscaping services that specialize in creating natural-looking yard designs.
These professionals will help you find suitable plants for your property, situate them in the best area to maximize their beauty, and use inexpensive ornamental rocks and boulders instead of expensive decorative items like statues or fountains.
2. Go Vertical
Every homeowner designing their yard would say, that the most expensive thing that they purchased is trees.  But today with the modern idea of climbing plants and vines, you can go vertical and create a lush garden without spending a fortune. Aside from being pleasing to the eye, these plants can also provide shade and privacy.
Some of the best climbing plants to use are English ivy, Virginia creeper, and morning glories. You can just plant them on the side of your house or against fences, and they'll look attractive and save you money.
3. Think Before You Plant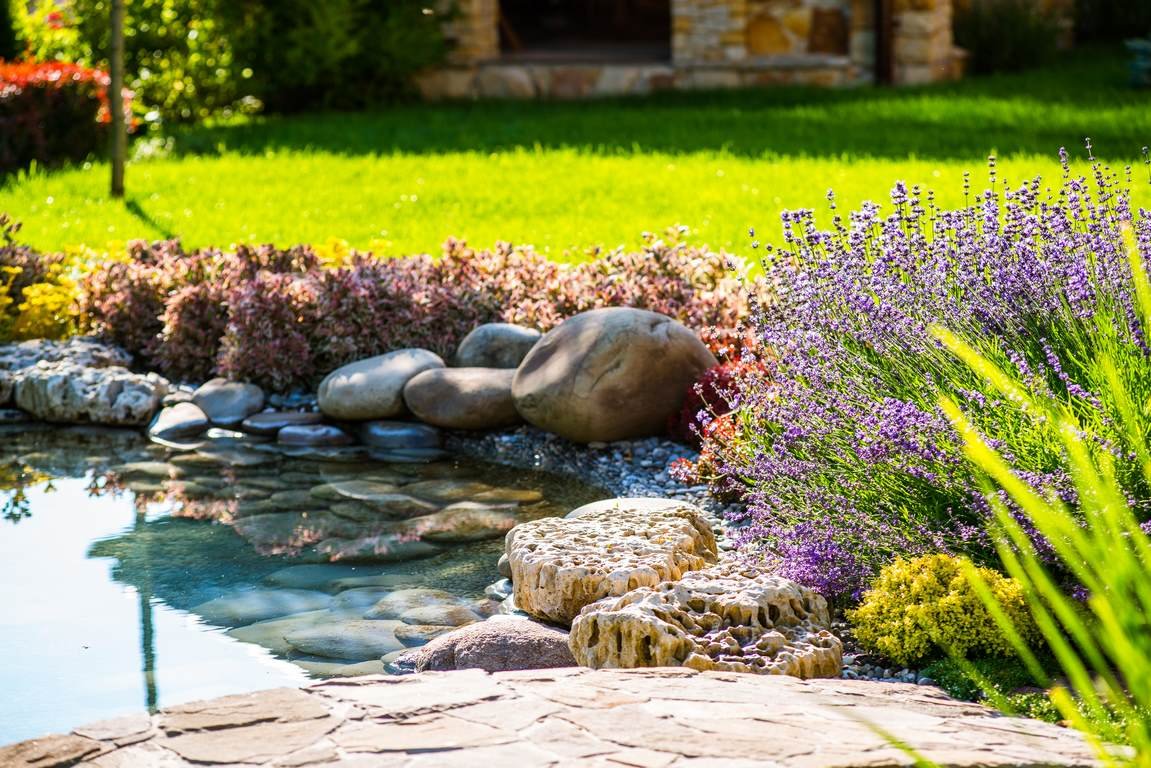 One of the most important things to keep in mind about landscaping is that you should not be too hasty. You need to carefully plan out your work and think about what kinds of plants will suit your landscape best.
If you're someone who loves gardening, then go for any plant that you want, but if you don't have a green thumb, just go for plants that do not require a lot of maintenance.
Another way to lessen the cost of landscaping is to choose drought-tolerant plants. Plants that don't need a lot of water can be a real money-saver, and they're perfect for those areas of the country where water restrictions are common. A great example is succulents because they don't need to be watered every day
4. Recycle and Repurpose
You don't need to spend a lot of money on building materials when you can make use of items that are just around your house.
One of the best ways to save money on landscaping is to recycle and repurpose materials whenever possible. It may be an old wooden pallet, scrap metal, or even bricks.
You can use old bricks and stones to create pathways and borders, and driftwood to create a natural fence. You can also use salvaged materials such as doors, windows, and shutters to create unique furniture in your garden.
Using such materials will give your landscape a very creative and personalized feel and save you money at the same time.
---
Read Also:
---
5. Use Plant Containers
Container gardening is another great way to save money on landscaping. This option works best for those who live in apartments or condominiums and don't have any backyard space. You can create fantastic landscaping on your balcony or porch by going for plant containers.
These work well in different settings and come with a wide range of price tags, from affordable to expensive. Depending on where you want to place them, you can try having potted patio plants for your indoor area.
Using plant containers allows you to use less expensive plants and gives you a choice to move them around as needed. You can also switch out the containers when you want a different look.
6. Use the Right Accessories
One common mistake in landscaping is trying to overdesign it, making it look cluttered and crowded. It's always a good habit to keep things simple and natural, which means that you shouldn't use too many plants or accessories in your yard.
Another great trick is to use accessories that can be used for more than one purpose. For example, you could use river stones as the pathway in your yard and as decoration at different parts of your garden.
You can even use these as a border around your garden or pond. Using such practical accessories will save you time and money and makes your yard look balanced.
7. Go Low-Tech
Some of the best ideas for landscaping on a budget can be making good use of some low-tech materials.
For instance, you could place some potted plants around your driveway and surround them with stones to keep the dirt in. You could also use stones and rocks to create a pathway that will give your landscape an earthy feel while keeping the grass and weeds at bay.
8. Use Your Strengths
Every individual has different strengths when it comes to landscaping. It may be creating beautiful flower beds or making a stunning water feature in the front yard. It'll allow you to create something beautiful within your budget while also helping you improve your landscaping skills in the process.
For example, if you're good at making flower beds, then go all out and make a few of them in different parts of your yard. Another example is if you're good at carpentry work, build something that can be used as a décor piece or an outdoor fireplace.
9. Keep It Clean
There's nothing more pleasant than a clean landscape, one that has balance in its features and accessories. One of the best ideas to maintain your landscape is to go for materials that are easy to clean and maintain.
For example, you could use gravel instead of traditional mulch. This material will give your yard a polished look and help reduce moisture and weeds, just make sure to keep it clean always.
10. Get Creative with Lighting
One of the best ways to add drama and interest to your garden is using creative lighting. You may opt to use solar lights, string lights, or even candles to create a beautiful ambiance in your garden.
11. Think Like the Pros
One of the best ways to get some great ideas for landscaping on a budget is to research and follow how the professionals are doing it. There are a lot of landscape designers who are posting their work online, and you can get a lot of wonderful ideas from them without having to spend any money.
Final Thoughts
While landscaping can be expensive, there are many ways to do it on a budget within your capabilities. These are just a few ideas to get you started on your landscaping journey. You may even enjoy designing it yourself that you'll decide to upgrade it later on.
Remember, it's always best to begin your landscaping project small and expand as your budget allows. Start getting your creative hands dirty now and enjoy the process.