You don't have to install a zipline to make an awesome yard. There are plenty of landscape ideas that are easy to execute and will make your yard the perfect place to relax.
Maybe you have installed new sod to spruce up your yard or you're in the process of buying a new house that will need some work, you've got a lot of options for making a great front or back yard.
Whether you want to incorporate fresh flowers or big centerpieces, keep reading to get some inspiration.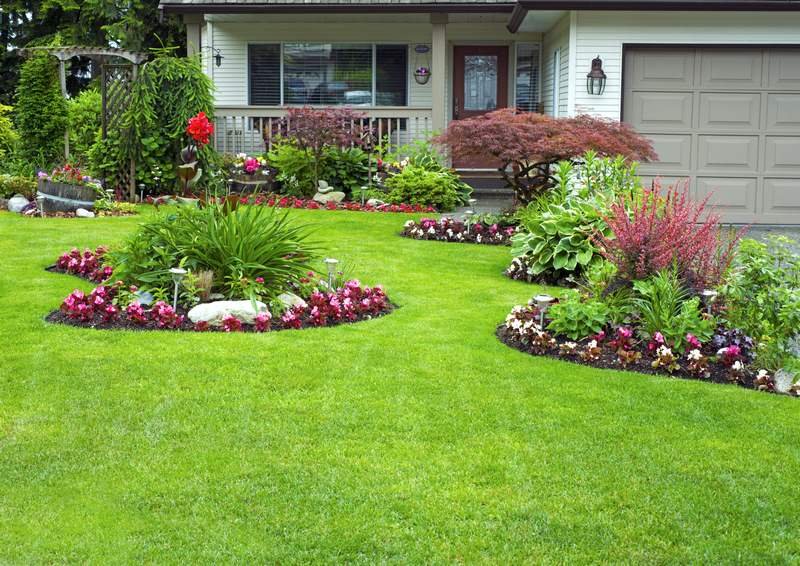 Landscape Ideas You'll Love
One of the best ways to give people a good first impression of your home is to create a welcoming and beautiful front yard. Decorating your backyard gives you a place to entertain guests and let your kids run and play safely.
These ideas range from large additions like installing fountains to small, yet impactful, inclusions of color and vegetation. Check out these landscape ideas and get started on improving your home.
---
Read Also:
---
1. Colorful Borders
Walkways and stairs leading up to your front door and patios in your backyard can easily be given some life by adding a border of fresh plants and flowers.
Twin rows of roses along your stairs make for a pleasant entrance to your home. Similarly, adding a border of plants around your patio creates a natural line and separation to the yard itself.
If you've got a pool in your backyard, don't neglect the flowers and plants, but be careful. Think about the amount of water that may be coming out of the pool while people swim. You don't want to overwater your plants.
2. A Grand Entrance
Speaking of sprucing up your front yard, adding some landscaping around your front door makes a boring front door something special. Add an archway with climbing vines or towering spruce trees for an immediate sense of awe.
Framing the front of your house with specifically-sized bushes and trees is a great way to incorporate a pleasing appearance that is proportioned perfectly. Think of your front yard as slowly elevating to your home.
3. Be Unique
Topiaries are a great way to make your yard stand out among your neighbors. There are many trees and plants that you can use to create fascinating topiaries in a variety of designs.
You can get extremely fancy and have bushes trimmed to look like animals or just go for an understated appearance with spheres and stacked plants. Even angling certain plants and trees will create the perfect flow in your front and back yard.
4. Water Features
There aren't many fixtures you can add to your yard that are more relaxing than water features. A birdbath in your front yard to give back to the wildlife or a fountain in your backyard with a constant stream of water are calming features that immediately increase the impact of your yards.
Whenever you add water features you'll want to make sure you are taking everything into account. If your area experiences a lot of flooding, make sure you're prepared with proper installation and insurance, which you can find here.
5. Elevate Your Yard
Your yard may look flat and boring. Even if you've properly trimmed it and have great patios and colorful flowers, there still may be something missing.
Lifting your plants and flowers off the ground will give the eye something to wander over as people admire your yard.
Elevated planters are an easy way to achieve this with hanging baskets and vines that flow down. Raised planters are also the perfect way to get the most out of a small yard. Plant more flowers and inject more color into a yard of any size with this tip.
6. Color All Year
It can be frustrating to spend a lot of time planting flower beds and bulbs only to have them bloom for just a few months out of the year.
Depending on the weather where you live, plan out your flowers to make sure you have colorful plants throughout the whole year.
It may be tempting to get out in your yard and start planting away, but taking the time to do some research and draw out your plans will cut down on mistakes and regret.
Software that lets you plan on your computer or consult with a professional landscaping company is the perfect way to do it right the first time.
7. Use the Space
If you're lucky enough to have a large yard, you may find it hard to find something to do with the space that doesn't make your yard look cluttered.
If you've got a lot of empty space, consider adding a large rock to the center. This creates a natural improvement that doesn't require constant maintenance throughout the year.
If you're on the corner or have an oddly-shaped yard, man-made objects like lanterns and statues can work wonders to break up your yard. You want to avoid clutter, but you also don't want to have a lot of wasted space.
8. Treat Your Guests
If you like to entertain friends and family, make sure to plan out where things like grills and seating will go when landscaping your yard.
If you're going to spend the time and money to get the perfect yard, you don't want to ruin it by just randomly placing a grill.
Using natural objects like stones and resilient building materials like brick will allow you to create cooking areas that feel like they're organically part of the yard.
Adding benches and places for temporary seating is another way to make your yard easy to accommodate guests.
Lovely Landscaping
These are just a few landscape ideas that may work great for you. There is a lot you can do with your yard to not only increase your enjoyment of your home, but also its property when you decide to sell it.
If these ideas worked for you and you've got the improvement and design bug, check out some more great guides and inspiration on how to take your home to the next level.