Being the heart of a PV system comes with a price. Solar inverters are more likely to fail due to continuous use, which makes choosing an appropriate model one of the key steps to your system's longevity.
This article will help you discover the different types of solar inverters and a strategy for picking the right one for you.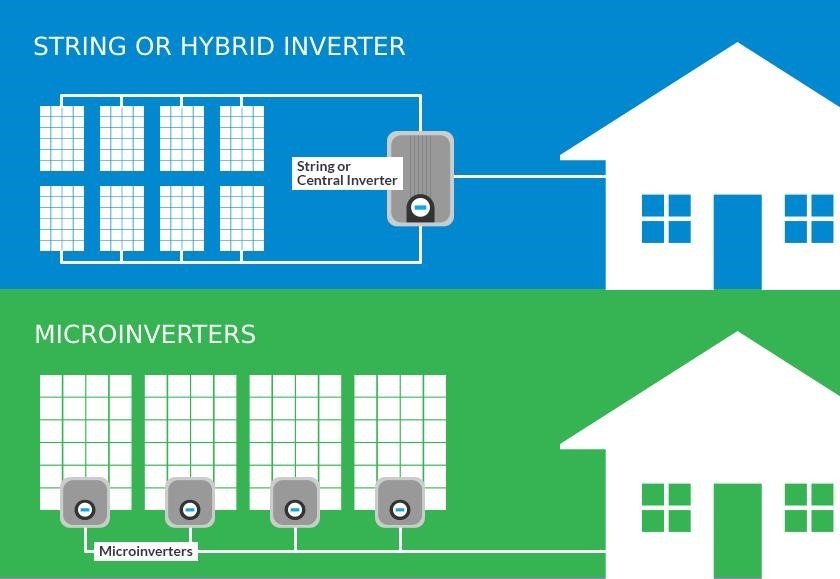 What are Solar Inverters?
Solar panels generate direct current (DC), which then needs to be converted into alternate current (AC) required by various appliances in your house.
That's exactly what a solar inverter does – it makes solar energy harvested by your PV modules available for use. The resulting AC current flows through your breaker box to fulfill the energy needs of your home.
The functionality of most modern inverters is not limited to converting DC into AC. More and more inverters are viewed not only as of the physical heart of the system but also as its brain.
They are capable of controlling all components of the system, be it a battery bank or an EV charger, thus increasing dependability and helping to detect anomalies.
Advanced monitoring platforms give homeowners and commercial users valuable data that can be used to improve efficiency and cut costs. Furthermore, inverters are a source of diagnostic information, which helps to fix issues faster.
2 types of Solar Inverters
Not all inverters are made equal. They vary in size, price, and efficiency, but most importantly, each type offers its own pros and cons, which have to be carefully considered before making a decision. Most existing inverters can be divided into two main groups discussed below.
String Inverters
String inverters are the oldest and most numerous. As the name suggests, they work with strings several solar panels connected together. Some string inverters are hybrid, meaning they have all the advantages of a string inverter plus additional functionality.
In addition to converting DC into AC for the energy needs of your property, it also provides direct current to the batteries, employing special algorithms to make the process as efficient as possible.
The Pros:
Proven by time reliability. The manufacturers have been improving the design for decades
The most budget-friendly option. String inverters are the least expensive of all three types
Can be installed in an easily accessible location, which simplifies any repair or replacement
Hybrid inverters guarantee smooth transition in case of a blackout. Should the grid let you down, a hybrid inverter will switch to the batteries without interruption, while traditional grid-tie units will simply shut off
The Cons:
Low optimizing capabilities. When one panel in a string is shaded, it reduces the overall output
No module-level monitoring. The inverter can only track the performance of a system as a whole
A hybrid inverter, especially with a storage system, will require more upfront investment. This might seem unjustified if power outages are not a problem
---
Read Also:
---
Microinverters
This type is the latest development on the market and it looks nothing like a conventional inverter. You will need one for each panel and the conversion will take place right at the spot.
The Pros:
The performance of each individual panel doesn't affect the rest of the PV modules in your system
More freedom to expand. Since an inverter is installed behind each panel, you are not restricted by the capacity of a central unit
Module-level monitoring is a tool for more accurate diagnostics that won't make you wonder where the problem is hiding
The Cons:
This is the most expensive inverter type, but if you're experiencing shading issues it might still be the most sensible choice
Behind the panel isn't the most optimal location when it comes to repairs or replacement
Which is the Best Type of Inverter For You?
If your circumstances include neither shading issues nor regular power outages and you have no reasons to believe it will change in the future, a traditional string inverter might be a good choice.
If you want to hedge against possible blackouts and gain more energy independence while staying connected to the grid, a hybrid inverter is likely what you need.
Finally, if you have to deal with shading or don't want to rely on a single unit for the operation of your entire system, consider microinverters.