In a world cluttered with material possessions and endless distractions, the minimalist lifestyle offers a refreshing perspective.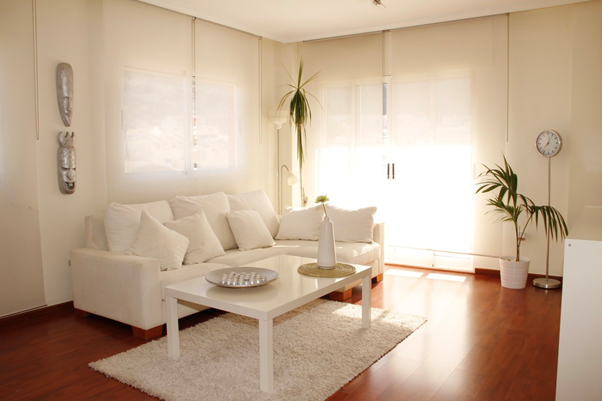 Embracing minimalism allows you to declutter your physical and mental space, creating an environment of tranquility and focus.
If you're ready to embark on a journey towards a simpler and more intentional life, here are 10 easy ways to start a minimalist home.
These practical steps will help you streamline your surroundings, free up mental energy, and cultivate a sense of calm in your living space.
#1 Assess and Declutter
Begin by assessing each room and evaluating your belongings. Identify items that no longer serve a purpose or bring you joy.
Embrace the concept of decluttering by letting go of unnecessary possessions. Donate, sell, or responsibly dispose of items that no longer align with your values or add value to your life.
#2 Prioritize Quality over Quantity
Instead of accumulating numerous low-quality items, focus on investing in fewer high-quality essentials.
Opt for well-crafted, durable, and versatile pieces that will stand the test of time. Quality over quantity not only reduces clutter but also enhances your living experience.
#3 Simplify Your Wardrobe
Streamline your wardrobe by adopting a minimalist approach to your clothing. Keep pieces that you truly love and wear regularly, while letting go of items that are rarely worn or no longer fit your style.
Create a capsule wardrobe with versatile, mix-and-match pieces that reflect your personal style and simplify your daily choices.
Donate Unwanted Clothes and Consider Donation Pickup
When going through your belongings, pay special attention to your wardrobe. Clothes that no longer fit, are out of style, or simply no longer resonate with you can find a new life through donation.
---
Read Also :
---
Instead of letting them gather dust in your closet, consider donating them to those in need. Many charitable organizations accept clothing donations to support individuals and families in various communities.
Research clothing donation near me, shelters, or thrift stores that accept clothe donations and find out their specific requirements. Some organizations even offer donation pickup services, making the process even more convenient for you.
Donation pickups are a great option if you have a significant amount of clothing to donate or if you have limited transportation.
These services typically involve scheduling a pickup time with the organization, and they will come to your home to collect the donated items.
This saves you time and effort, making it easier to contribute to a worthy cause. Before donating clothes, ensure they are clean, in good condition, and suitable for use.
This shows respect for those who will receive the donated items and increases the likelihood of your clothes being accepted and appreciated.
#4 Clear Countertops and Surfaces
Embrace the beauty of clear surfaces by minimizing visual clutter. Keep countertops, tables, and shelves free from unnecessary items. Store frequently used items in designated places to maintain a clean and organized environment.
#5 Embrace Functional Minimalism
Optimize functionality by identifying items with multiple uses. Choose furniture and decor pieces that serve a practical purpose while also contributing to the aesthetic appeal of your home.
Emphasize clean lines, neutral colors, and uncluttered spaces to create a sense of calm and openness.
#6 Mindful Consumption
Practice mindful consumption by being intentional about your purchases. Before buying something new, consider if it aligns with your needs and values. Avoid impulse buying and instead focus on acquiring items that genuinely enhance your life.
#7 Create Relaxing Spaces
Designate specific areas in your home for relaxation and rejuvenation. Create a cozy reading nook, a meditation corner, or a serene bedroom environment.
Use soothing colors, soft textures, and minimal decor to cultivate a sense of tranquility in these spaces.
#8 Practice Regular Maintenance
Adopt a habit of regular maintenance to prevent clutter from accumulating. Dedicate time each week to tidy up, put items back in their designated places, and reassess your belongings to ensure they still serve a purpose in your minimalist home.
#9 Embrace the Joy of Minimalism
Lastly, embrace the joy that comes with living a minimalist lifestyle. Recognize the freedom that comes from letting go of excess and appreciate the beauty of simplicity.
Focus on experiences, relationships, and personal growth, rather than material possessions, as the true sources of happiness.
The Benefits of Minimalism
Clarity and Focus: A minimalist home provides a clear and uncluttered physical environment, which promotes mental clarity and focus. With fewer distractions and visual noise, you can concentrate better on your tasks, projects, and goals. This enhanced focus can lead to increased productivity and a greater sense of accomplishment.
Reduced Stress and Overwhelm: A cluttered home can contribute to feelings of stress and overwhelm. By simplifying your living space, you create a calming and peaceful environment that promotes relaxation and well-being. Coming home to a minimalist sanctuary allows you to unwind, recharge, and escape the chaos of the outside world.
Enhanced Organization and Efficiency: Minimalism encourages intentional organization. With fewer possessions and a focus on functionality, everything in your home has a designated place, making it easier to find and maintain order. This streamlined approach saves you time and energy, as you spend less effort searching for items or dealing with unnecessary clutter.
Financial Freedom: Adopting a minimalist lifestyle can have financial benefits. By consciously evaluating your purchases and focusing on essential items, you can curb impulsive buying and reduce unnecessary expenses. This mindful approach to spending enables you to save money, pay off debts, and work toward financial goals, providing a sense of freedom and security.
Environmental Impact: Minimalism aligns with sustainable practices and a reduced ecological footprint. By consuming less and avoiding unnecessary purchases, you contribute to minimizing waste, conserving resources, and promoting a more eco-friendly lifestyle. Making conscious choices about the products you bring into your home helps preserve the environment for future generations.
Greater Appreciation for What Matters: By simplifying your surroundings, you shift your focus from material possessions to experiences, relationships, and personal growth. Minimalism encourages you to appreciate the things that truly matter in life, such as meaningful connections, personal development, and memorable moments. This shift in perspective can lead to a more fulfilling and purposeful existence.
Ease of Maintenance: A minimalist home requires less time and effort to maintain. With fewer belongings, cleaning becomes more efficient and less time-consuming. Simplified spaces are easier to tidy up, allowing you to spend your time on activities that bring you joy and fulfillment.
Freedom to Explore and Travel: Owning fewer possessions and maintaining a minimalist home can offer you the freedom to explore new opportunities and travel more freely. With fewer physical ties and responsibilities, you have the flexibility to embark on new adventures, embrace experiences, and pursue a more flexible lifestyle.
Mindful Consumption: Adopting a minimalist mindset encourages you to be intentional and mindful about what you bring into your life. You become more selective about your purchases, focusing on quality over quantity and considering the true value and purpose of each item. This mindful consumption promotes conscious decision-making and helps break free from the cycle of consumerism.
Emotional Well-being: A cluttered and chaotic home can have a negative impact on your emotional well-being. By simplifying your environment, you create a serene and calming space that promotes a sense of peace, harmony, and contentment. This can positively influence your overall mood, mental health, and overall quality of life.
A minimalist home offers numerous benefits that extend beyond the physical space. From mental clarity and reduced stress to financial freedom and environmental consciousness, embracing minimalism can lead to a more fulfilling and balanced life.
By intentionally simplifying your surroundings and prioritizing what truly matters, you create an environment that supports your well-being and allows you to live with greater intention and purpose.
Conclusion
Starting a minimalist home is a journey toward simplicity, intentionality, and tranquility.
y following these nine easy steps, you can declutter your surroundings, streamline your possessions, and create a living space that fosters peace and calm.
Embrace minimalism as a way of life and discover the profound impact it can have on your physical environment, mental well-being, and overall quality of life.