The colors of autumn are so enticing, a home looks incomplete without these outdoor colors becoming part of the indoors too. Here are some fall decorating projects that are simple to follow and which make your home dressed perfectly for the season.
The décor at your home should keep changing with the seasons and occasions just like nature keeps changing its hues and colors every season. For your fall home projects it is not really necessary to invest a lot on expensive store bought items, as the things that surround you can easily help you bring the season home.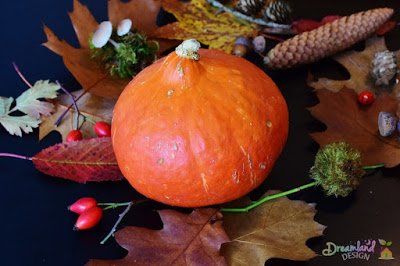 Fall Decorating Projects for the Home
From fallen leaves and twigs, pumpkins and gourds to corn cobs, wild seeds and pines, everything can become a part of your fall décor. Here are some easy to do and stunning decorating projects that you can do this fall and give your home a colorful, cozy and welcoming ambience.
Make a Pumpkin Vase
The pumpkin is certainly the most prominent star of the season and while it has still retained its traditional Halloween role, the pumpkin can also be used in a variety of fall décor projects at home.
First select your pumpkin and use a sharp knife to carve a hole in the top of the pumpkin. Discard the top and scoop out the flesh and seeds using a spoon. Now get a metal soup can or a similar container and wedge it into the created hole inside the pumpkin.
Make a Pumpkin Vase
This pumpkin vase can be used in a number of ways:
As a vase for fresh flower arrangements, by filling the can with water.
As a vase for dried flowers, wheat, twigs and seeds arranged artistically inside it.
As a candle holder.
Apricot colored roses, cockscomb, hypericum berries, and seeded eucalyptus, all look stunning when placed inside the pumpkin vase. As candle holders you can group together 2 or 3 different sized pumpkins together and use varied height candles to give a more pronounced effect. These can be kept as a center piece on dining tables, on side tables or even on the window sill.
Create Fall Napkin Holders
Good decoration at home does not always need to be a huge wall art or a gigantic curio. Even small detailing can make a big difference in creating a particular mood at home. To welcome fall in a simple way you can give your napkin holders the fall effect.
To do this get cardboard tubes, like paper towel roles, and cut them into one inch rings. Now get different autumn color ribbons like yellow, orange, crimson or golden. Tape the ribbon and wind around the ring. Once it is covered cut the excess ribbon and tape the end inside the ring. This can then be simply slipped into a napkin. To enhance the beauty, you could stick an artificial flower on the ring or cut small maple leaf patterns from craft paper or felt and stick it on top.
Make a Wreath
Wreaths can be a very good way of expressing your decorating style. They can be made big, small or extremely small in multiple numbers to hang at various locations around the home. The materials used can also change with the setting you wish to create and your style.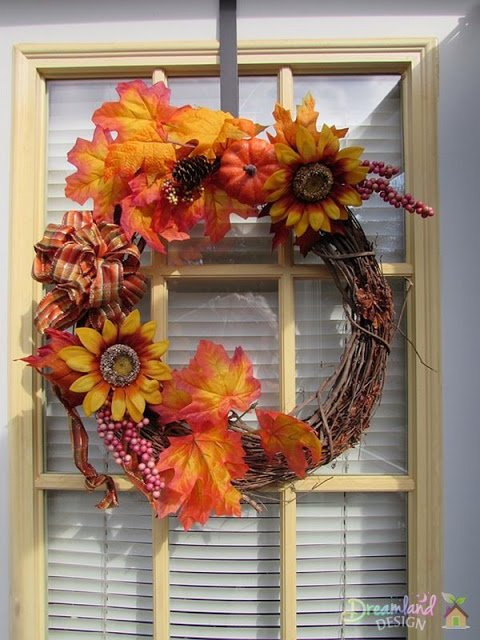 Make a Wreath
Here are some ideas for wreaths:
Leaf Wreath
Collect fallen leaves from the pathway or garden and wash them thoroughly. You can decide to use leaves of a single variety or use all different shapes and forms. Get a wreath form from the store; cover it with moss and use glue to stick the leaves on top. For a long-lasting effect you can use artificial leaves.
Nuts Wreath
To welcome autumn the nutty way here is a cool fall decorating project. Ask your kids to collect nuts like hazelnuts, walnuts etc. Use hot glue to stick and create and outer boundary of artificial leaves, and then use the bigger hard-shelled nuts to create another inner circle. End with a circle of small nuts like hazelnut for a great nuts wreath.
Golden Wheat Wreath
Make a wheat wreath at home or buy one from store. Now to lift the look of the wreath collect some golden maple leaves and add them into the wreath by slipping the stems of the leaves into the gaps between the wheat heads. Only 3 or 4 of these additions give the usual wheat wreath a different look and appeal.
Feather Wreath
Pheasant feathers go excellent with the fall décor theme. To create the wreath, get a twig wreath and add pussy willows and feathers at the base of the stems. The look is further enhanced by tying a ribbon or raffia at the top or bottom of the wreath.
Scented Wreath
A wreath that smells as good as it looks is like getting a double delight. Start by selecting aromatic herbs like dried sweet Annie, dried lavender, purple statice, globe amaranth, and large green kales leaves and combine them to make a wreath. You can select all the shapes and smells you like to make this unusual wreath.
Star Wreath
To add an interesting element to your wreath you can shape the initial wires in the form of a square, triangle or even a star. Cover the frame then with fallen leaves like that of maple and hang on the window. The sunlight will pass through the wreath spreading delicately across your home