If you create your perfect home office, being as productive as you can be will be easy. You should add various pieces of furniture to your office, including a great office desk, storage space, a chair, and any other items you deem necessary.
With so many pieces and items, you must make many decisions about which chair, desk, and storage you need.
Desk-wise, you should undoubtedly consider all your options and assess your needs before deciding. You have an array of options, from small desks, to table desks and standing desks.
If you tend to work on many projects at once and need a lot of space to spread out your work, you should consider getting an L shaped computer desk.
Once you begin searching for an L-shaped desk, you will realize that these desks come in various styles, designs, colors, and sizes.
The two best things about every L-shaped computer desk are that you have the option to place it in a corner to save space and that it allows you to spread out your work.
By analyzing the advantages of every desk, you will be able to discover the one that will suit your needs the best. Your productivity will strongly benefit from working at a desk that is right for you.
Maximizing your Space with a Hutch
If you choose an L shaped computer desk, you could get one with a hutch. You attach this great storage solution directly on top of your desk, and it usually has shelves and storage compartments. Thanks to its location, a hutch is the best way to make the most out of your space.
You can easily have an L-shaped computer desk with a hutch, even if your home office is small.
Indeed, your hutch will add storage to your office without taking up any floor space. Nonetheless, a hutch does create a tall desk, which means that you should verify that your ceilings are high enough to accommodate the height of a hutch.
The hutch allows you to store your items and work supplies right over your workspace, which is ideal.
Your items will be easy to access, and you can stay on task more easily because you do not have to reach far to get your supplies.
Most L-shaped computer desks with a hutch also have built-in drawers to maximize your storage options.
Built-in Storage to Stay Organized
You might prefer not to have à big piece of furniture over your workspace but would still love to have an L-shaped computer desk.
The solution is simple; you can get a desk with under-the-desk storage. The options with a hutch are often available without a hutch if you found a desk in a style that you love.
Similar to a hutch, this storage will help you to keep all your supplies and documents on hand. You can access all your essentials quickly and easily.
Most L-shaped computer desks with storage have box drawers, file drawers, storage compartments, or a combination of these solutions.
This way, you can find the one that will help you stay organized and keep your home office clean.
You can also find an office desk with a keyboard or laptop tray. This feature is great because it allows you to bring your keyboard and mouse closer to you, which is beneficial for your posture and all-around comfort while working.
---
Read Also:
---
Style and Practicality with a Simple L Shaped Computer Desk
The final option for an L-shaped computer desk is perfect for people who need space to work but do not need much storage space. Simply put, you can have an L-shaped computer desk without built-in storage.
However, you might need storage space, but you really love the appearance of a desk without storage.
After all, many of these desks have a very unique design, which might be why you love a specific one. If so, you could add separate storage solutions to your home office.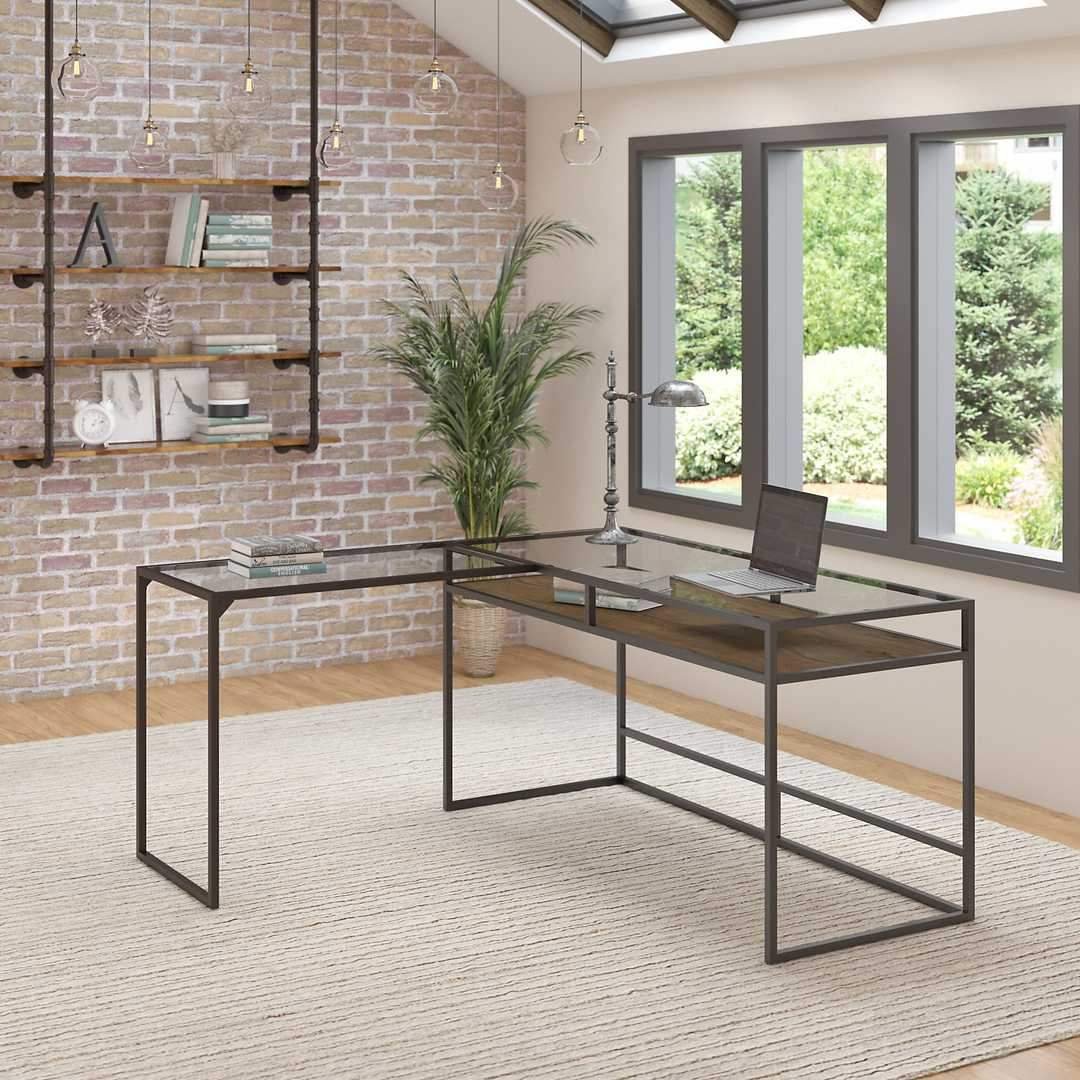 Here are two different solutions that you can include in your office to help you stay organized. Choosing your storage solutions allows you to only have the best ones for your needs.
A filing cabinet is perfect if you have à lot of paperwork. You can use dividers to organize your documents so that you do not mix up your various projects.
Some filing cabinets have a locking system, which is perfect if you keep personal items or sensitive documents in your office.
You could also get a bookcase. Of course, you can organize your books, but you can also store binders or small baskets, into which you can put your miscellaneous items.
On the shelves, you should display your most beautiful decorations to add personality to your home office.
An L-shaped computer desk is a great way to create a practical and stylish home office. No matter if you work from home or not, you will love the spacious work surface and the various storage solutions.