Is the idea of packing your bags and moving to Florida wandering in your mind these days? If so, you're not alone. The Sunshine State's real estate market has been in high demand recently.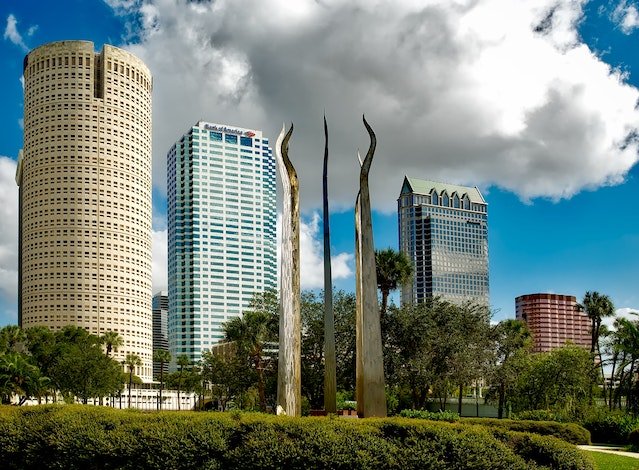 But we're glad to tell you you're in luck! We dug into the latest news about Florida's booming real estate market to give valuable information and help you get started.
So, if you're considering buying and maintaining a property in Florida, stay tuned for what its market holds for 2023 and beyond!
Getting There
Before making a bold move to purchase a property in FL, it's essential to do your research and know what to expect from the state's real estate market. One important factor to include in this research is the cost of your potential relocation.
Whether you're moving cross-country or just a few towns over, the cost of your move can be high. Thus, to avoid surprises, it's a good idea to get quotes from a couple of moving companies, compare their rates and services, and ultimately, know what to expect.
Knowing this, you'll be able to plan your budget better and make informed decisions when buying a home in Florida. With that in mind, let's take a closer look at the current trends and prognosis for Florida's booming real estate market.
---
Read Also:
---
Current Trends and Predictions for Florida's Booming Real Estate Market
What's Currently Going On
One of the most significant factors that drive Flroida's market is the strong demand for housing. And, with a growing population and a solid job market, many families are looking to buy their first houses in the state.
Furthermore, the COVID-19 pandemic has led to an increase in remote working, which makes it easier for people to choose their new homes as they'll be working remotely.
According to recent data, the median home value in Florida is currently around $377,706, which is around 11% higher than last year. This growth has been driven partly by a surge of out-of-state buyers, particularly folks from New York and California.
These buyers are attracted to Florida mainly because of the favorable tax laws, warm climate, and still-not-sky-high housing prices.
The South Florida real estate market, in particular, has experienced significant growth. With Miami being one of the fastest-growing housing markets in the state, it's no wonder the median home value exceeds $450,000.
Other cities in the region, like West Palm Beach and Fort Lauderdale, have experienced similar growth, too, with prices going up by 20% in the past year alone.
Moreover, new construction is another major growth driver in Florida's reals estate. With thousands of units being built every year, this state is one of the most rapidly growing in terms of new construction activity.
As a result, this has helped meet the strong demand for housing and keep up with the growing population.
Concerns About Florida's Booming Real Estate Market
With everything previously said, some experts have expressed specific concerns about the impact of supply chain disruptions on the market and the impact of rising interest rates. For instance, some of them tried to warn developers to be careful so they don't oversaturate the market.
Additionally, rising interest rates could make it pretty difficult for some buyers to afford homes. And finally, supply chain disruptions could lead to higher construction costs and, ultimately, slower development.
Thus, to mitigate these risks, professionals in the field consider it vital for buyers and developers to consider their options carefully. This way, they'll ensure they're making sound investments that can overcome potential economic downturns.
What To Expect
So, what can we expect from Florida's booming real estate market in the future? Will it continue in this fashion? According to experts, the state will likely see continued growth in the coming years.
However, as always, it's essential to stay informed and, therefore, make smart investment decisions. So, whether you're a potential homebuyer or a real estate investor, Florida's market is definitely the one that offers plenty of room for growth and success.
Trends To Keep in Mind
So, if you plan on investing in Florida real estate, you'll need to keep a couple of trends in mind. One of the biggest is the rise of remote work, which makes it easier for people to move to FL and work from home.
Furthermore, this has increased demand for housing in areas with a high quality of life, like Miami, which boasts impressive beaches, cultural attractions, and restaurants.
Another one to watch is the growth of affordable and sustainable housing. As the demand continues to rise, developers will need to focus on building homes that are affordable, energy-efficient, and accessible to a diverse range of buyers.
Ultimately, keeping an eye on interest rates and supply chain disruptions is vital. Even though Florida's market is strong at the moment, these factors could impact the market in the future.
That is why buyers and developers should be prepared to adjust their strategies and lighten the potential risks.
Optimistic Future for Florida's Booming Real Estate Market
However, despite these potential challenges, the overall predictions for Florida's real estate market are confident. This is because it has something that not many places do, which are:
a growing population,
favorable tax laws, and
a strong job market above all.
Thus, this state is well-positioned for success and growth in the following years.
So, what should you do if you're a potential homebuyer in Florida? First, of course, as with any investment, it's essential to research thoroughly and plan to make sure you make informed decisions.
Apart from previously mentioned trends to keep in mind, the team behind Pro Movers Miami recommended that anyone planning to buy a home and move to FL should consider the weather and traffic patterns.
They suggested this because summer is usually the busiest season for moving to Florida. This is why planning and booking your move well in advance is essential.
Additionally, they recommend packing your belongings carefully to protect them from humidity and possible thunderstorms. Ultimately, they mentioned it would be a good idea to consider investing in climate-controlled storage as it can help protect your belongings.
The Bottom Line of Florida's Booming Real Estate Market
In conclusion, Florida's booming real estate market is called this way for a reason and shows no signs of slowing down. With a strong housing demand and active new construction, investors and homebuyers have plenty of options.
So, by informing yourself properly, you can take advantage of this thriving market and enjoy your new house with a pool in FL!