Gardening has become increasingly popular among Americans. Nowadays, more than one-third of Americans grow food in their backyard.
It's very pleasant spending time in your garden when the weather is fine. But, what about when you're not in your garden?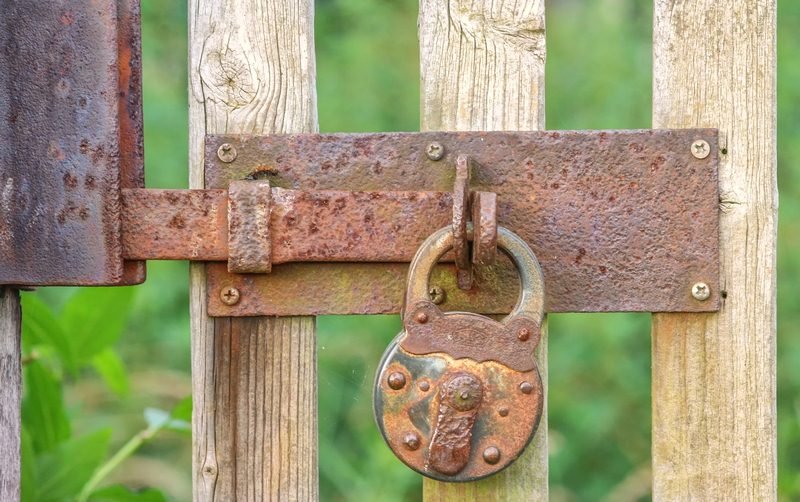 Many people are concerned about protecting their garden from thieves and burglars. You could have something of sentimental value stolen or a thief may even steal something worth a lot of money.
You don't just need a strong fence to keep out thieves. Garden security can be achieved in these 9 key ways. Check out our tips for protecting your garden below. Let's get started!
Always Lock Up Your Shed
If you have a shed in your backyard, make sure you don't make it easy for thieves to break into it. In around one-third of cases, people are able to break into buildings because the door isn't locked.
You could have valuable items in your shed. This could be garden equipment, a lawnmower and a couple of expensive bikes. Making sure you always lock your shed door with a strong padlock can help to keep the contents safe from intruders.
If any damage has occurred to your shed, you need to repair it. Damaged parts of the shed could make it vulnerable to break-ins as well.
Install CCTV and Lighting to Your Garden
Up to 38 percent of Americans have home security products, such as CCTV. Better security for your garden and home can be achieved with these products.
When you make it clear that you're recording everything that happens in your garden, you won't be picked as an easy target by thieves. So, make sure you advertise your security protections to onlookers as well.
You can also combine your CCTV cameras with floodlighting in your backyard. This successfully deters burglars from entering your garden.
Build Strong Fences
If you want to keep intruders out of your garden, then you've got to construct a fence that people cannot jump over easily.
If you have a gate around your garden, ensure that you install a heavy padlock to keep out trespassers.
Leaving your padlock outdoors for a long time can cause the metal to rust. So, make sure you regularly change it to ensure it stays strong.
If there is any weather damage or wear and tear to your fence, you need to repair it immediately to ensure it serves the purpose of protecting your garden.
Gravel on Your Footpaths
If you have a footpath leading to your home or a driveway for your car, you need to think carefully about the material you fill up this space.
Filling this space with gravel can ensure that you'll be able to hear people approaching your home. This can also slow people down as they escape.
Remove Anything to Climb On
Thieves aren't always clever enough to bring their own ladder.
You shouldn't make it easy for them. Don't leave your ladder out in your garden for them to use to climb over your fence or into your home.
Just make sure that anything that could be used to break into your home is stored away in your shed or indoors.
Protect Any Garden Equipment
You can't store away everything in your garden. But, you can make it hard for prospective thieves to run away with your garden equipment and features.
For example, if you're planting something in a pot, you can weigh it down with bricks inside the pot.
If you have any benches or tables and chairs in your garden, you can also chain it to the ground with locks.
Spread Prickly Plants Everywhere
Prickly plants have evolved spikes to deter predators. But, you can take advantage of these little guys to protect your garden.
Holly and blackthorn spread around your garden can give any thief a surprise when attempting to steal items from your garden.
You can even bolster the protection of your home with prickly plants. For example, plant roses under your windows to stop intruders.
Store Away Your Bicycles
Over 2 million bicycles are stolen each year in the United States. The rise in bicycle theft is especially worrying when your bicycle is simply in your garden.
This is because bicycles are quite easy to steal and get away with it. But, they're also very valuable to sell on the market.
You need to ensure that your bicycle is safely stored and locked if you're determined to keep your bike safe.
Take Out Insurance
You can also get insurance for your garden inventory. This can cover you if you're unfortunate enough to be burgled.
Ensure that you take photographs of everything in your garden immediately. This way you can provide evidence of your possessions if they get stolen.
However, sadly if you have any sentimentally valuable items, they cannot be insured to cover the loss.
Learn More About Garden Security
Are you worried about the garden security of your home? Are you concerned that your fence isn't strong enough to deter thieves?
You don't want thieves to have it easy. You need to discover the ways that you can protect your home from burglary.
For many homeowners, their garden is as much part of their home as the indoors. So, don't take the issue of your garden security lightly.
If you found this blog post interesting and helpful, you can find much more about how to realize your dream home on our blog.