House cleaning can be a gruesome task most especially after your home has just finished undergoing a renovation. Here we talk about some ways to help make cleanup easier for you.
Whether you've just had a home renovation or maybe you're about to have one, read on for some tips to help you better prepare for the major task of ridding your home of construction dust, dirt, or rubbish.
---
Read Also:
---
Tip #1. Call a Professional Cleaner to do the Cleanup
Professional house cleaning services have the expertise you don't have. They know how to clean your home effectively and efficiently.
When you let the pros handle this task, you're guaranteed of quick but excellent work completed at the soonest possible time.
This is a better option especially if you're working or if you have other urgent things to do. And if you're sensitive to dust and dirt, hire a cleaner instead. And spare yourself from getting sick.
Now, depending on how heavy the renovation went, it could take you a week to give your house a thorough clean while professional cleaners can do that in a few days or even just one day!
So, save yourself time and effort by putting your hours and energy into better use.
Tip #2. Carefully Remove Protective Coverings and Clean Them Away from Your Doors and Windows
This tip assumes that you've applied protective coverings, to begin with. Putting covers on floorings, windows, entryways, and furniture help limit the accumulation of dust.
You may use tarps, old blankets, disposable plastic coverings, paper, and even extra-large garbage bags.
So firstly, totally close off sections you can avoid accessing while the renovation is taking place. And put covers on furniture you can avoid using at the moment.
Then, once the renovation is over, slowly remove those tarps and covers.
Those you can directly dispose of put them straight into the rubbish bin. Whatever you need to re-use, clean by shaking off the dust and dirt.
You may also use a reliable vacuum cleaner. This avoids reintroducing the dust into the air.
Remember to do these tasks away from the windows and doors of your home. Use extension cords and do your vacuuming at a good distance away from your house.
Tip #3. Open Your Windows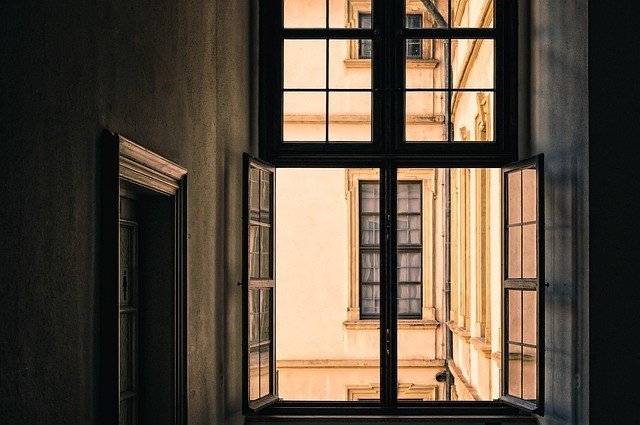 If you're cleaning inside the premises, remember to open all windows. Open the doors too if it's safe to do so. The dust and dirt will travel through the air while you clean up.
So, keeping windows open will let them out much faster.
Investing in a good quality vacuum makes every clean up easier. Use it over traditional brooms and dusters as it lessens the amount of dust that flies in the air.
If you have the funds for it, why not invest in a HEPA vacuum.
The High-Efficiency Particulate Air types can remove up to 9.97% of dirt, dust, mold, pollen, bacteria, and other particles that are present in the air.
Tip #4. Go from Top to Bottom
Go straight to the top floor and take the ladder with you. Because it's more sensible to go from top to bottom.
Dust naturally travels in the air and flows downwards. So clean the attic first and the ground floor last.
Clean the top shelves and tallest furniture first. And don't forget to clean the hanging lamps and wall decors first.
Leave the dirty tables, chairs, and low-level shelves for cleanup last.
Tip #5. Clean Vents and Filters
This tip is actually good to follow both before and after a renovation. Maintaining clean vents and filters ensures that they will work effectively.
You also need to keep checking them for cleanliness. So regularly clean vents and filters (or replace) whenever they get thick with dust and dirt.
Tip #6 Use Damp Cleaning Cloths and Mops
Dust and dirt cling to damp rags and mops while dry cleaning cloths tend to move them around. So, use damp cleaning materials when it is proper to do so.
Keep in mind that certain types of furniture and fixture may get damaged if you use wet rags on them.
You can also use a damp cloth to wipe your wall clean. Doing that and mopping the floor as well for final cleanup makes sure that you've gotten all the remaining dust, dirt, and debris in your home.
If you ever need a professional house cleaning Southwark area, we're just a phone call away. Our helpful staff is ready to take your call and arrange a booking for you. We'll have your home cleaned up in no time.