Granite countertops are amongst the most beautiful natural stone countertops available. They can make almost any space in the home look more desirable and luxurious.
Although it's an investment for most homeowners to make, purchasing a granite countertop can significantly improve the overall look of your home and its decor.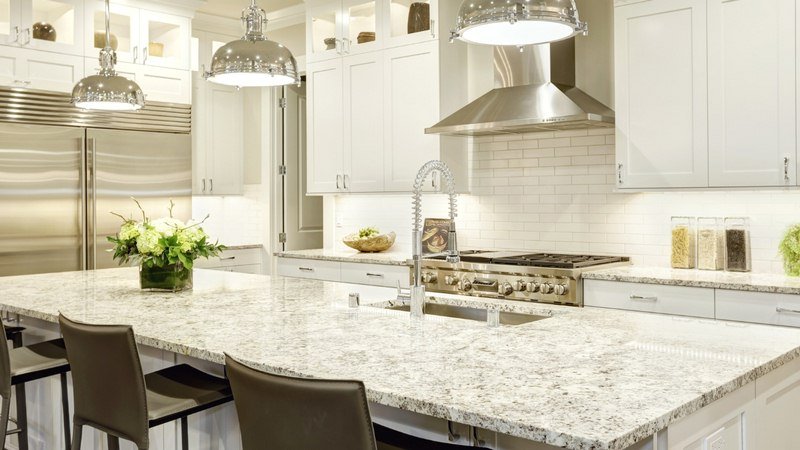 How a Granite Countertop Can Improve Your Home Décor
By exploring the following benefits and qualities of granite, you can make a smart decision when it comes time to install your countertop. Granite is a sensible, reliable, and gorgeous choice.
---
Read Also:
---
Color and Variety Benefits
One of the greatest benefits of installing granite countertops is that the sheer variety of options is endless. This means that you can match your granite with your home decor. The colors of granite run far and wide.
Typically, granite comes in light and medium shades but there are plenty of varieties that have grains with darker hues. You can choose from blacks, grays, blues, light beige, and much more. This makes matching and complimenting your home an easier process than with most other countertop materials.
Granite is recognized by its speckles and grainy look, and these grains and speckles can make your countertop stand out. If you have a lighter themed kitchen or bathroom, choosing a darker granite countertop can make the area stand out and look luxurious.
If you have a room with darker colors, a lighter countertop will offset the deep hues, and give off light and vibrance. You can also use granite to continue any colored theme in your home whether light or dark.
There are also coatings that can cover granite countertops with special glitter effects, and that can really bring some razzle-dazzle to any room in the home. Granite is so appealing because it comes in so many options.
Durability and Versatility
Granite is an igneous rock, and although porous, it is harder than most other natural stones. Due to its hardness, granite is one of the most durable materials for a countertop. The surface of granite once sealed properly, is much more resistant to wear and tear like scratches, chips, and etching.
Because of its durability and resistance to use, it'll continue looking new and shiny for years to come which in turn improves and maintains your overall home look as the years go by. It's important to note that granite is most often used in kitchens because of its durability and ability to withstand constant use.
Not only can granite be used as a kitchen or bathroom countertop, but it can also be used for backsplashes, settings for a fireplace, vanities, and other various designs.
Its versatility in use, style, and color make granite one of the most sought after countertop materials. Do keep in mind that as durable and versatile granite may be, it still needs proper care and maintenance.
Granite should be sealed once every 1 to 2 years and should be cleaned and wiped without the use of harsh chemicals. This will keep your granite countertop looking clean, new, and complimentary to your home decor. Also, be careful not to let extremely hot surfaces stay in contact with granite as eventually, it may lead to cracking.
Compliments Home Decor
Every home is filled with unique decor that tells a story. Granite is similar in that it also can tell a story and complement the decor in your home. Granite has an endless number of names. Each variety of granite is named after where the granite is sourced from.
This alone can play really well into choosing what slabs you want in your room, depending on what attributes the granite will bring to highlighting your decor. If you have exotic decor, you can choose a slab of granite that is exotic in appearance than traditional slabs.
A couple of exotic granite choices are Juparana Exotica or Van Gogh granite. Imagine being an artist and having your home filled with art pieces and a granite countertop that mimics Van Gogh's painting.
If you are looking for granite that looks like marble in appearance, you can consider purchasing Viscont White granite. This type of granite has veining and color that is similar to light colored marble. The choices and possibilities are endless.
No two granite slabs are alike, each piece is unique and distinct. Use the special attributes of granite to bring life and vibrancy to your home. Granite countertops will make your home and home decor seem luxurious, elegant, and tasteful.
To find more information about granite, where it's sourced, and to browse through the different varieties, visit slabmarket.com. This site is your one-stop shop for all things granite and natural stone.
You can explore their giant inventory, take a look at pictures, read articles, and find all the information you will need to make an informed decision. Their services are available for any countertop and granite inquiries.
Increase Your Home Value
Due to granite's mass appeal, and its ability to make a room and home decor seem irresistible, installing granite countertops will also affect your home value. At the time of resale, if you already have granite countertops installed, your home value will increase. Having granite countertops gets buyers interested.
Consider installing granite countertops early on in your home purchase so you can make your home lush and opulent.
This will certainly attract a buyer's attention once the time comes. Compared to other natural stones, granite runs a bit cheaper and this can save you money in the long run and you can use the extra to renovate or update other spaces in the home as well.
Choose Granite
A granite countertop is one of the most sensible choices because of its ability to make your home stand out. You can improve your home decor by installing granite countertops.
There's virtually no decor or room color that you wouldn't be able to match or compliment with granite. Granite countertops are a transformational addition to any home.