The modernization of your kitchen is mandatory if you want to have an up-to-date, contemporary house. Let's put it this way: your kitchen is the heart of your house and all the renovations and decorations remain incomplete without remodeling the kitchen.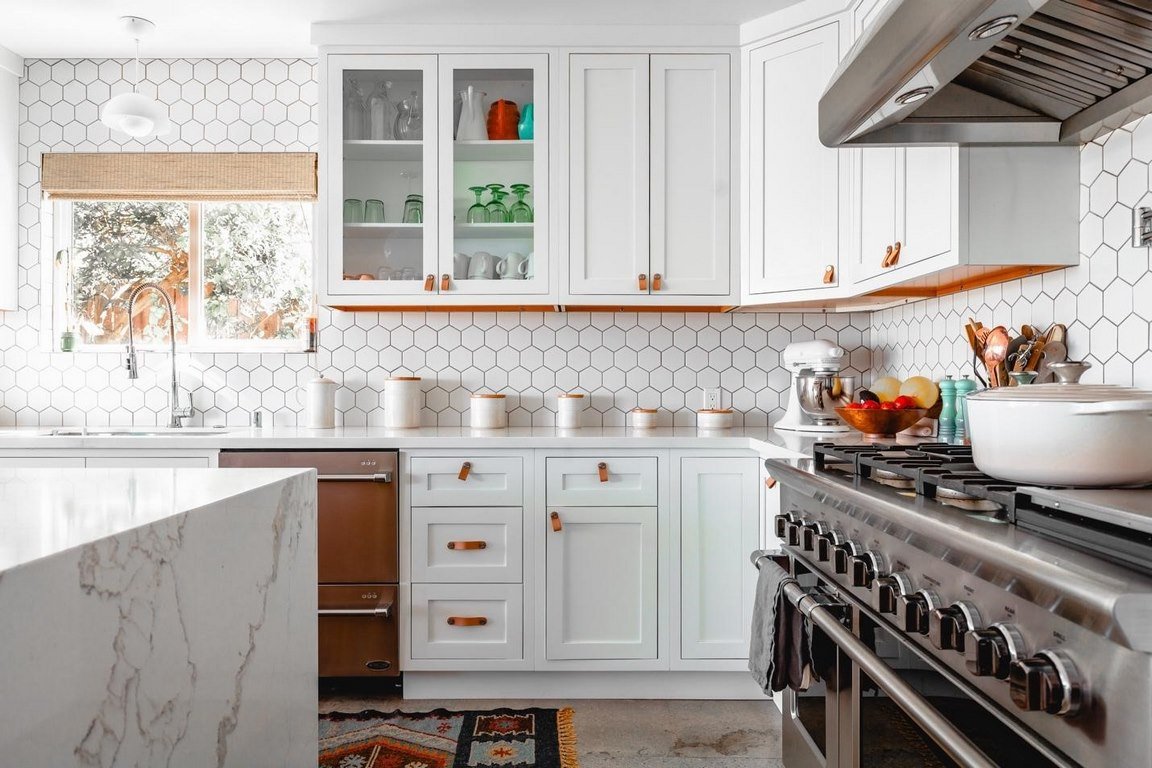 I'm an interior designer by profession and redoing the kitchen is something I enjoy the most. If you're looking to improve your kitchen decor and design, you've come to the right place.
In this article today, I'm going to highlight a few effective yet simple ways to remodel your kitchen. The great thing is that you don't have to entirely rebuild it to make it appear modern, a few slight changes can make a huge difference. Please continue reading to know more about it:
Redo the Walls
First and foremost, you need to redo the walls. It is something that will significantly change how your kitchen looks. If you have an open budget, I suggest you go for textured wall paint. It's a little expensive but worth spending the money on.
In case you have a limited budget, you can simply get wallpaper for your kitchen. There is a huge variety of wallpapers available in the market these days, so finding a good one won't be a problem. Plus, wallpapers are relatively cheap; thus, they won't affect your budget much.
Get a New Countertop
If your kitchen is old and dull, adding a breakfast table to it is the solution. It will add life to your kitchen, making it appear luxurious. For those who want nothing but extravagance, adding a granite countertop would do the trick.
Granite countertops are quite expensive, but they have a distinct look that can make your kitchen stand out. Along with the countertop, you can bring little steel-legged chairs.
---
Read Also:
---
Lighting
Speaking of remodeling your kitchen, the lighting is of utmost importance. In other words, lights can make or break the entire outlook of your kitchen or any space for that matter.
If the lighting isn't good enough, even the most well-decorated space is not going to look pleasant. Hence, you must splurge on lights. Get a beautiful pair of ceiling lights to hang on top of the granite countertop.
Besides that, you must change all the light bulbs. If you have a window in your kitchen, please hang a bulb over it with some beautiful lampshade. Such little additions often make a great difference at the end of the day.
Miscellaneous Additions
Apart from the ones mentioned above, there are a few other mandatory things that you need to add to your kitchen to make it appear modern. They cannot be put into one category; hence, miscellaneous.
The first thing is to get the primary kitchen appliances, including the refrigerator and oven fixed on the wall. Wall-fixed appliances can instantly make your kitchen appear extravagant as well as contemporary.
Moreover, you must purchase some new appliances to enhance the functionality of your kitchen. Pancake griddles, a toaster oven combination, a meat slicer, a vacuum sealer, and an electric chopper are a few such kitchen appliances that can significantly increase the functionality of your kitchen while upgrading it.
Floating Shelves
Last but not least, you must change the storage of your kitchen. While it appears to be a significant change, it isn't one. Leave the already built cabinets where they are and add a few new floating shelves to the area.
It will not only enhance the storage space of your kitchen but also add a touch of luxury to it. Floating shelves are quite trending these days. Whether it's the kitchen, bedroom, or living room, people are going crazy over the idea of floating shelves.
The great thing is that floating shelves are easier to clean and manage. Not to forget, they are cheaper to get made as they require minimum wood and labor. If you're a DIY person, you can even prepare a floating shelf at home.
The Takeaway
Remodeling your kitchen can be extremely fun if you have an open budget. In case you don't, you need not worry as there are alternatives for everything under the sun.
For example, you can add a marble countertop instead of a granite countertop. It may not look exactly the same but it will surely save you a considerable amount of money.
Rest assured, the tips mentioned above will help you above and beyond. I wish you well, my friends. Have a wonderful day ahead!