As many people continue to get back to their new "normal" life post-pandemic, there are changes that come with it. As a society, we're more concerned with cleanliness and safety than ever before.
Providing a safe workplace will ease the stress of coming back into the office and enable you to keep business running as smoothly as possible.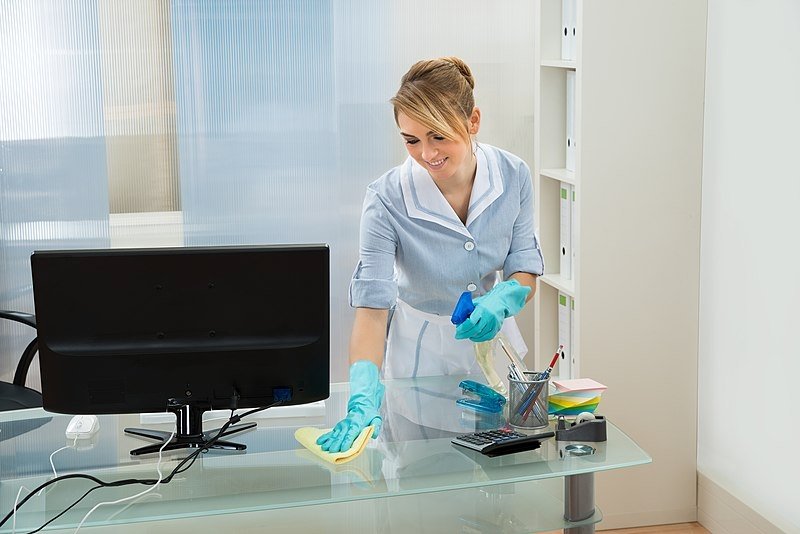 Deciding what regulations to put into place depends on your company type, the state you're in, and above all, government protocols for returning to the office.
Get in touch with your state and local health officials to see what protocols and regulations need to be put in place and stay abreast of the most recent ways to mitigate the spread of COVID-19.
Here are three general ways to keep your workplace safe and clean when returning to the office.
Provide Sanitization Stations and Protective Equipment
One of the most important ways to provide a safe workplace for employees during the pandemic is to provide sanitization products and personal protective equipment (PPE).
You should set up sanitization stations with wipes and bottles of hand sanitizer that are stocked with products for employees to use when they need to or want to.
Remember to set up these stations so the products are easily accessible to everyone. For example, don't have one box of wipes for the whole office at the far end of one hallway. If sanitizer is not readily available, it's likely employees won't go out of their way to keep their spaces clean or take the proper precautions.
Employers should make it easy for employees to clean their spaces, get hand sanitizer, and limit the spread of germs around the office. Encourage employees to wash their hands often.
Consider putting signs up around your office and in the restrooms that serve as a friendly reminder to wash hands while explaining how to do so correctly.
At the end of the day, making employees feel safe should be your highest priority. There are many opinions and feelings on COVID-19 protocols, vaccines, and what should or shouldn't be done, but employee safety is critical as new details emerge about potentially more dangerous forms of the virus.
---
Read Also:
---
Stay Socially Distanced
Practicing social distancing will help limit the spread of germs and keep employees safe when returning to the office. To implement social distancing at your office, arrange desks and lounging areas six feet apart and consider using partitions between desks if you cannot space out desks with enough space in between.
If you have a big organization, consider separating wings or floors of employees to designated seating areas, restrooms, and break rooms. For example, all employees on the second-floor use restroom A while everyone on floors 3–4 uses restroom B.
Sorting areas like this will help keep COVID-19 cases at bay if there is an outbreak in your office. This way, you'll keep more employees safe and can continue work as usual on the other floors.
When the entire company is touching the same things, being around each other, and using the same rest areas, it increases the chance of spreading germs.
Another idea to keep employees safe and limit the spread of germs: try having employees come into the office in shifts.
For example, Group 1 might come in on Mondays, Wednesdays, and Fridays while Group 2 comes in on Tuesdays and Thursdays or in similar shifts. This will also keep employees safer if there is a COVID outbreak.
You can also consider keeping a hybrid work from home protocol where employees work from home on certain days and come into the office some days during the week.
Hire a Commercial Cleaning Company
Another way to keep employees safe and your office clean during the pandemic is to enlist the help of a commercial cleaning company. While employees will need to do their due diligence to keep work areas clean, a cleaning company can perform in-depth cleaning.
A reputable and experienced cleaning company will know what to pay special attention to when cleaning and follow OSHA and CDC guidelines.
A professional cleaning company will know to clean high touchpoints like doorknobs and phones; they will also check your HVAC system for dirty air filters and check that proper ventilation is taking place.
When looking for a commercial cleaning company to hire, make sure they offer sanitization services, follow CDC guidelines, and check their online reviews.
Providing a Safe Place to Work
Life during the pandemic looks a little different on many avenues. One of those avenues is the workplace. The most important thing to do as an employer is to ensure employees are safe coming back to work.
Offering sanitization products and PPE equipment, keeping the office socially distanced, and hiring a cleaning company are all easy ways to provide a safe workplace.