So, you have decided that your house needs a breath of fresh air? Repainting every room of your home will certainly change the way it looks and how it feels. But why is it important to be careful which color scheme you choose? Because colors give consistency to a room and change the mood it transmits.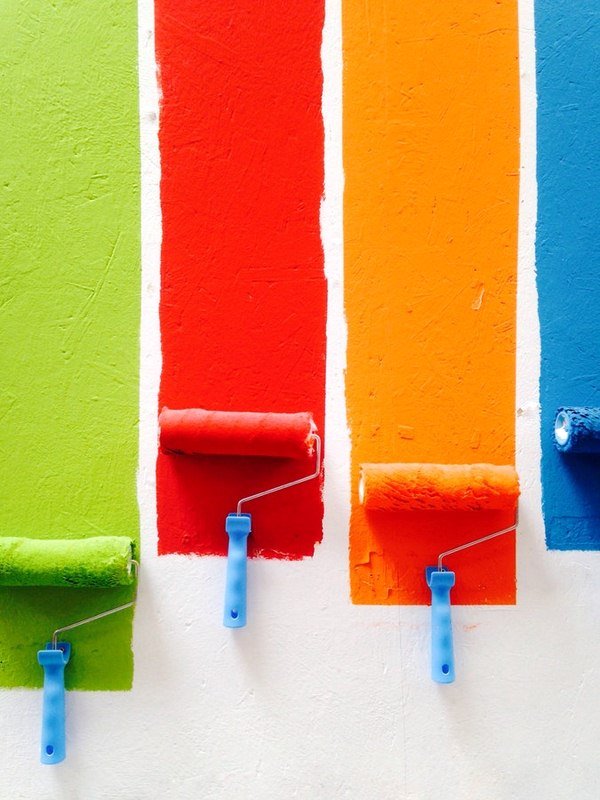 There are many things that you must consider when choosing a color scheme for the entire house from considering the size of each room to ensuring that all colors will go well together. Yet, with so much inspiration online, it may be difficult to know what the best choice will be for your home.
Your personal preferences certainly play a huge role but there are also general tips from experts that can help you get an idea of which colors will set the desired mood you want for your home.
How to Choose the Right Color Scheme for Every Room in Your Home
Here are the best tips to help you choose the right color scheme for every room in your house:
---
Read Also:
---
Bedroom
Your bedroom is the place where you must feel inspired to feel peace and relaxation. There are many moods that bedrooms can inspire from calmness and coziness to romantic or simplicity. Depending on which vibe you want to set in your bedroom, choosing the right colors will be a huge contributing factor to the way it will feel.
Vintage pink and grey – When you think about red, you instantly associate it with romanticism and passion. Yet, too much red color inside a room can create an overly energized atmosphere that will prevent your bedroom from inspiring calmness and peace. If you are looking for a sophisticated and romantic atmosphere, a combination of pastel pink and grey is the best color choice.
Blue or green – Whenever you think about blue or green, you instantly get a sense of relaxation. Imagine how watching the blue sky, the blue sea or nature makes you feel. If you want to reproduce that feeling inside your bedroom, blue or green in combination with other tranquil colors such as white, grey or pastels will make it feel like a peaceful room.
Warm shades of yellow – It comes as no surprise that yellow inspires warmth inside a room. Think about the warmth of the sunlight and you will know exactly why painting your bedroom in shades of yellow is the best choice to create a sense of coziness and warmth.
Living Room
Deciding on the right color scheme for your living room once again comes to what you want the room to inspire. The living room is usually the area where families gather and spend quality time together. Thus, you might want to create a place that offers a sense of coziness and warmth.
On the other hand, the living room is usually the place of the house where there are many items such as pieces of furniture or decorations which may complicate your choice a little bit. Consider the colors that already exist in the place from the sofa color to your furniture, curtains and their textures.
Best choices for living rooms are usually warm and nude colors such as beige, grey, white or shades of yellow. Light colors inspire a sense of openness and will make the room look spacious and welcoming at the same time. Moreover, shades of whites, gray and nudes go well together with the colors of the other items that you already have in your living room.
Kitchen
The kitchen is the hearts of a home because it is the area of the house where families gather together to cook, dine, and socialize. Thus, it must be a welcoming place where you will feel like home. Usually, the kitchen isn't a large room in the house.
This means that when choosing your color scheme, you must consider light colors that will create a sense of spaciousness. On the other hand, the kitchen is the room most prone to dirtiness as you cook inside it every day.
Thus, while going for light colors is a great idea, avoid using shades of whites that can easily get soiled. Shades of gray, nudes or blue can set the right mood of cleanness and freshness.
Home Office
Your home office needs to be the room where you feel most inspired to be productive. While deciding the color palette can be a matter of personal taste, specialists advise opting for colors that make you feel energized, focused, and productive.
Color psychologists explain that the best shades for home offices are strong bright colors such as blue, yellow, red or green. Choosing the best one for your home office must come down to how you want the surroundings to inspire you.
For example, while red transmits energy and alertness which triggers your productivity, blue, green and yellow are perfect for boosting your inspiration. Experts also explain that the intensity of the color is extremely important for boosting your productivity. Thus, you must go for intense shades of colors rather than a low saturation.
Bathroom
Bathrooms usually come with limited space and necessary features that you must consider when deciding on the right color palette. Also, you need to ensure that your newly chosen colors will match your existing tile layout and color configuration.
Interior design experts explain that the right choice for your bathroom would be a mix of neutrals. For example, a combination of grey and white can make the place look more spacious while inspiring a sense of cleanness.
However, if your bathroom is a large room, you can also opt for darker colors that also go well together with white bathroom fixtures. For a pro tip, consider adding unique style by painting stripes in your bathroom.
Hallway
The hallway is usually the first room visitors see when they come inside a home so it must create a good first impression. There is one general aspect that you must consider when choosing the color for your hallway's walls. And that is the fact that hallways rarely get sunlight and tend to look very small. Thus, it is recommended to choose neutral colors or shades of nudes.