Thanks to constant exposure to extreme temperature and weather conditions, your garden or patio furnishings tend to suffer from all sorts of damages and issues.
In hot and dry places like Kent, Texas or Faversham, it's common to find faded or cracked plastic lawn chairs and tables. Outdoor furnishings in rainy places, on one hand, like Maui, Hawaii and Cropp River, New Zealand often get filled with mildew stains.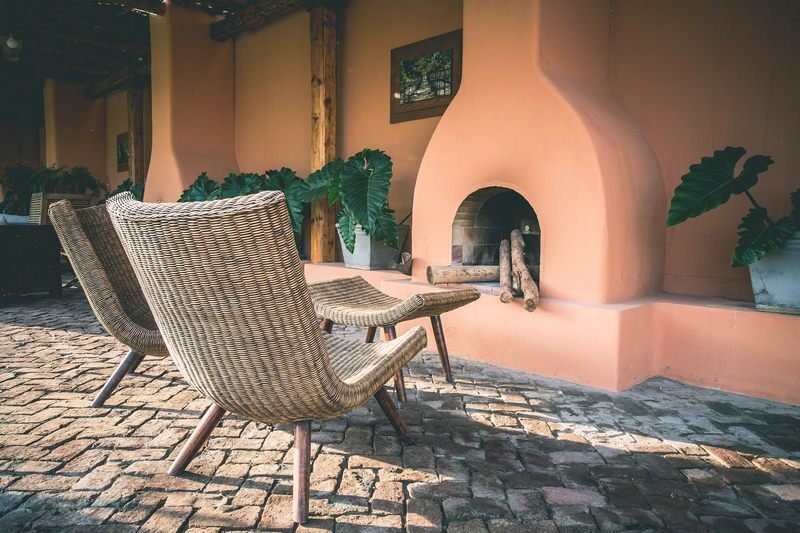 How to Clean Your Garden or Patio Furniture the Right Way
If you don't look after your prized outdoor furnishing, they'll end up in the trash bin after a few months. To avoid losing your favorite lawn table, chair or other furnishings, we enumerate the cleaning and maintenance tips that you should familiarize yourself with.
---
Read Also:
---
Determine Which Cleaning Solutions to Use
Selecting the right cleaning solution is crucial if you want to avoid damaging your outdoor furniture. When you buy or make a cleaning solution, you should consider the type of appliance that you have.
Are you using a plastic recliner? Wooden benches? Wrought iron table?
Below are the basic things you must consider before you start scrubbing or brushing your outdoor furniture:
Use Baking Soda for Resinous Furniture
Never attempt to use commercial cleaning solutions on your resin chairs or tables.
These type of solutions can react to the material and cause irreversible damage. Create your own baking soda solution by combining equal parts of baking soda, vinegar, and water.
Use the solution to remove deep-seated dirt and gunk.
Vinegar Solution Works Best for Teak Furnishings
While teak furnishings are highly durable, they still need extra care and attention. This type of furniture is quite susceptible to molds and mildew most especially if they often get exposed to rain showers.
To remove molds and mildew stain, don't use bleach or detergent. Use pure vinegar to treat and clean the stained areas. Then, you can use an old toothbrush to scrub off the stain, molds, and dirt.
Restore the Color and Shine of Your Plastic Furniture with WD-40
The bright color of plastic chairs and tables tend to fade quickly because of excessive exposure to heat and sunlight.
If you notice slight changes in the color or appearance of your favorite lawn furnishing, you should try using WD-40. It's a multi-purpose water-displacing solution that can be used to remove grease and restore the color and shine of your plastic or resin furniture.
Use Bleach Solution for Your Mesh or Wicker Furniture
Bleach is probably the most regularly used cleaning solution. It's mostly diluted in water and used to tidy-up rattan or mesh furnishing. You can use a brush, sponge or microfiber to apply the bleach solution on your mesh or wicker chairs and tables.
Use the Correct Cleaning Procedure
Learning how to choose the right cleaning solution to use is just one part of the job. You also need to know the correct cleaning methods and techniques used for every type of garden or patio furniture.
Rattan Furniture
Most patios and garden are equipped with rattan furnishings because they require very little cleaning and maintenance. Scrubbing the furniture with a bleach solution and wiping it with a dry cloth is enough to keep your rattan furniture clean and tidy.
However, you may need to spend extra time cleaning your rattan chairs or tables if you live in an area exposed to high volumes of rainfall.
Teak Furniture
A lot of homeowners love using teak chairs and tables because these look elegant and classy. To clean this type of furniture, spray generous amounts of pure vinegar on the stained surface. Let it sit for a 10 to 15 minutes before you start scrubbing the chair or table.
Plastic Furnishings
Cleaning plastic tables and chairs won't require you to use specialized solutions or equipment. A regular bleach or detergent solution is enough to scrub away unwanted markings.
As mentioned earlier, you can use WD 40 or automotive wax to bring back the original shine and color of your furnishing.
Cast Iron or Wrought Iron Furniture
The secret to keeping your wrought iron chair or tables in excellent condition is to clean them the proper way. Failing to do will cause extensive corrosion on the surface of the furniture.
You should only use a damp microfiber or sponge to clean and maintain your iron furnishings. If the sponge or microfiber is completely soaked, wring it out before use.
Cleaning and maintaining your outdoor furniture is a tough challenge, most especially if you don't know the basic rules.
In the article, we outlined how you can choose the right cleaning solution. We also talked about the various cleaning and maintenance procedures you must use. Use these tips to maximize the lifespan of your favorite outdoor furniture.