Furnishing a baby room is one of the most beautiful tasks for young parents. However, several criteria must be met for a baby to feel comfortable in its new room.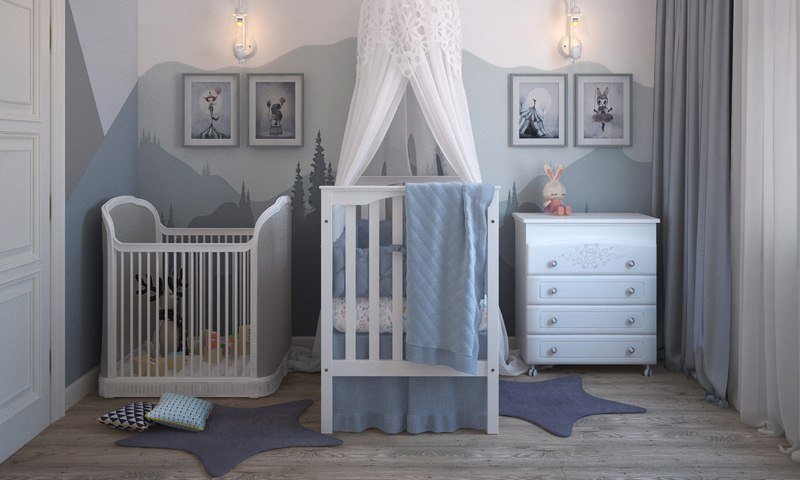 Decorating a children's room requires practicality and a bit of creativity. Big parts of any nursery are gentle wall colors and non-toxic baby toys, and you can find more resources here about the toys. So consider yours and the baby's needs when making decisions.
The Perfect Baby Room
The first step in equipping a nursery is choosing the right space. Your perfect nursery should be a bright room, with a good position in your home. Your baby needs sunlight, so windows are extremely important.
You should be able to easily ventilate the space, and there shouldn't be too much outside noise. It is preferable for the nursery to be close to the parent's bedroom, due to the night routines you will have.
This is What a Nursery Should Include
The most important items to find in a baby's room are a crib, a dresser, and a changing station. These elements will contribute to the harmonious organization of the baby's belongings. It is important that all elements in the nursery are adjusted for the baby.
It's important to be practical when arranging the elements. Changing your baby will be easier if the dresser is next to a changing station. Shelves could be located on the other end of the room so that nothing can fall into or near the baby's crib.
New moms and dads will also need a comfortable armchair, as babies require a lot of attention. If space permits, leave a blanket or thin mattress on the floor where you can play with your child. As the baby develops, that free space to crawl and play will become quite important.
---
Read Also:
---
How to Choose the Best Crib for Your Child?
A crib must be comfortable and functional. You can highlight this part of the room by creating a photo gallery on the wall above the crib, and putting some stickers or some interesting wallpaper. The crib should be stable and have a good mattress.
It is also advisable to get a mattress guard or a thin blanket to protect the mattress from staining, which makes it easier to maintain the crib clean. A soft crib bumper is also nice for decoration and necessary for protecting the baby from a hard wooden side of a crib.
The Changing Station
The changing station is usually purchased with its own stand with the height adjustment option. You can also opt for a model that can be attached to your baby's dresser.
The ends of the station should be rounded on the inside so that the baby is secure. With a nice changing station, parents will attend to their babies more easily without the need to bend every time.
Parents' Corner
There should be one parent corner in the nursery – it is a place where you will be able to sit while feeding your child and preparing it for sleep.
Choose a comfortable armchair or a rocking chair because you will spend a lot of time there. Put a small table near your sitting place for all the things that can come in handy.
Multifunctional Furniture
The double-purpose furniture is ideal, especially when the room changes from nursery to toddlers' room. Think outside the box.
Instead of the standard children's changing station buy a dresser that can later be used for a wardrobe or a table that your child can use for homework. Similarly, when you buy a bed, you are looking for one that has storage below; it will help the room look cleaner.
What Colors are the Best?
Your goal is making a clean and safe environment. It would be a good idea to paint the room to give it a clean, fresh feel. There is a very wide range of shades to consider and you should opt for pastel tones.
Pastel colors are the first association with baby rooms, and apart from the aesthetic moment, they are very gentle and pleasing to the baby's eyes.
All other dark or bright colors are not the best solutions for young children, because those colors can make kids irritable. Bright colors will be a motivation for happiness.
For example, you can choose soft and subtle yellows to encourage concentration or light yellows to bring happiness to space. But be careful because too much yellow in the room can cause anger and frustration.
Red in the room will keep the kids active and pink will bring calm to the room. Cold colors will give the baby a soothing effect, but they will not be comfortable if the room is complete in cool tones.
Decorating the Walls
With a couple of toners to make different shades, you can become an artist yourself, and it won't cost you much money. You don't need to know how to draw, just let your mind wander.
Lines, patterns, polka dots, simple shapes or patterns are just some of the ideas you can use. You can give the room a funny note if you choose furniture or decorations with a pattern of cartoon characters, animals, or garden flowers.
Bonus Tips
Keep the door of the room transparent. Pets and guests will not be able to come in so easily, and you will be able to see at any time what the baby is doing.
A nightlight will be enough to check on a sleeping baby but to change diapers you will need a stronger light. A lamp with a milk bulb or a specially designed one for a nursery is very useful.
It will help you during night feeding because the light is dim. Avoid using extension cords that you can pull, and protect all unused electrical outlets.
Curtains mustn't be within reach of a baby. Never place a crib under a window or near a space heater. Young children cannot regulate their temperature, so they should be provided with a comfortable environment. A special thermometer for the baby's room will make it easier to maintain the room temperature.
Remember to have your camera ready. Leave it in the nursery so you can record the first days of your baby being home. Later you can make your own photo wall.