How to Grow Pumpkins Successfully?, "Harvesting pumpkins and gourds from your garden is simple. Read on to learn how to harvest, cure and store your crop.
[ctt template="2″ link="ew51y" via="no" nofollow="yes"]The gourds you grew this year may not be ready for a few months but with care will be around for many years to come as decorations.[/ctt]
Harvesting Pumpkins and Gourds
Pumpkins and gourds are colorful, festive, and nutritious. Once the work is over growing them in your vegetable garden it is time to take the fruits of your labor in to be properly cared for and stored. Harvesting pumpkins and gourds harvesting is a similar process. Knowing the proper steps can help you get the most out of your crop.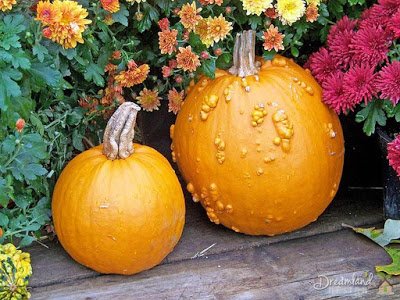 Harvesting Pumpkins: How to Grow Pumpkins Successfully
When is the right time to pick your pumpkins? Harvesting pumpkins before a hard freeze (27 degrees F). The pumpkins should be evenly orange with a hard rind. To remove, cut the pumpkin from the vine with a minimum of 3 inches of stem remaining intact. Never lift the pumpkin by the stem; support the bottom of the fruit to avoid stem detachment. Clean the pumpkin with a weak solution of one part bleach to nine parts water and dry thoroughly before storing.
Cure your pumpkins at an ideal temperature of 85 degrees F and 85 percent humidity for a minimum of ten days. During the curing process, the outer shell of the fruit hardens. Once cured, store your pumpkins in a cool dry place. Optimal conditions are 50 to 55 degrees F at 50 to 70 percent humidity. Do not allow the fruit to touch; this allows air to circulate the fruit and prevents rot. Properly stored, your pumpkins should remain firm for two to three months.
[ctt template="2″ link="Xm2D5″ via="no" nofollow="yes"]The pumpkin fruit is harvested when it is uniformly orange and the rind is hard.[/ctt]
How to Harvesting Gourds Correctly
Gourd harvesting is very similar to harvesting pumpkins. You can harvest gourds after the shells harden and the vine withers and turns brown. While gourds are tolerant of light frost, they are best harvested before the first frost. Cut the gourd from the vine, allowing two inches to remain on the stem. Avoid damage to the soft fruit by handling with care; bruising or punctures will cause the gourd to rot.
Must Read:
Wash with soapy water and rinse with a weak solution of bleach and water. Dry thoroughly. Place gourds in a single layer so they do not touch. Cure the gourds in a dark, dry, warm location with good air circulation for one week. Once cured, the outer shell will harden and the color will change.
Wipe gourds with a disinfectant before long-term storage. Put them in a dark, dry, warm location, checking frequently for mold and decay. Occasionally turn fruit to aid in drying. Gourds require about six months curing, depending on the type and size of the fruit. A lightweight gourd that rattles indicates the fruit has completely cured.
[ctt template="3″ link="124Vc" via="no" nofollow="yes"]Success with gourds depends on timely harvesting, cleaning, and curing.[/ctt]
Pumpkins and Gourds Uses
Now that you've harvested, cured and stored your pumpkins and gourds, get creative and have fun using them. Pumpkins are well-known for their decorative uses during the holidays and at Halloween time. Make use of all of your pumpkin by removing the pulp and seeds for cooking and roasting.
Pumpkin can be cooked, frozen, canned or immediately used in your favorite bread, soup or pie recipes. Get creative with your pumpkin recipes by visiting websites such as Allrecipes.com or Cooks.com. Use gourds for decorative purposes, including birdhouses and ornamental for the holiday table. The Luffa gourd (Chinese Okra) may be dried and used as a sponge. Other utilitarian gourds are cooked and used in a variety of recipes.
Harvesting pumpkins and gourds is really not that difficult. It is only a matter of knowing when to harvest, taking care of the crop when removing, and caring for your pumpkins and gourds so they can be enjoyed throughout the season.
References of How to Grow Pumpkins Successfully:
Virginia Cooperative Extension: Pumpkin Post Harvest Handling
Recomended Post: